There's A ToeJam & Earl Cookbook In The Works And Kickstarter Is The Recipe To Its Success
When ToeJam and his pal Earl first crash-landed on Earth, they managed to stay alive by scarfing down human staples like pizza and french fries.
Now, these two Funkotron favorites want to share what they learned about Earthen foods with the masses, culminating in a forthcoming cookbook titled ToeJam & Earl's Funky Fresh Foods of Funkotron. But, there's a twist: While the foods are heavily inspired by what these fellas and their friends found on Earth — yep, there's even moldy bread — they've also remixed them to include their special intergalactic flair.
Produced by JobJob, whose team members also developed Mother's Cookbook and The Legend's Cookbook, the cookbook features out-of-this-world recipes inspired by the classic video game characters and their adventures. Though the book is nearly a year into production, JobJob recently launched a Kickstarter campaign to garner additional fan support. These funds will help the team finalize recipes, complete the book's photography and address logistical issues arising from the COVID-19 pandemic.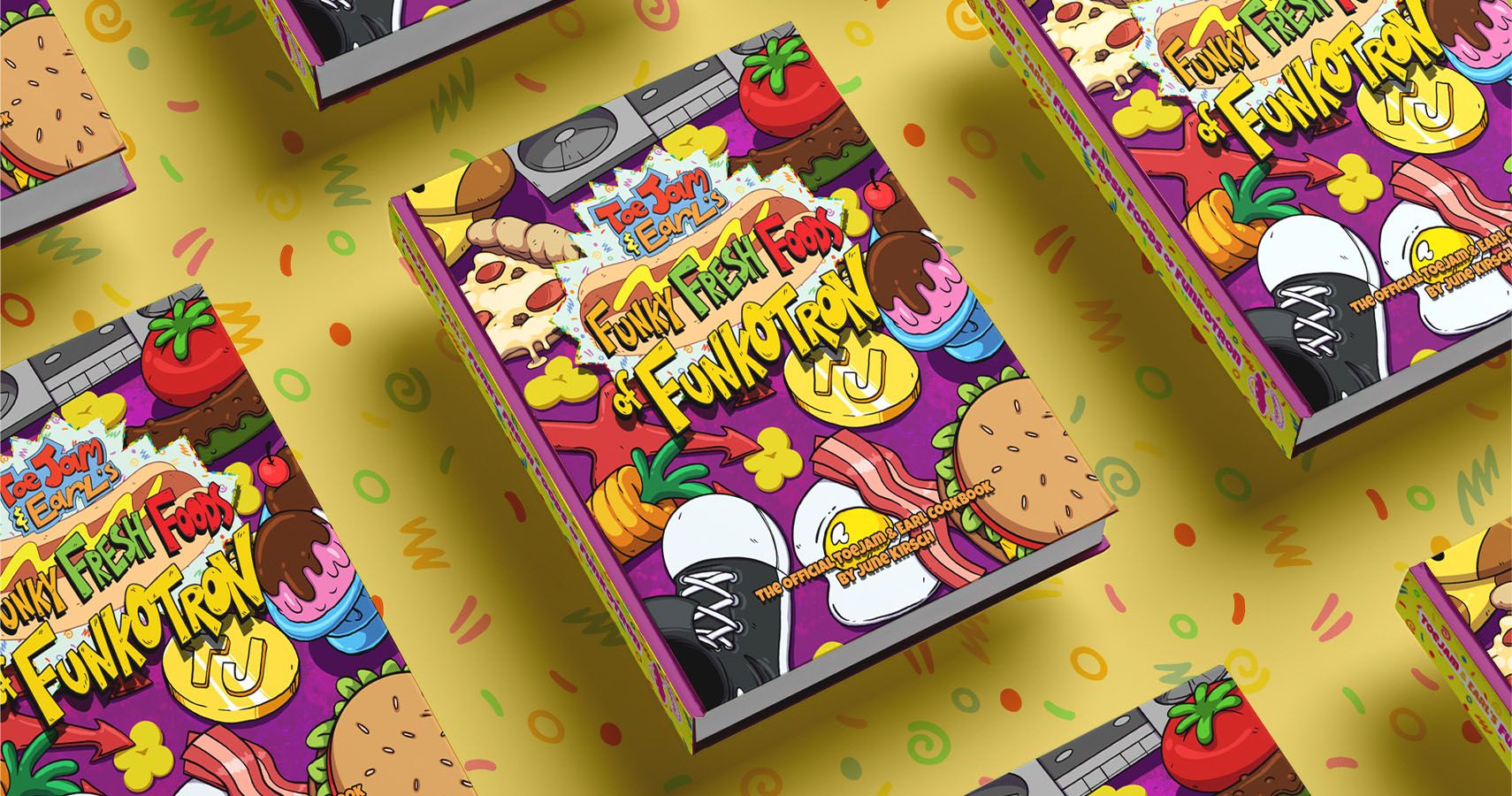 While the book is a nod to all things ToeJam & Earl, it primarily leans into the spirit and art style of last year's  ToeJam & Earl: Back in the Groove. Back in the Groove is a remake of the classic 1991 ToeJam & Earl video game from Sega, which inspired two sequels in its era.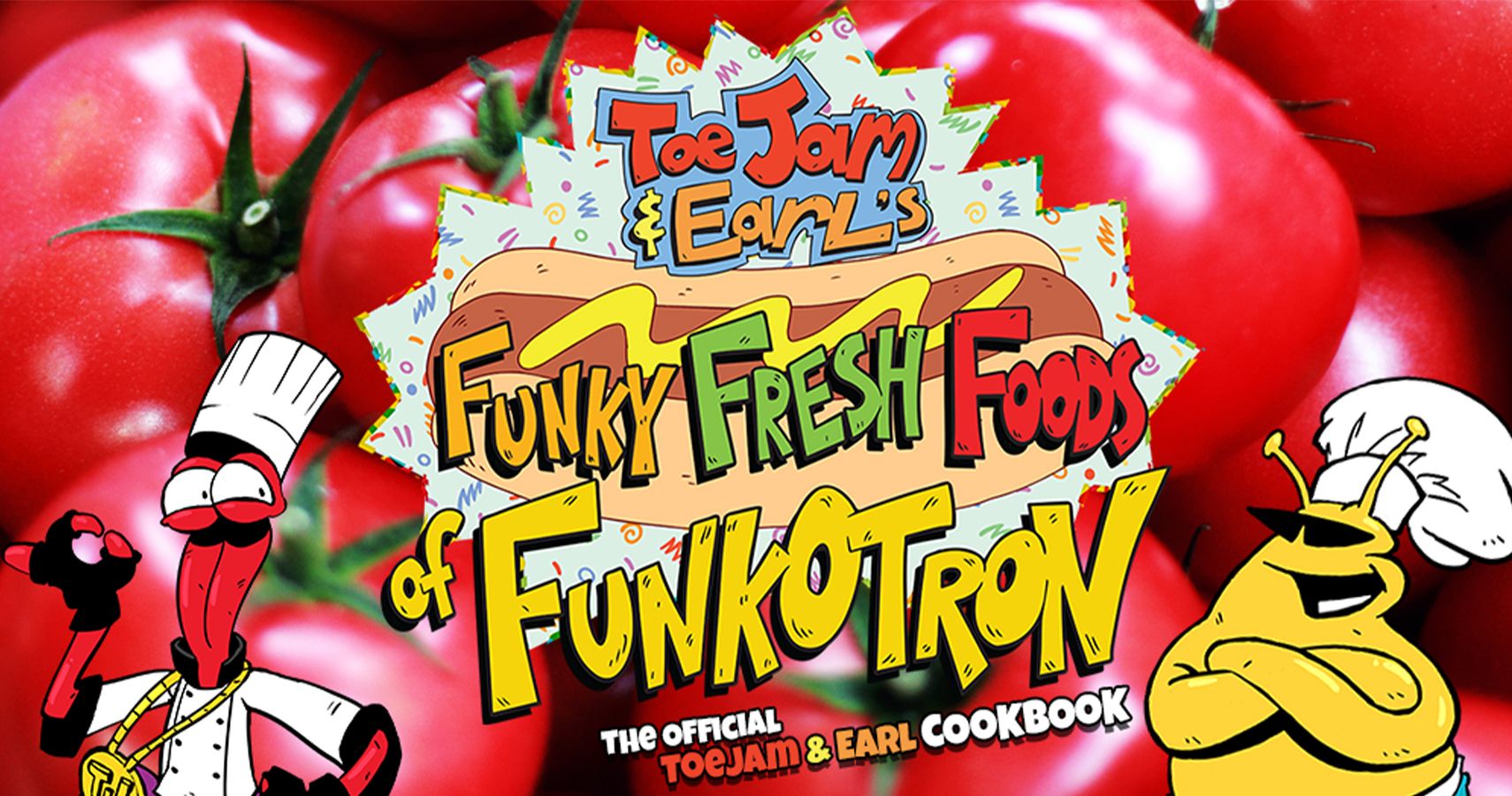 The Cookbook's Secret Ingredient: June Kirsch
All it took was a tweet from JobJob's Casey Corrigan to get the ToeJam & Earl development team on board with the idea of a cookbook. He initially reached out to the crew via the ToeJam & Earl Twitter account.
"I literally just tweeted at them and said, 'Hey, Toejam & Earl cookbook when?' and I got a DM back within an hour like, 'What's a ToeJam & Earl cookbook?'" Corrigan says.
Faster than a three-legged alien in hightops, the cookbook began to come together with Corrigan as the producer.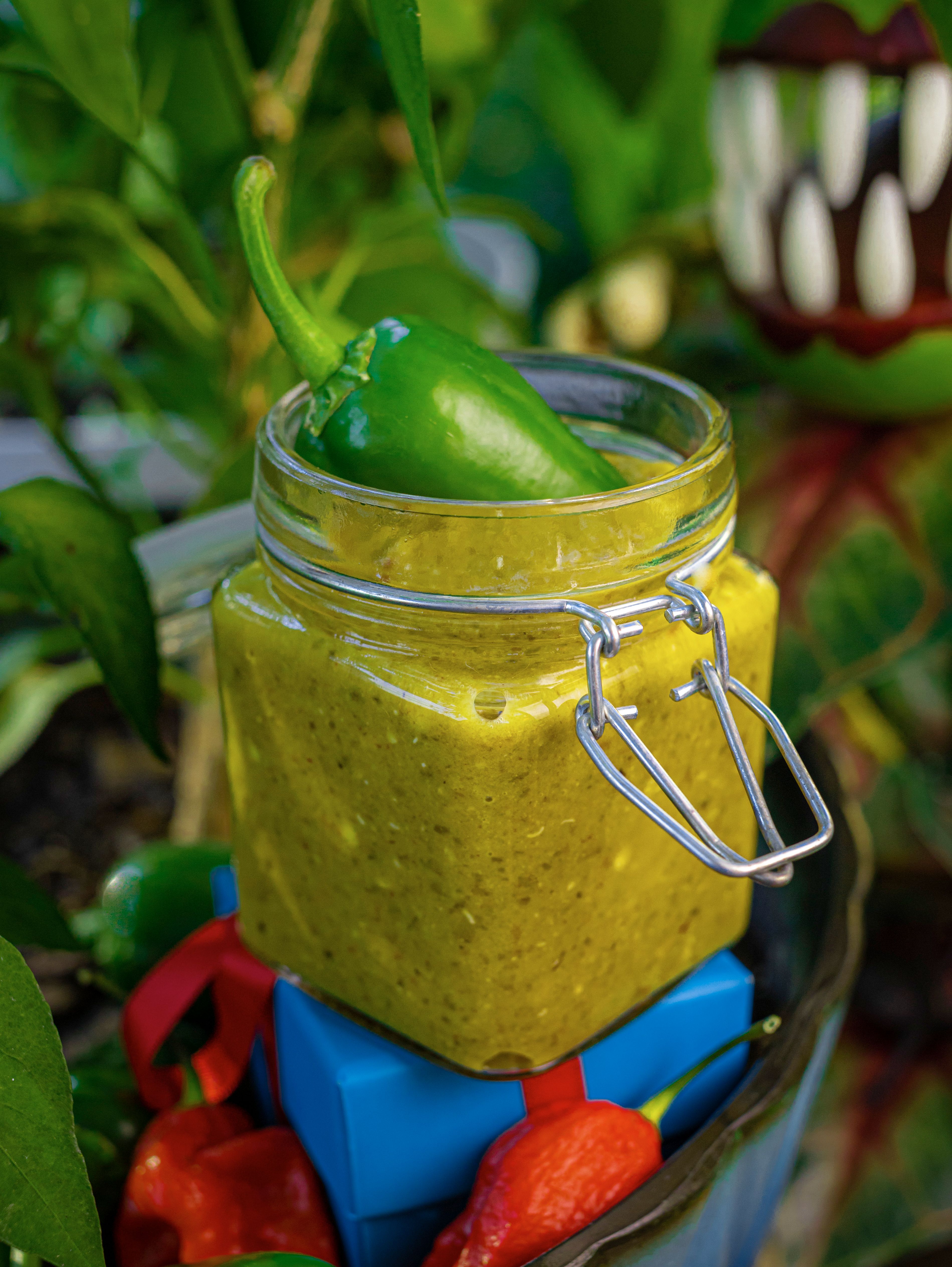 It wasn't long before the team had to find someone able to take the reigns on developing recipes. A wedding and a side of salad dressing would lead them to June Kirsch.
"She accidentally made us a condiment one time that impressed us so much, we decided to trust her with an entire cookbook," the team's press and social media lead says. (He requested TheGamer not use his name in this story due to a conflict with his professional career.)
Kirsch wowed the cookbook's producers with her skills when, for a brunch the day after the wedding, she made a salad dressing tasty enough to catch their attention. But Kirsch would prove to be a strong lead for another reason: As someone who'd emigrated to the US from Kenya, she could relate to the experience of feeling alien — especially when it came to food.
"I had a McDonald's burger for the first time and it kind of made me feel a little sick," she recalls,
Through her experiences and learning to cook for her mother, she learned to integrate the two cultures. In doing so, she started to develop her own unique takes on food.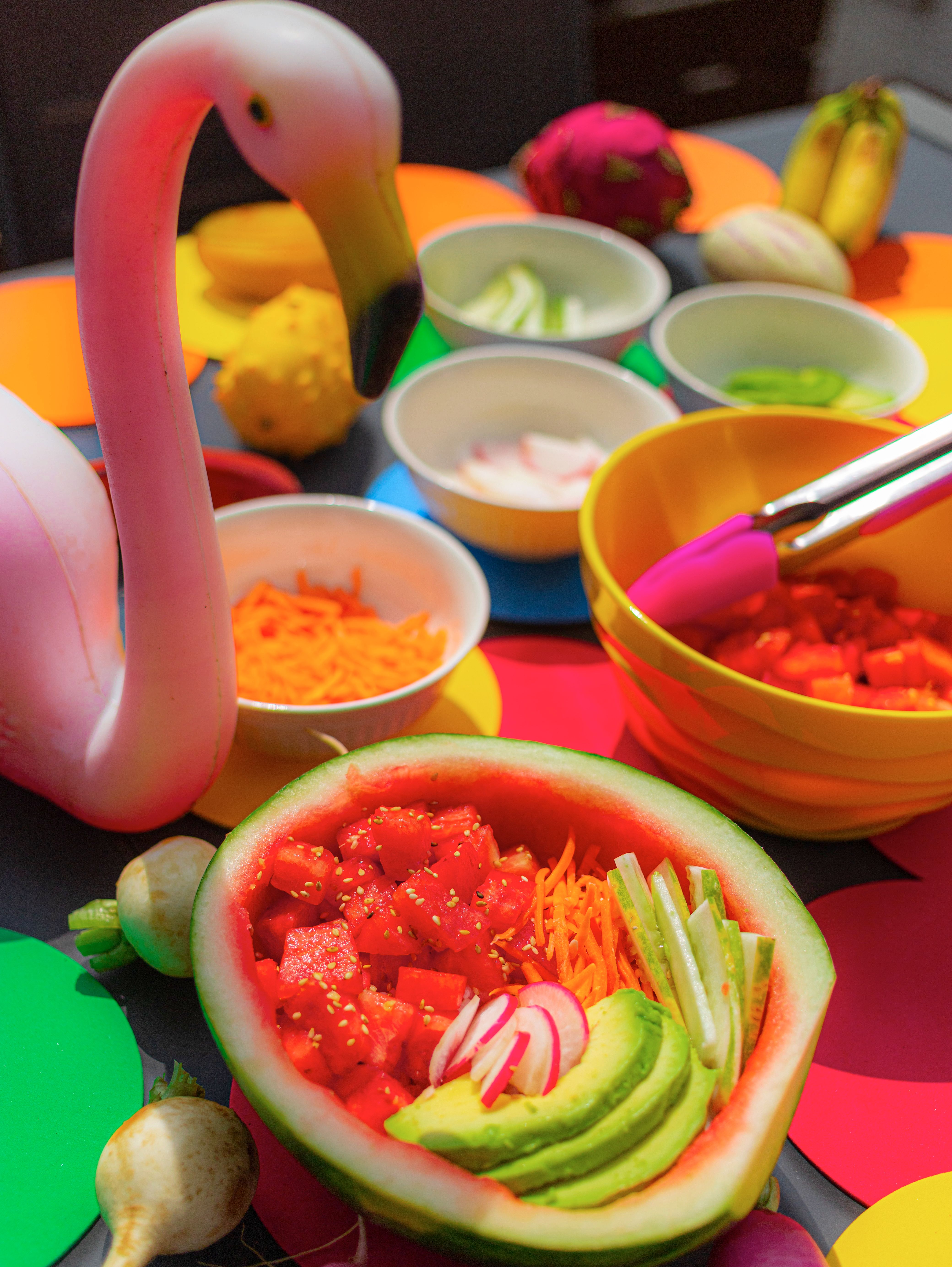 "I loved when [the social media manager] introduced the whole book to me. He talked about how these aliens have crashed landed on Earth. And they now have to figure out how to survive. But also, they're taking these foods and they're like, I think this is how you make root beer. I think this is how you make soda. I think this is how you make a burger. And I was like, that's great. That's literally my entire life."
Incorporating ToeJam & Earl's Funkotron Flair
To develop the book's recipes, she sought to try to experience the world through ToeJam and Earl's eyes.
"That moldy bread right there," she cites as an in-game example. "It tastes bad. How would I make it different and make it my own and make it something that's 'edible,' but also tastes really good?"
The result is a collection of dishes that are colorful and fun but also tend toward the healthy side. ToeJam & Earl's co-creator, Greg Johnson, who has offered his full support for the project, is fairly health-conscious and requested that the team consider this in developing the book. As a result, the cookbook contains no recipes that use red meat. For dishes that might generally involve excessive amounts of sugar or butter, Kirsch instead reimagines them in a healthier way. One example, Kirsch's favorite to date, is the Funky Beet Cake, made with beets and featuring goat cheese buttercream icing.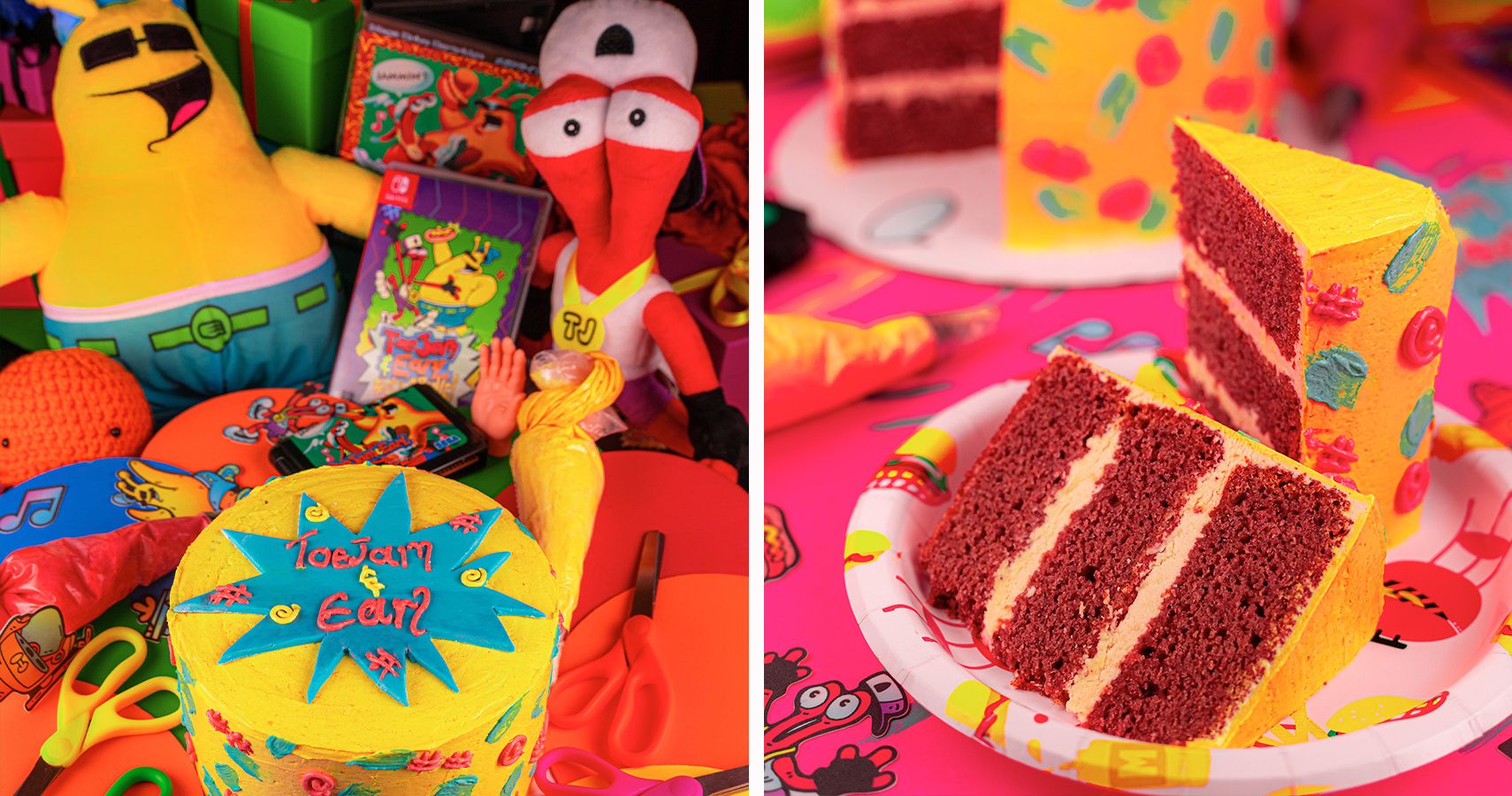 Corrigan suggests ToeJam & Earl lends itself exceptionally well to a cookbook. Not only is there food throughout the game setting, but the franchise's artistic nature also inspires dishes that aren't available to the aliens in the games.
"ToeJam & Earl is just rife with interesting and weird and fun artwork that we can turn into interesting food," Corrigan says. "We can combine that weird vibe with the food that's already in the game and do something completely different."
One example would be a tomato jam inspired by the retro series' tomato rain and slingshots that lob tomatoes, which is meant to pair with Mama Flo's Earl Grey Cookies — a pairing that also indirectly references the duo's monikers.
"It's a cookbook, but it's very much a visual treat, too," Corrigan says. For instance, he notes that the book's dust cover will also function as a neat-looking measurement chart. The team brought on illustrator and pixel artist Brian Ferrer to incorporate ToeJam & Earl's unique art style into the book.
The Secret Ingredient For Success: Cooking Up A Kickstarter
The ultimate goal of the Kickstarter is to raise enough money to produce and ship the book. However, underlying that incentive, there's also a push to continue to engage the game's vibrant community through creative challenges.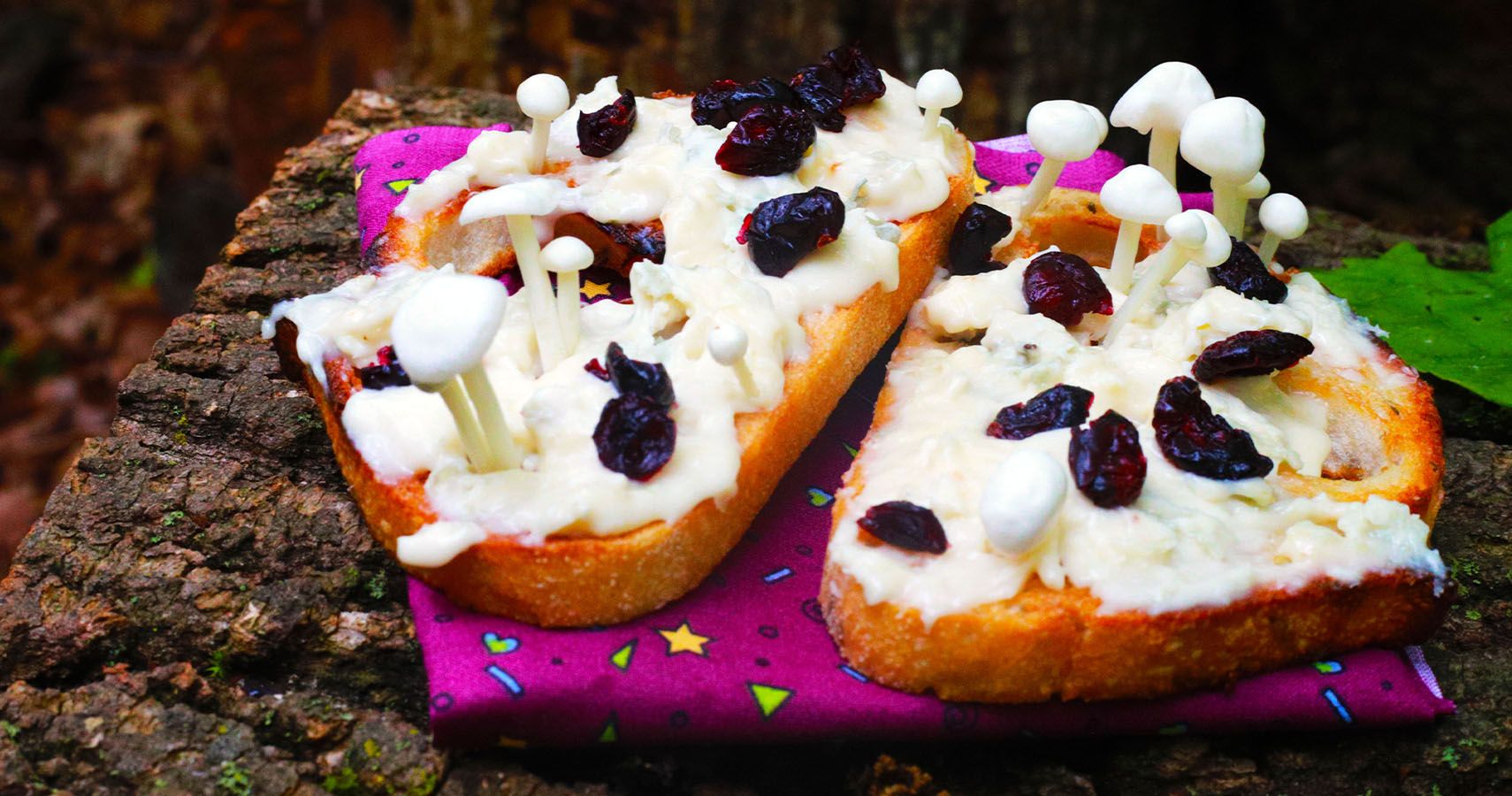 "We've already had a lot of really good fan art. Somebody went and spray-painted ToeJam & Earl at a skate park," the social media manager says.
It's ideas like this that keep the fandom alive long after a game's initial release. Though it failed to reach the heights of popularity that some other games reached, ToeJam & Earl: Back in the Groove holds a solid 9/10 rating on Steam with 450 and reviews.
With the Kickstarter, the team offers so many special backer rewards that it would even impress a Wiseman in the carrot suit. Donors willing to drop $15 to support the cookbook can even snag themselves a ToeJam & Earl: Back in the Groove Steam download code. The game itself costs $14.99 via the Steam platform, making the Kickstarter donation a solid deal. Additional rewards include a specially-designed apron and the opportunity for a fan to work with Kirsch to have their own recipe included in the book.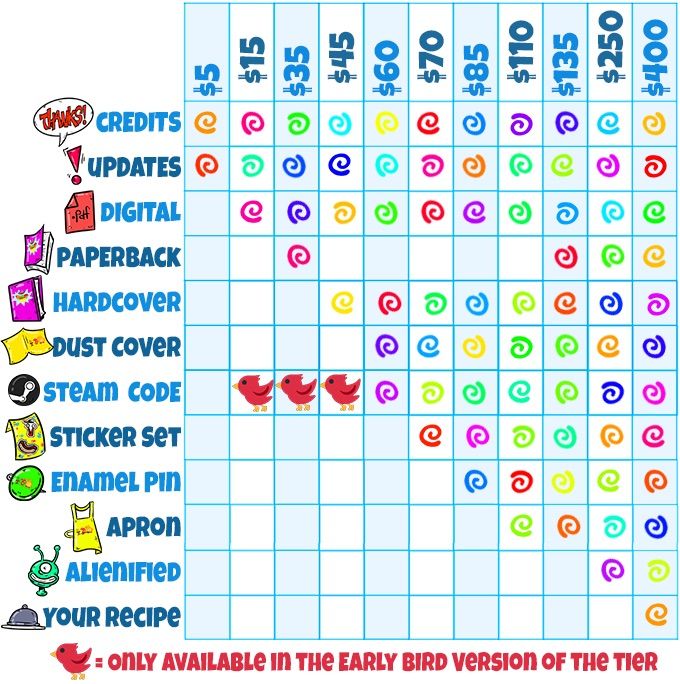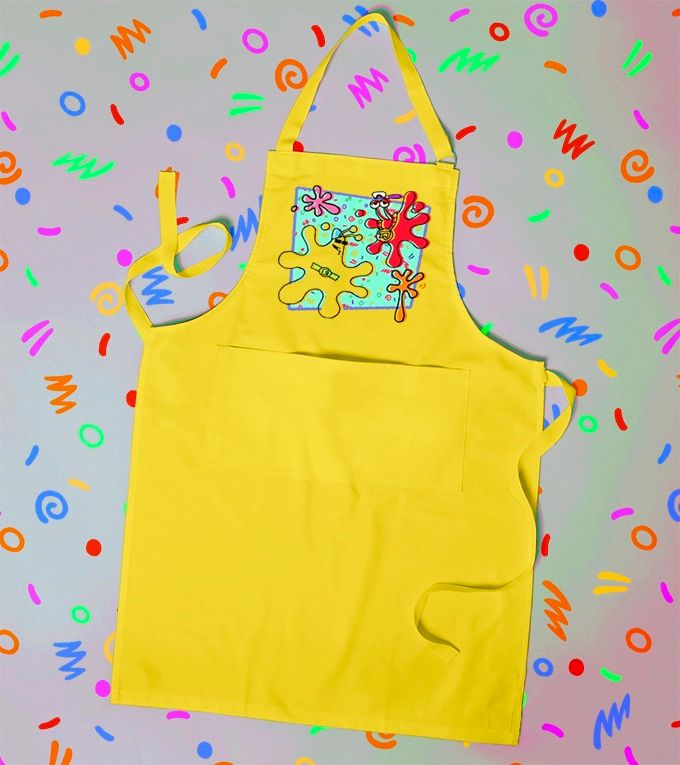 Fans have until Oct. 30 to help the team reach the $35,000 finish line. They can follow the cookbook's Twitter account for updates.
When asked how ToeJam and Earl might review their own cookbook, Corrigan was quick with a one-word reply. 
"Jammin'!"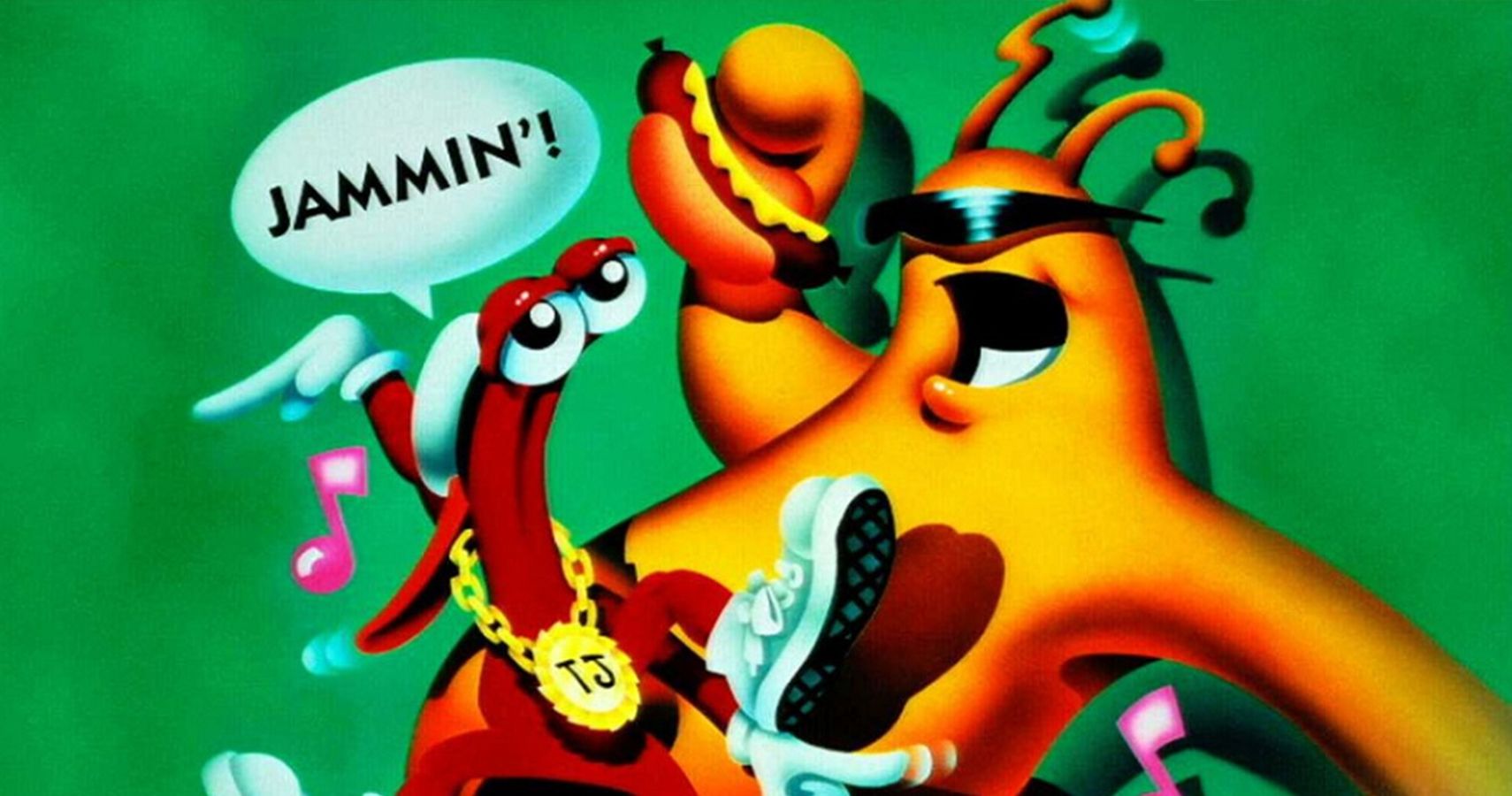 READ NEXT: 10 Sega Characters That Deserve A Movie Besides Sonic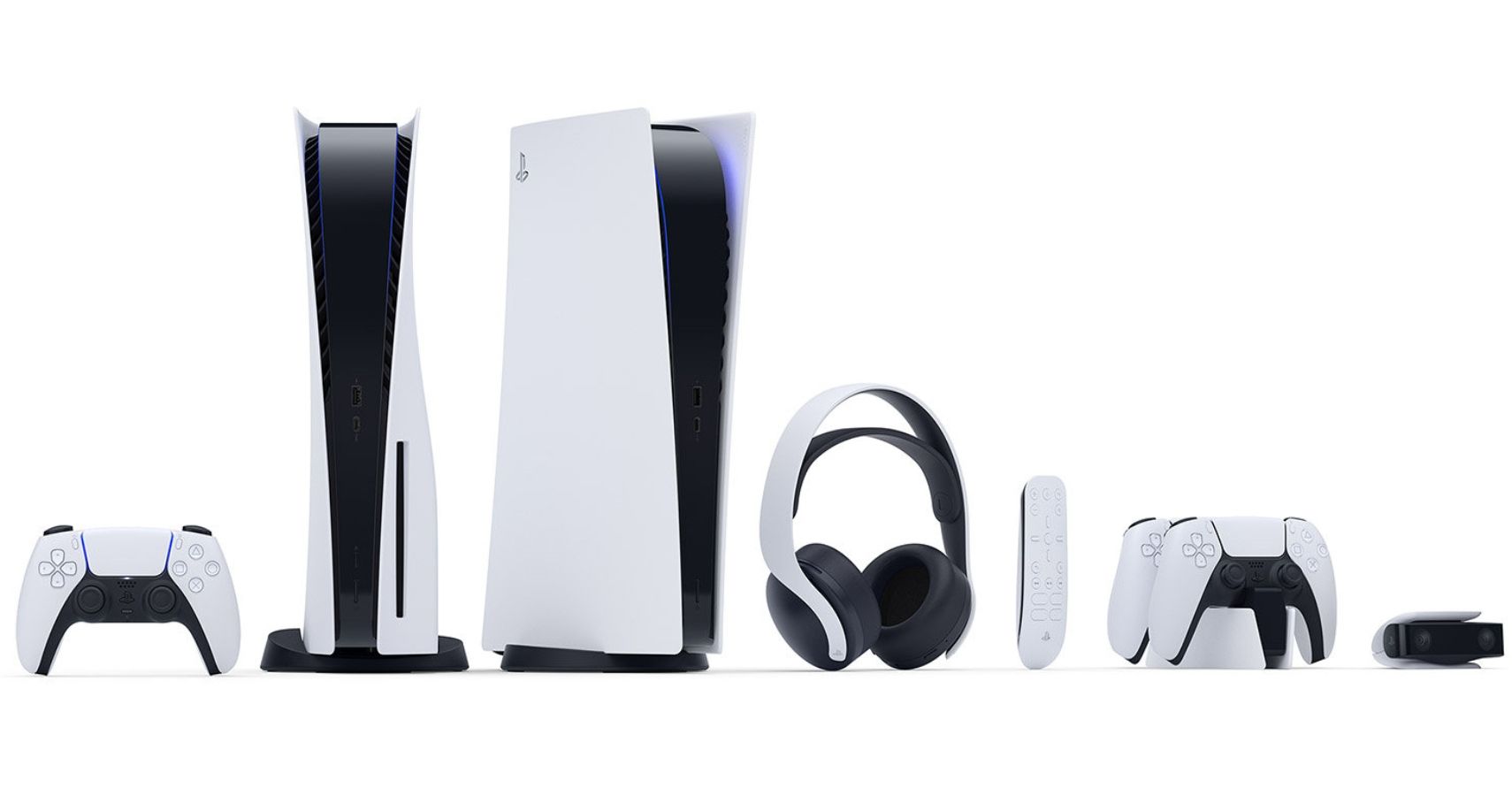 Game News
TheGamer Originals
Kickstarter
ToeJam & Earl
Whitney Meers is a lifelong gamer and professional writer whose credits include Newsweek, Comedy Central, HuffPost, NBCUniversal, Samsung, The Discovery Channel and truTV. She regularly contributes to Frederator Digital's YouTube gaming channel The Leaderboard, which recently surpassed a million subscribers.
As a former Top Writer on Medium, she wrote several of the site's most widely circulated satirical pieces throughout 2017 and 2018. Her personal essays have appeared on xoJane and Everyday Feminism. Additionally, she served as the consulting lead on Newsweek's Fortnite Special Edition, securing interviews with numerous gaming personalities including Ninja, DrLupo, TimTheTatman and Pokimane.
Whitney has a comedy background and has written and performed in various live shows including 8 Bits: A Sketch Show About Video Games at New York's Upright Citizens Brigade Theatre. She was a house team member on the sketch comedy team Slap Fight at The People's Improv Theater, also in NYC.
A versatile content creator, Whitney also produces gaming videos, makes gaming-related fan art and writes genre-bending scripts for film and television. Her pilot script Recession Proof was nominated for the TVWriter.com People's Pilot award in 2011 and was later optioned and produced by an independent production company.
Occasionally, Whitney streams on Twitch, where you can watch her battle royale her way through code:leaf errors in Apex Legends. Twitter / Instagram: @whitneymeers YouTube: youtube.com/wmeers
Source: Read Full Article