OlliOlli World Finally Made Me Comfortable With My Style
As a white male, it feels stupid to say that character customisation is a hard thing to get right. There are so many cultures, races, sexualities, genders, and identities that tend to get missed out when it comes to making your own hero in a game, so it feels somewhat reductive for me to complain about my own experience with them.
And yet, despite having all the options in the world, I've never found it easy to pin down my "style" in a game and truly represent myself. It always seems like I'm looking at an AI-generated best guess of what George Foster looks like. It's usually got shades of pink in there, at least.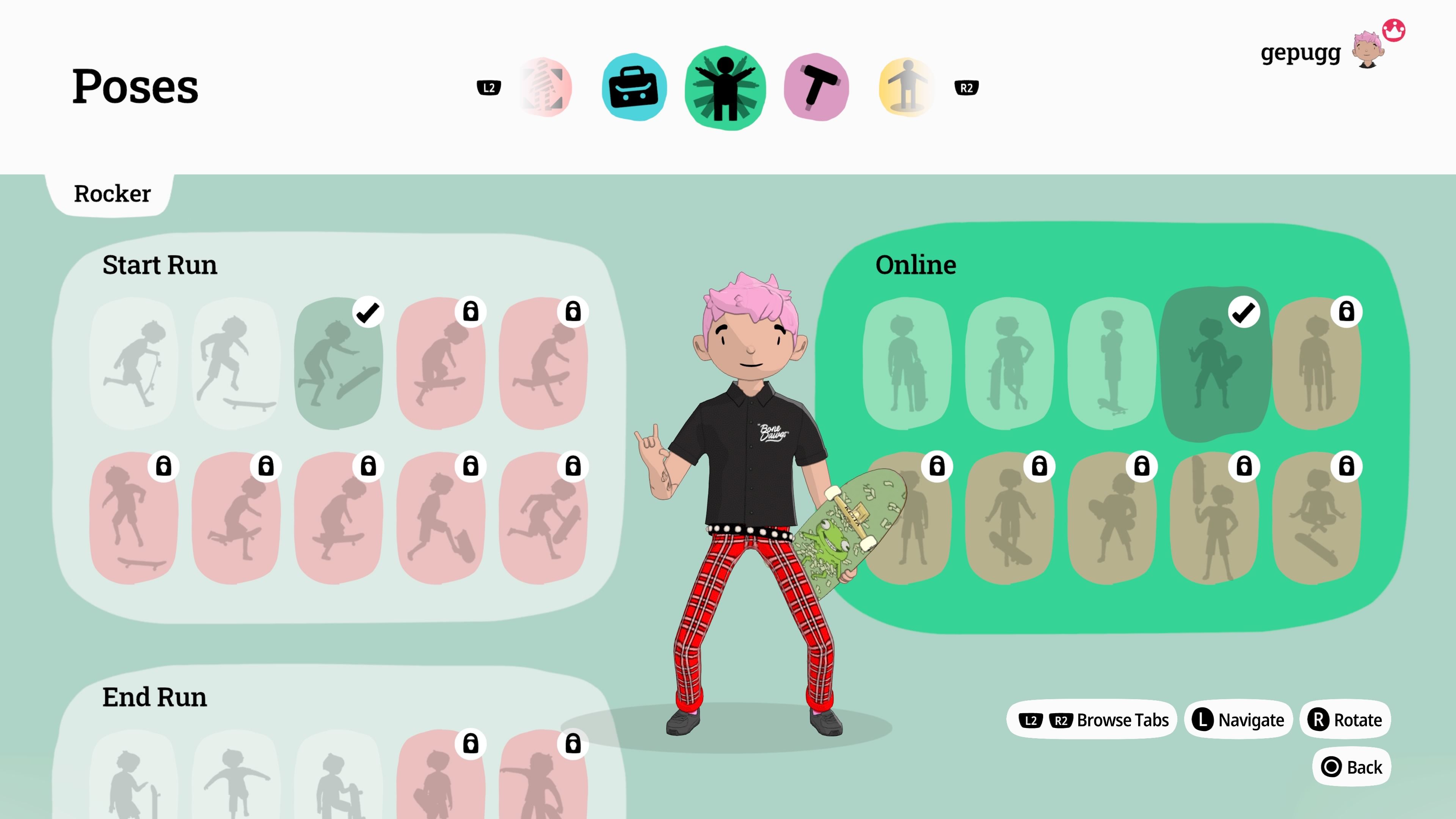 In 2019, my best friend's brother passed away, leading to a "fuck it" moment of self changing and discovery. Beyond just growing out of the notion that I had to dress and style myself for others, dyeing my hair blonde in honour of that friend and getting my first tattoo as a seize the day gesture opened my eyes to how I really wanted to look. At least, that's what I thought at the time.
Back when Tony Hawk's Pro Skater 1+2 released in 2020, I was certain that the avatar I'd made there, with his two small tattoos and blonde hair, was the most accurate representation of me I'd ever put to pixels. Jump to 2022 and that version of George is almost completely unrecognisable, and a sore reminder of how much has changed in such a short amount of time.
Since then, I've changed my hair colour six different times, added 30 tattoos to my body, and opened up even more about how I want to dress. No longer was it the ocassional floral shirt if I was feeling a little brave, it was the 'all-eyes-on-me' pink jacket, plaid trousers that get taken the piss out of for being pajamas, and arms that might as well be sticker sheets for every IP I've enjoyed – spoiler alert, it's pretty much all of them. The me I am now is the happiest I've ever been with my look, hence the comfortable pisstaking, but it's not one that's easy to recreate in games and often gives me a bit of an identity crisis as I search the tattoo menu desperately for the smoking Bojack Horseman head.
Then in comes OlliOlli World. From the start, Roll7 has pushed that everyone should feel comfortable in Radlandia, with no gender options, pronouns, or religious discrimination to get in the way of the rad skating. You can wear whatever you want and be whoever you want to be with very little difficulty.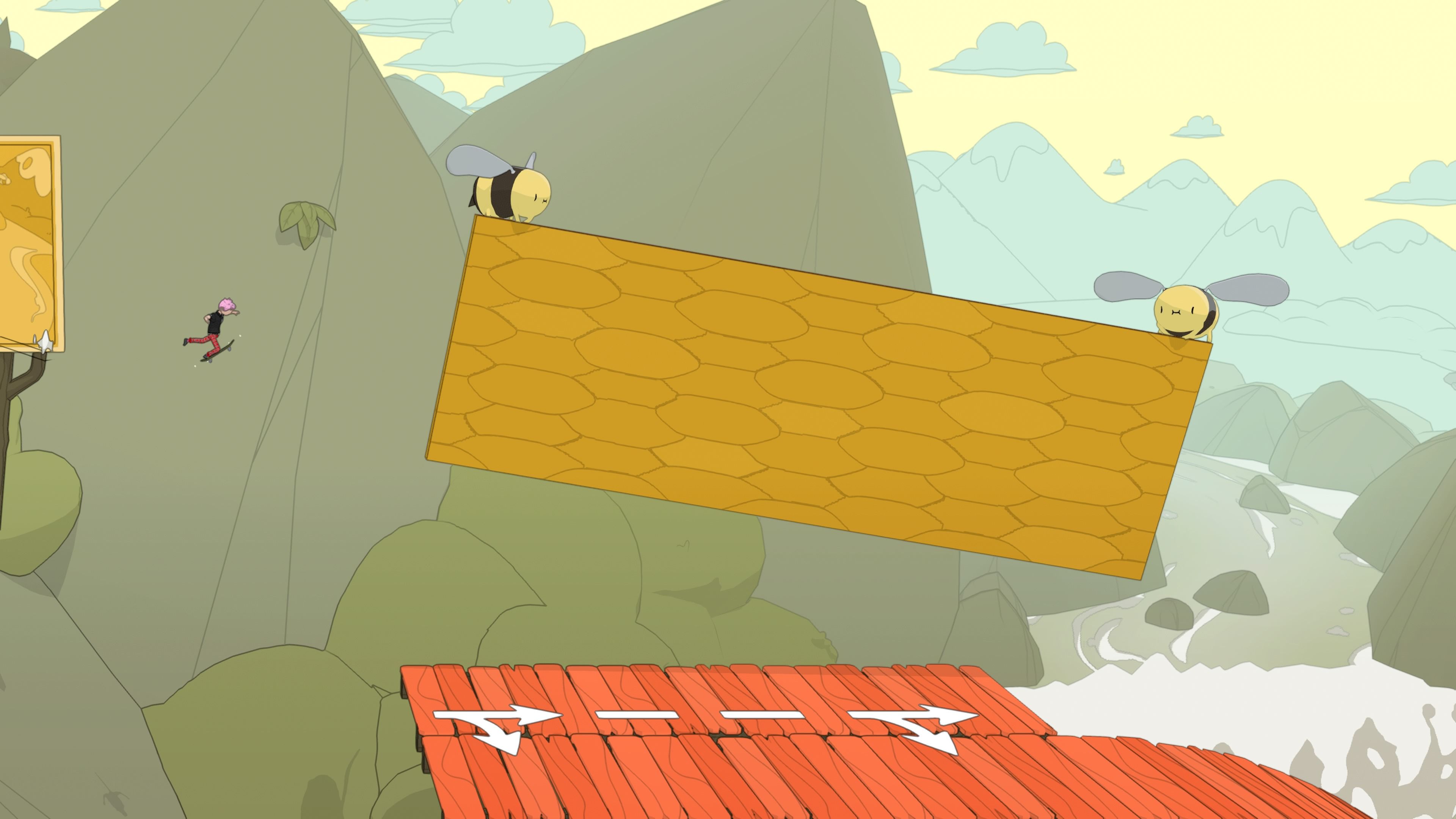 For me, that meant dressing my little me with the pink hair I've always wanted but struggled to maintain for more than a week, the trousers I'm still too afraid to wear out of the house and, most importantly, a sleeve of random cross stitch tattoos. Tattoos have slowly become a very big part of how I express myself, and despite how common they are now, it's very rare for games to include a purposefully random looking design made up of unrelated tattoos – OlliOlli World makes it the default choice, with charming ink that dots the players arm and tells stories that the game simply can't.
I recently took the leap of getting hand tattoos and forever ruining my job security and now have to keep my hands in my pockets when I'm at my nans, so seeing that default tattoo stretch all the way down to the hands so casually felt freeing. Those tattoos weren't my own, but they might as well have been an exact copy for how much it helped support my self-image.
I'm sure in 2025 when the mutant crocodiles have risen up from the hand sanitizer wastelands, my image will be very different from how it is now. Even if it is, I'll never forget how OlliOlli World let me be my true self in a game for the first time in a very long while and helped me come to grips with who I am now.
Source: Read Full Article