Nintendo Suite At Hotel X Toronto Is So Nintendo It's Creepy
A looming tower of Goombas sits in the center of the room. In the corner, a dead-eyed Toad looks on with a wan smile. Every wall is covered in Mario or Luigi paintings, every surface is festooned with official Nintendo plushies, and every screen is playing the most popular Nintendo Switch party titles from Mario Kart to Smash Bros. And in the center of it all, Mario waves you forward enticingly.
Welcome to the Nintendo Suite at Hotel X Toronto.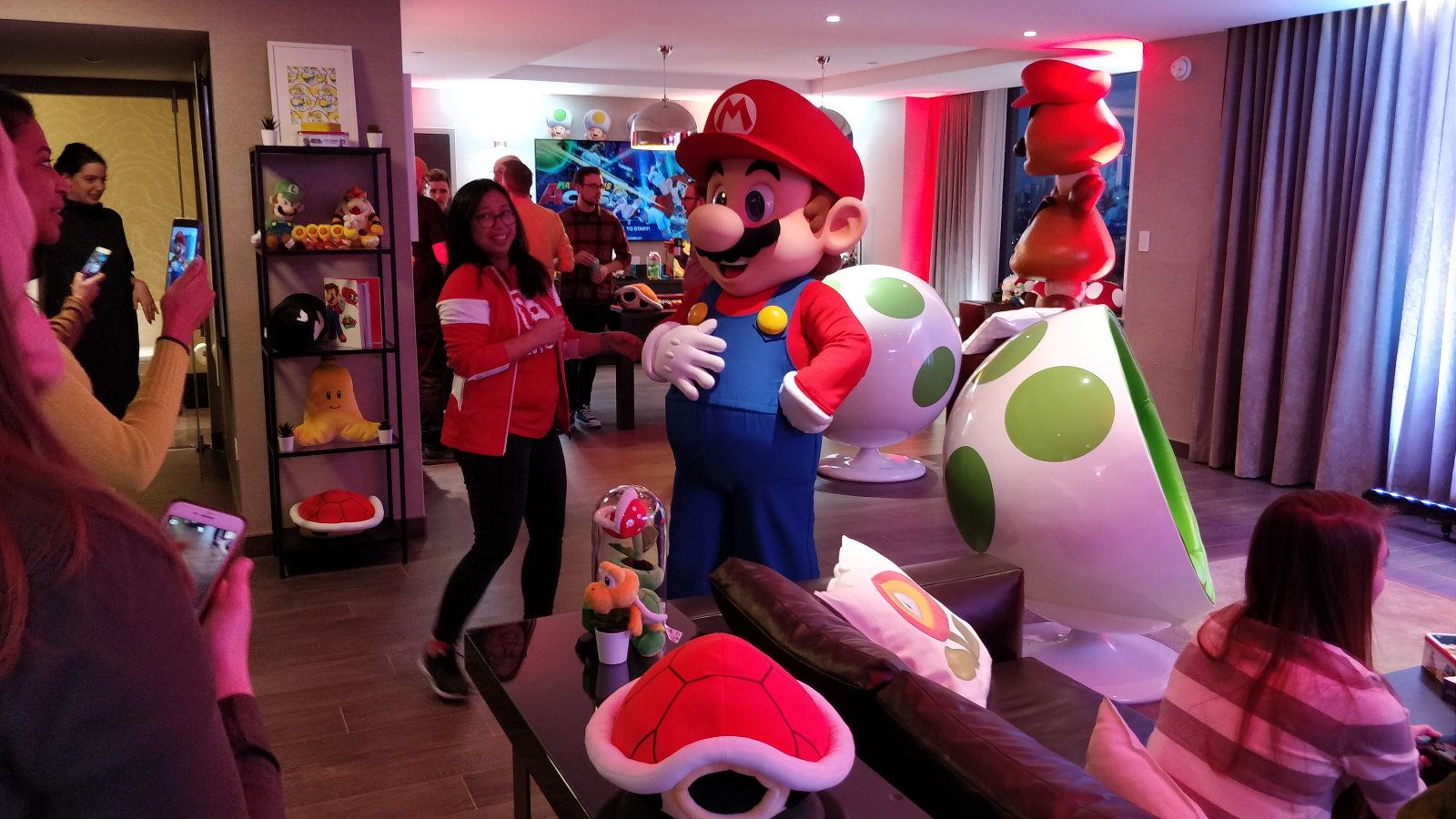 If you're a Nintendo fanboy (or girl, or non-gender conformist), then you'll probably find the Nintendo Suite charming in its own way. I'm a Sega boy, so to me it was all just a little off-putting and bordered on outright alarming. But I was given a lovely invitation, so I put on a brave face and entered this comfortable suite that absolutely reeked of Nintendo.
From the moment you step through the threshold, the room almost assaults you with just how much Nintendo is present. The largest portion of the room is occupied by an enormous television that must have had a screen that was pushing 80 inches. It's been done up to look like a giant Switch, complete with felt coverings and fake plastic buttons. The real thing sits at the base playing Mario Kart for anyone who cares to pick up one of a half-dozen controllers sitting on the coffee table.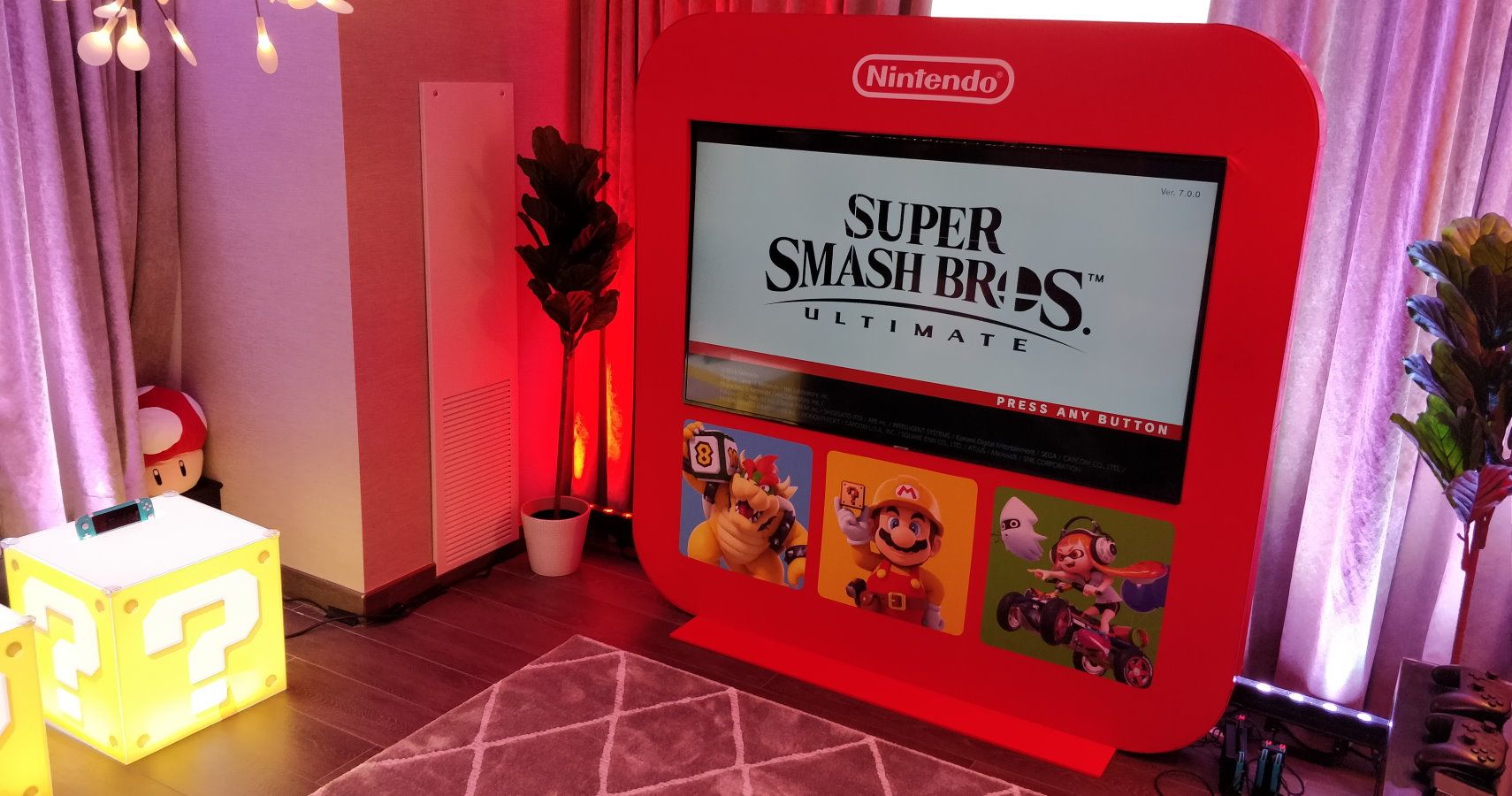 That TV is hardly alone. Two more big screens flank it on either end of the suite. On the right is a more standard setup that you'd likely find in a mall or big box store, its concealed Switch playing Super Smash Bros. Ultimate. On the left end is another TV hanging from the wall playing Mario Tennis Aces. Anyone looking to play that particular title will likely find it difficult to maneuver as there's a pool table blocking the most sensible spot to swing your Joy-Cons.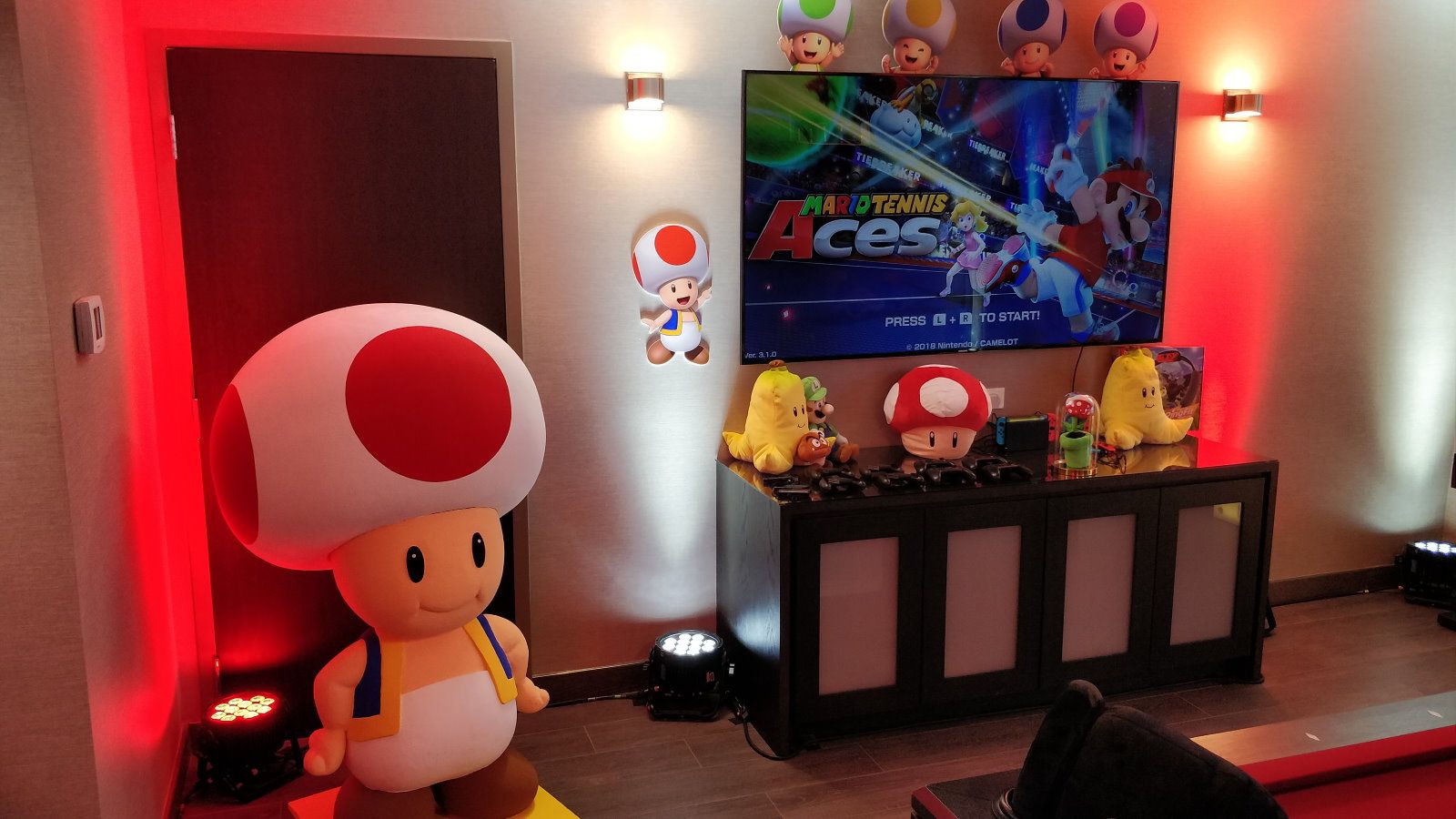 As a room intended for social gatherings (there's no bedroom to speak of, so overnight stays aren't allowed) party games are the most prominent ones displayed, but they're not the only Switch games available. In a glass case near the center console is a library of over 500 titles, including Untitled Goose Game, Xenoblade Chronicles 2: Torna – The Golden Country, and Octopath Traveler. All four Switch-based Pokémon titles are also available in case your group is more into Pokémon that Nintendo's other franchises.
All the main furniture is Hotel X-sourced, but there are plenty of Nintendo-additions. The Yoshi Egg chairs are absolutely cavernous and perfect for some solo Switch play. If you're not much of a party gamer, several Switch Lites are placed strategically around the room in glowing Mystery Block holders.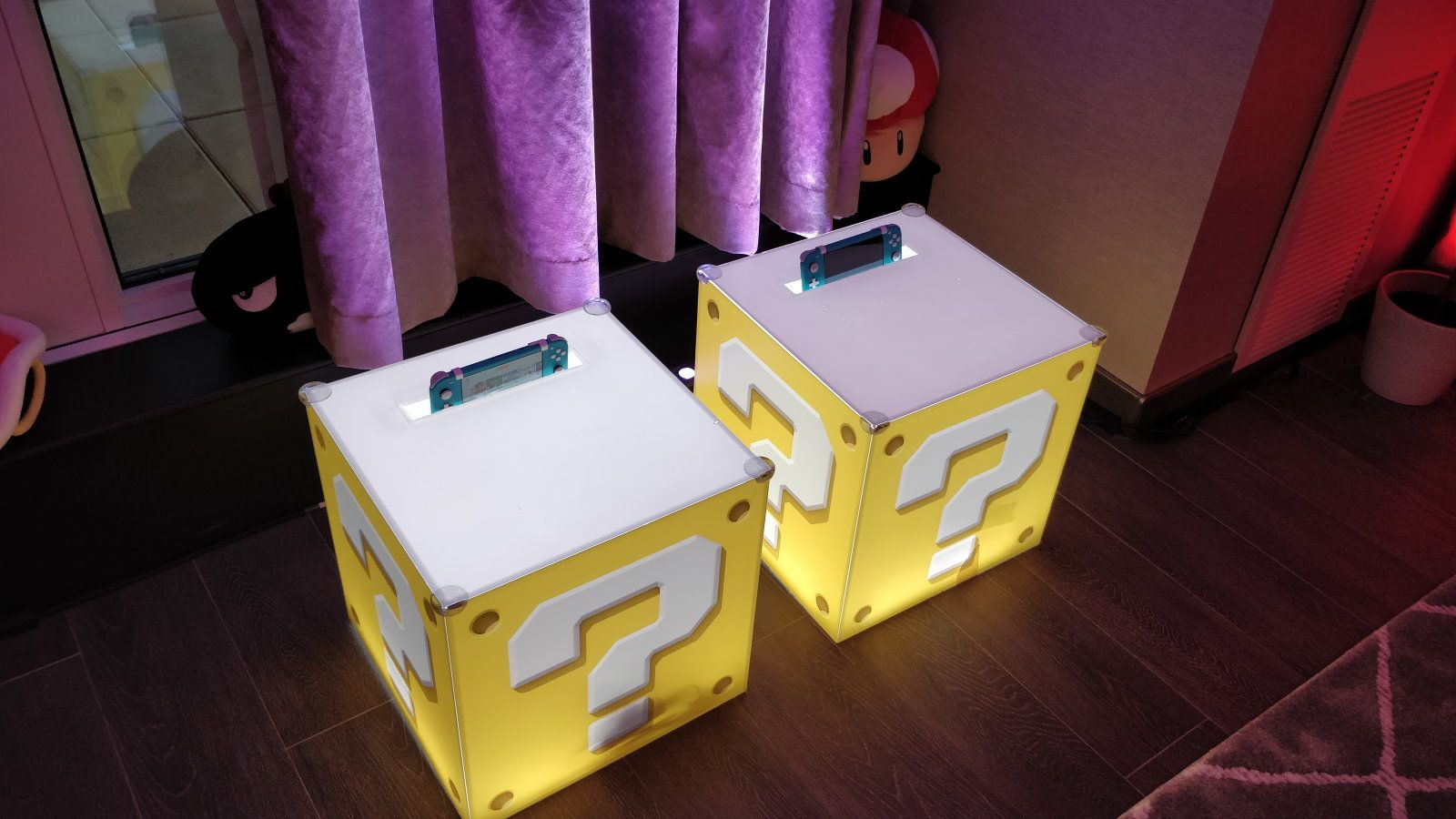 If you're just not much of a video gamer at all, that's fine– the Nintendo Suite has got you covered, albeit in a very Nintendo way. Two versions of Monopoly are available: Monopoly: The Legend of Zelda Collector's Edition as well as Monopoly Pokémon. If you prefer to stay on speaking terms with your friends or co-workers, there's also Mario Chess, Mario Checkers, or Mario Tic Tac Toe.
Hotel X will host the Nintendo Suite from 3 p.m. to 11 p.m. every day from now until March 24, and before you ask, they're unfortunately all booked up for every available time slot. Booking was $500 for 8 hours, which is a phenomenally high rate even for a 5-star hotel, but Hotel X doesn't see a dime. All proceeds go to the Starlight Children's Foundation, a Canadian organization that brings joy to seriously ill and hospitalized children.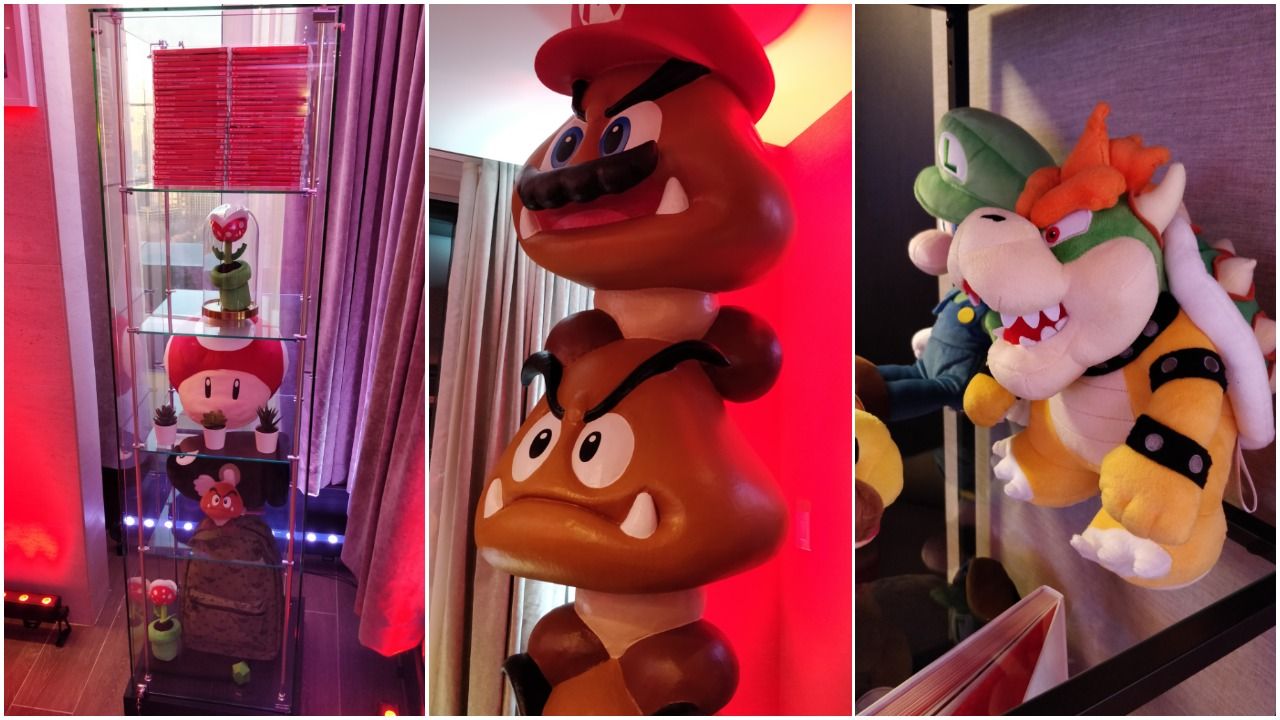 "We jumped on the opportunity to partner with Nintendo of Canada to temporarily transform our Presidential Suite into a Nintendo fan's dream," said Hotel X Toronto Marketing Director Matt Black. "We look forward to welcoming Torontonians into the Nintendo Switch Suite to come together and have fun for a worthy cause."
It's a great cause, and certainly a great way to spend an afternoon slash evening. But you definitely have to love Nintendo, and some some serious cash, to spend a full eight hours there.
Source: Read Full Article