I Travelled 170 Miles To See The Resident Evil Chalk Werewolf
Last week we reported on a niche bit of marketing from Capcom, where they'd emblazoned a hill in Somerset with a chalk werewolf to celebrate the launch of Resident Evil Village. I jokingly said after posting the story that I'd go up and see it myself, before checking that the train would take nine hours due to weird connections where I live, and deciding that would be a ridiculous waste of my time. 
Cut to literally one day later, and I was out with two friends for breakfast and thinking of things to do with the day. I jokingly mentioned driving to Somerset to get a picture of a chalk werewolf for Instagram, before getting a lightbulb moment and saying that wouldn't be a bad idea. Thankfully, I have some pretty great friends who are willing to put up with my game-addled brain.
What would have been nine hours on the train was a much more manageable two hour trip in the car, so we all piled in and started charting a course for Somerset. I live in the South West of Devon, so it was a pretty straight path to get over to the werewolf, and for a while, it was typical road-trip fare with sing-alongs, energy drinks, and a general sense of freedom.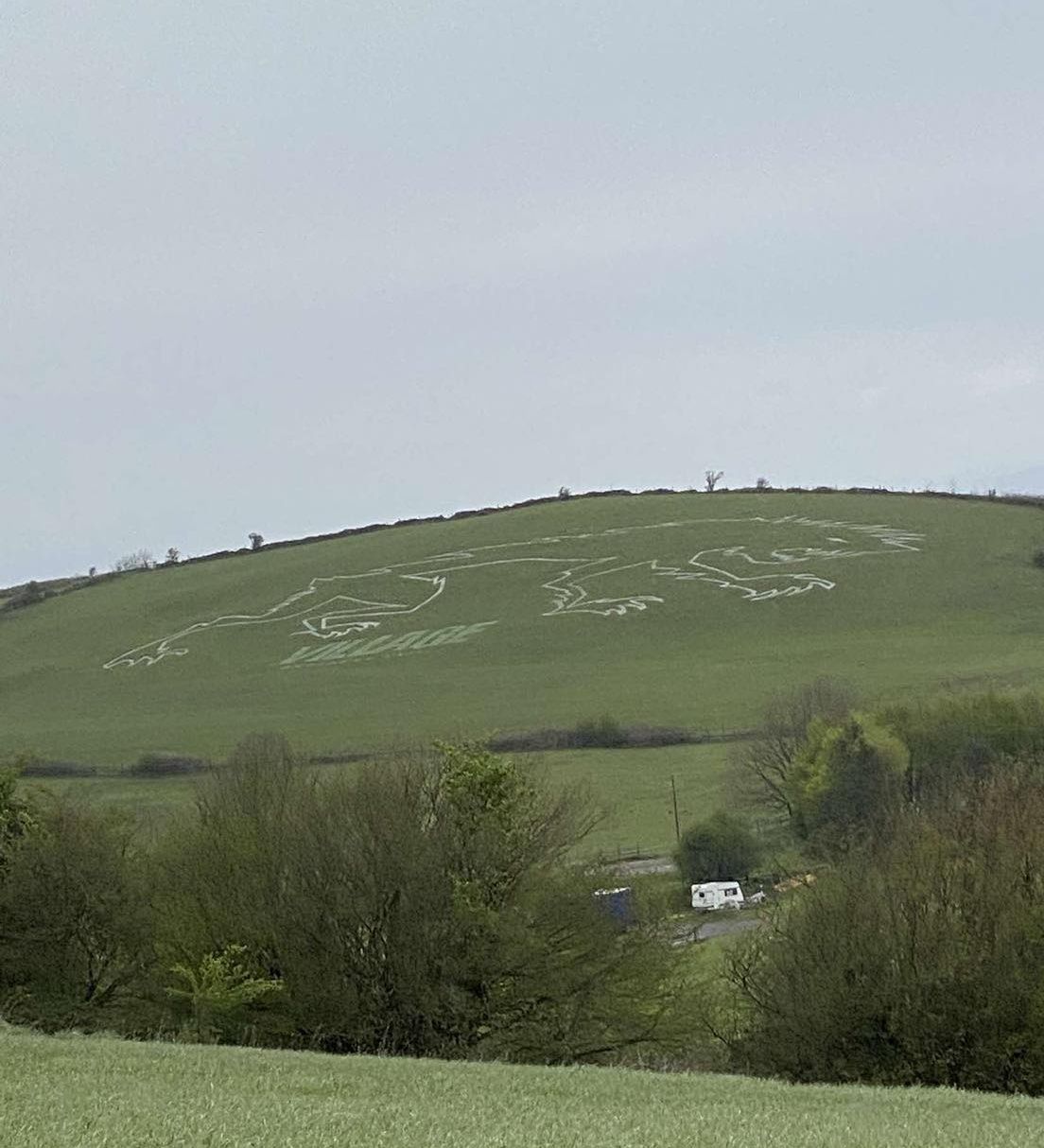 Every road trip has to have its difficulties though, and it wasn't long before our journey started running into them. The first issue came when we arrived in Somerset – it's a pretty big place, with a lot of hills. Capcom's Tweet about the werewolf didn't specify exactly where it was, and Somerset is a county. That means that we'd basically drove two hours to find a needle in a haystack.
Looking through Twitter and other social media posts didn't help too much either. All of the Somerset news sites reported that it was in the Mendip Hills, but once again that turned out to be more of a wide area of different towns and villages than being a specific location. One post managed to narrow it down to Shipham, but that still didn't make it very easy.
After an hour of driving around Shipham and following a Google Maps image of a farm that could be seen in some social media posts of the Werewolf, we finally pulled up in an area that vaguely looked like what we were looking for. Thankfully, a helpful lady managed to point us in the right way after being asked, "have you seen a werewolf around here?".
She reacted with the appropriate facial expression of mild disappointment in my generation, before nervously pointing to the hill behind us and saying, "do you mean that thing?". That thing in question was indeed the Resident Evil Village werewolf. We'd done it, our 85-mile pilgrimage was complete. Even the fairly sarcastic look we got from the locals couldn't get us down.
This is where we ran into our second issue – how the heck do you get a good picture of chalk artwork that's meant to be viewed from the air? Well, calling them good pictures is probably a bit of a stretch, but a quick climb up a hill – in the rain might I add – allowed us to see the whole thing and take some hard-to-see photos. Trust me, the werewolf is in the pictures, it's just hard to see from a camera's perspective.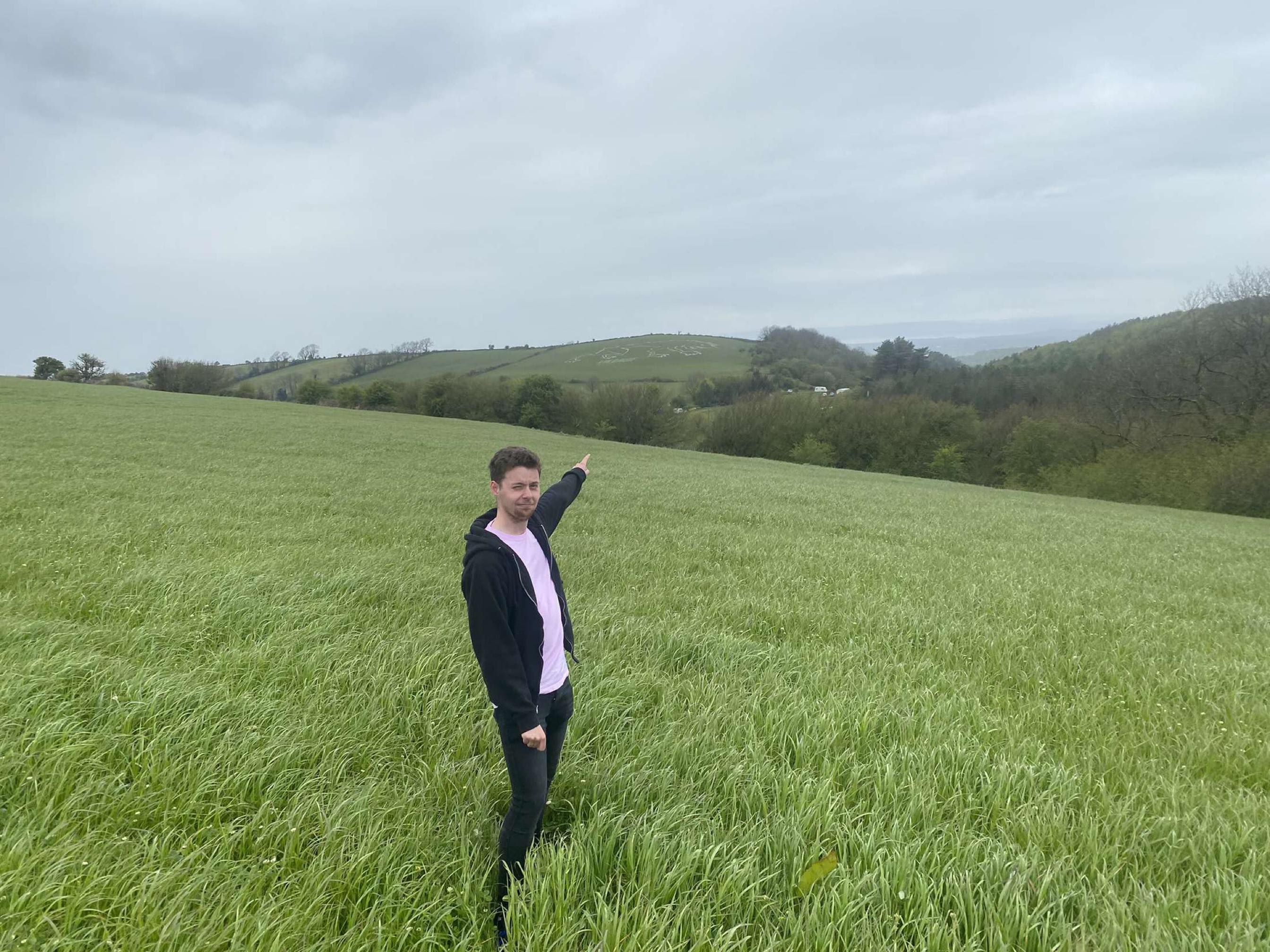 So after travelling across the country to see the chalk werewolf in person, did it live up to the hype? To be completely honest, it's a bit of a dud when you see it in person. Not only is it in the middle of nowhere, but you'd have to get incredibly lucky to spot in from anywhere in Shipham. When I'd heard that it was in Somerset, I imagined it being on the main road into the county, where everyone could see, but it's really tucked behind some random hills where no one would go.
More than anything it made me think about gaming marketing and how wonderfully weird it can be. We don't just have trailers, we have chalk artwork on random hills, we have kids named Dovhakin, and we have goats sacrificed for God of War. Most of the time the advertisements are all over big cities, but it was nice to finally see one close-ish to home.
Still, even after travelling another 85 miles to get back home, I definitely felt it was worth it. My status as an investigative journalist definitely went up that day, and I had a fantastic road trip full of laughs. Maybe the real Resident Evil chalk werewolf was the friends we made along the way.
Source: Read Full Article