Dreamhack Anaheim Makes A Stellar First Impression
The Anaheim Convention Center hosted the first Dreamhack on the west coast this past weekend and by all accounts, the event went off without a hitch. Attendance was strong and the atmosphere was lively at this first of (hopefully) many Dreamhack events in Southern California.
Dreamhack began in the late '90s as a gathering of a small group of friends in a Swedish elementary school and has grown into a massive international series of conventions. Dreamhack events are best known for hosting esports tournaments in a wide variety of games, but there's so much more to do and see at Dreamhack than just tournaments. Dreamhack Anaheim had something for everyone this past weekend, and if they didn't have something you like, you're more than welcome to bring your own entertainment and join the BYOC crowd in the massive LAN area.
Dreamhack Anaheim Gave The People What They Want
Dreamhack Anaheim felt a lot like a miniature PAX with an emphasis on esports. The entire convention took place within two levels of a single hall, Hall D, while a separate and seemingly much larger Christian convention took place in the neighboring halls. Stages for competitive events lined the right and back walls, hosting tournaments for CSGO, Fortnite, Halo: Reach, Madden, Magic: The Gathering, and more. The left side of the hall contained decently sized Expo where indie developers and student developers showed off their upcoming games. Next to them, Artist Alley hosted dozens of artists selling prints, jewelry, and handmade collectibles. A smattering of vendors rounded out the first floor.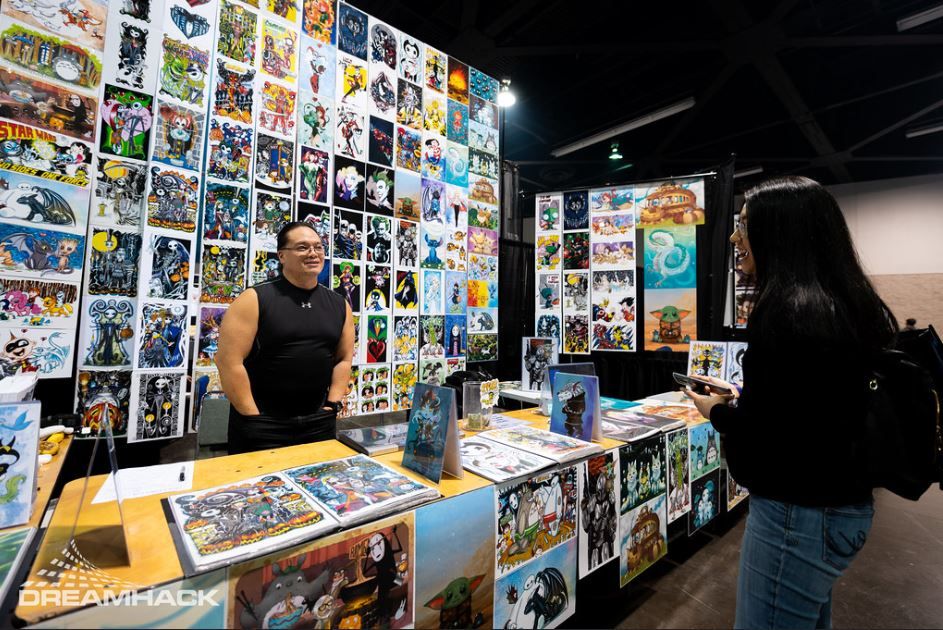 Downstairs was the seating area for panels (of which I believe only one panel was conducted at a time) as well as a few fighting game tournaments, PC and VR Freeplay areas, and the biggest LAN area I've ever seen in all my years of convention-attending.
A major draw for Dreamhack events is the BYOC (that's bring your own computer) LAN area where thousands bring their PCs together to group game and hang out. The appeal of lugging your PC equipment into a crowded hall to play the same games you can play at home alludes me, I must admit, but there's no denying the popularity. BYOC-only tournaments and clan meet-ups brought thousands together to game. There's a tangible sense of camaraderie and solidarity at Dreamhack. Especially in the LAN pit, one truly feels among their people.
IRL Games Make Real Activities Feel Like Video Games
The most unique activities at Dreamhack Anaheim were without a doubt the IRL Games. Three different games were being run by the event continuously over the weekend to give everyone in attendance the opportunity to try something completely new.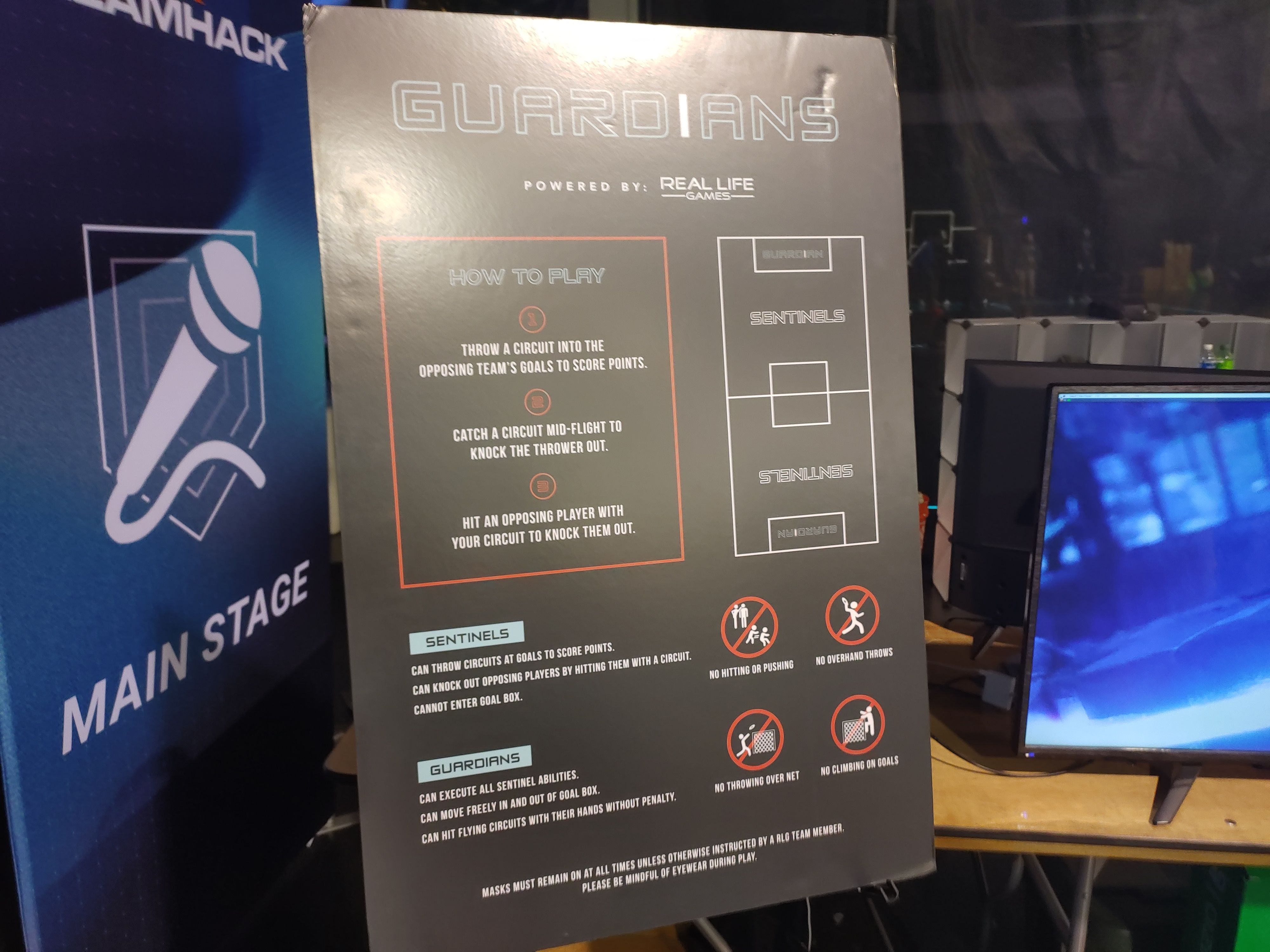 Guardians is a dodgeball-style game inspired by Tron that plays suspiciously like Valve's Ricochet. A court is divided in half and two teams take turns hurling frisbee-shaped "circuits" across the center divider to hit opponents and score points by landing circuits in the opponent's net. It's not a particularly complex game, but it's also something not seen at other conventions. An opportunity to learn a new game and be physical is a welcome one.
Another IRL game that drew a sizable audience was Lightspeed Saber League.  The Tustin-based organization specializes in "plasma sword combat," "light-based fencing," and other synonyms for Lightsaber fights.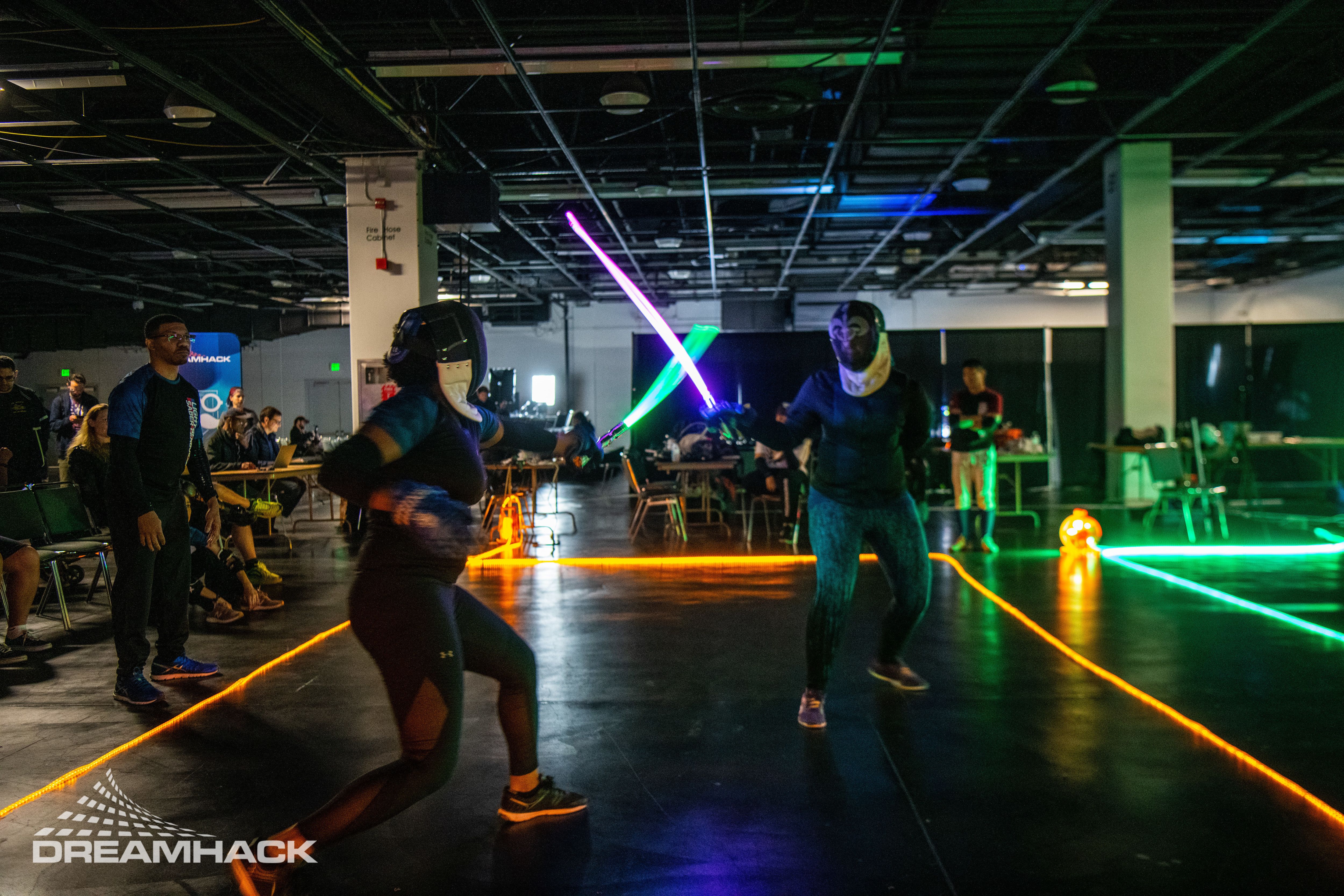 The Lightspeed Saber League was set up in the darkened downstairs part of the convention and was actually a lot of fun to watch. There were no flying sparks or droids with anxiety disorders, but the competition was stiff and a lot more people demonstrated impressive lightsaber skills than you would have guessed.
I Played Real Life Counter-Strike And The Terrorists Won
The coolest IRL game at the convention, without a doubt, was Aegis: Tactical Battleground. Between the NHL stage and the food court was a massive set build of winding hallways, office spaces, and conference rooms. Two teams of four suited up with vests, laser guns, and health packs and competed in a 10-minute game that was nothing short of IRL Counter-Strike.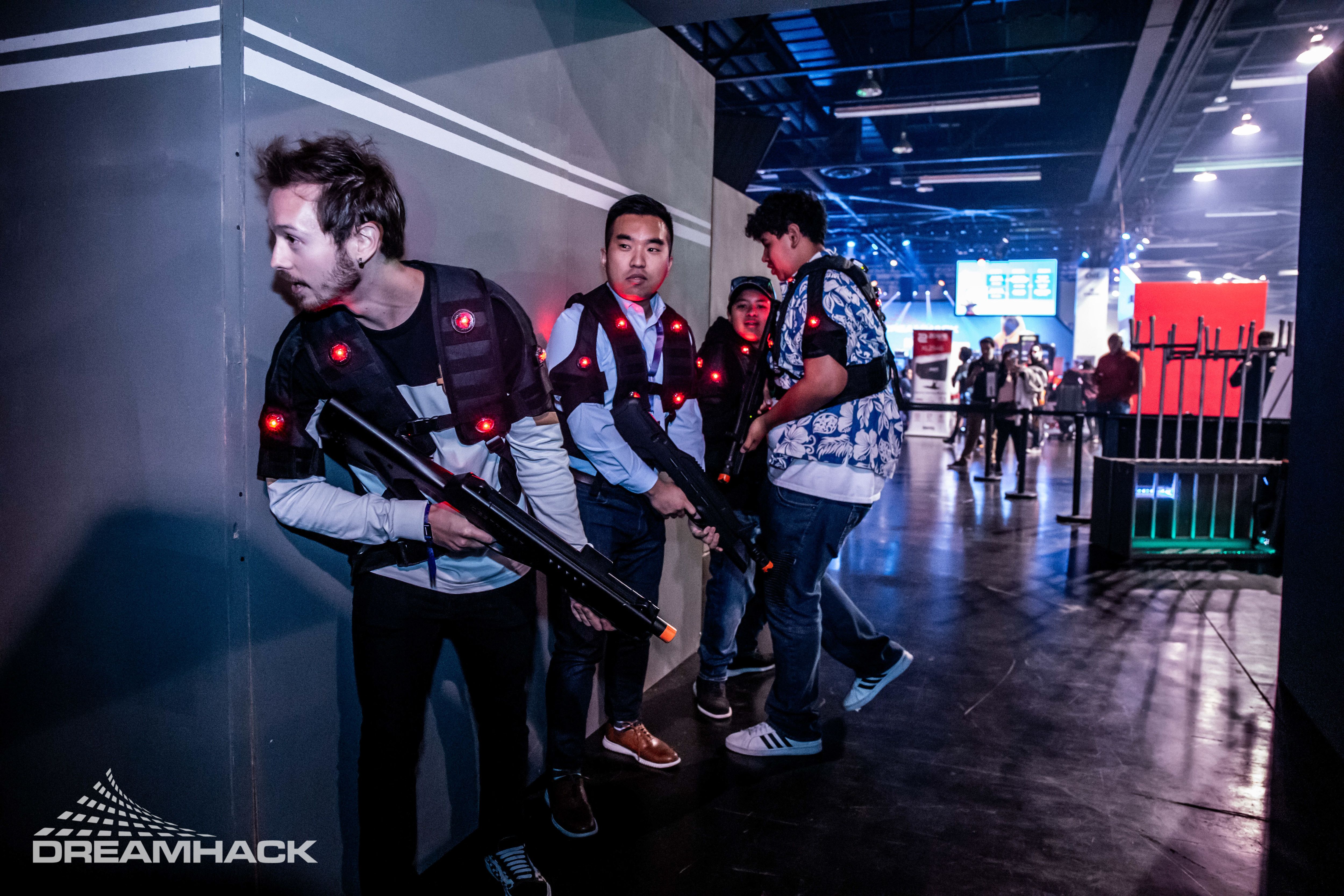 Each team member is assigned a class. Strikers fire assault rifles and have low health, Ramparts are tanks that use auto-shot guns, and Vitalist carry med kits that heal all teammates in a large area.
A designated bomb carrier is given a small pelican case to hide somewhere throughout the arena. The bomb-planting team them defends the beeping bomb while the opposing team attempts to locate it and disarm it. Aegis takes laser tag to a whole new level simply by introducing an objective. With some fine-tuning, Aegis has some legitimate competitive potential.
Don't Skip The Next Dreamhack
This was my first Dreamhack, and I really enjoyed the pace of the event. It wasn't over-crowded but the event space still felt full and alive. Even if you don't follow any particular esport league or have an interest in joining the LAN, there are still plenty of awesome things to do and see.
The next Dreamhack event takes place in Dallas at the end of May. You can find out more about Dreamhack's upcoming events on their website.
Source: Read Full Article