Yu-Gi-Oh! Master Duel: Every Reward You Can Earn In The Synchro Festival
Quick Links
What Is The Yu-Gi-Oh! Master Duel Synchro Festival?
How To Earn Rewards In The Synchro Festival
Every Reward In The Synchro Festival
Yu-Gi-Oh! Master Duel's latest event has begun, and this time Konami is challenging duelists to use Synchro Summoning in order to earn rewards. Synchro Summoning allows you to use Tuner monsters to pull powerful Synchro Monsters out of your special deck, and mastering this mechanic could help you win big over the next few weeks.
The more you win, the more you earn, and with lots of exclusive prizes on offer this time around, it is well worth getting stuck in. Here is everything you need to know about the Master Duel Synchro Festival limited event.
What Is The Yu-Gi-Oh! Master Duel Synchro Festival?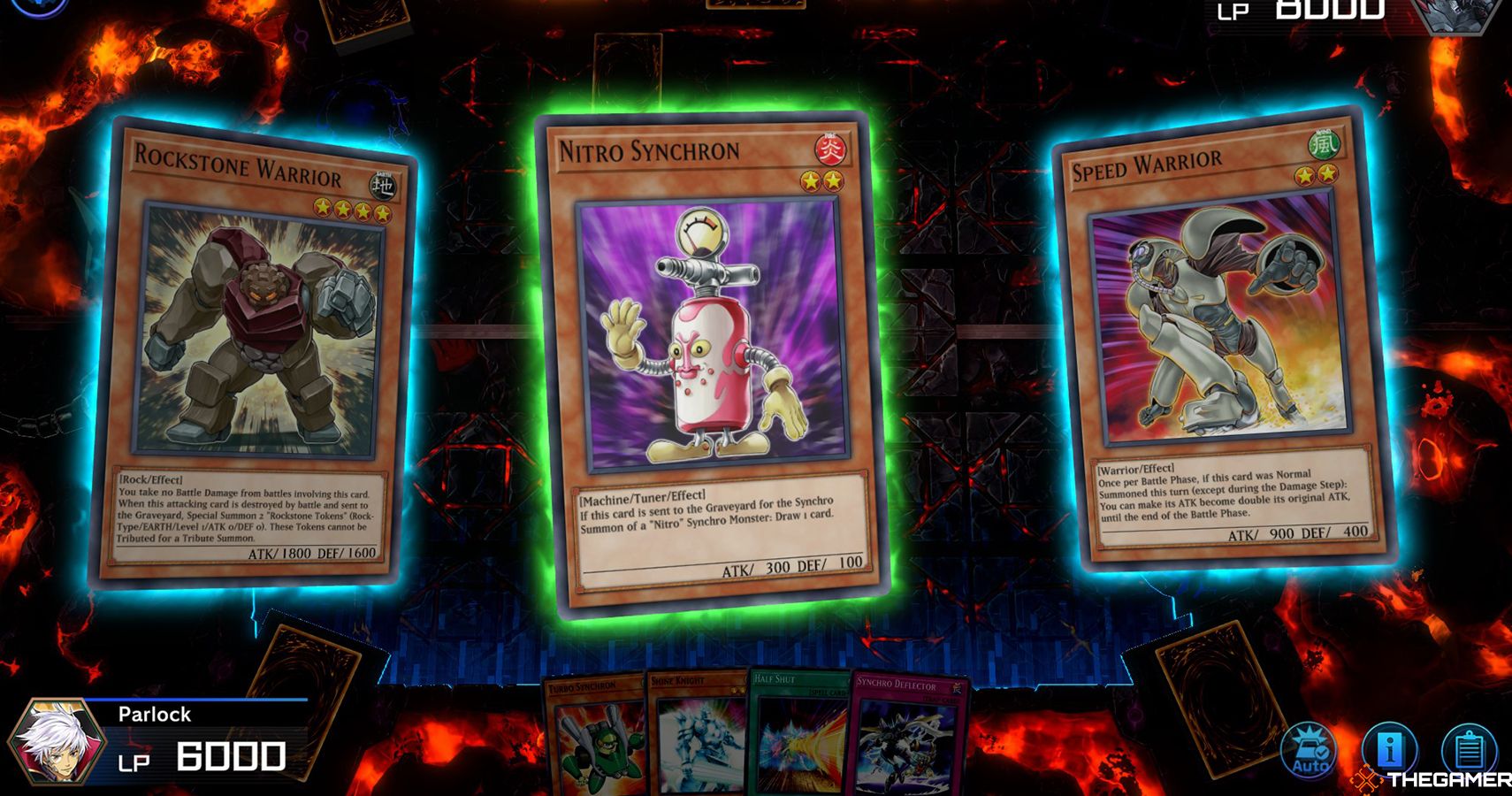 The Synchro Festival is the latest in a series of limited-time events to be run in Yu-Gi-Oh! Master Duel. Like all the previous festivals, such as the Xyz and N and R Rarity Festivals, the event challenges you to build a deck with a certain restriction and win as many duels as you can.
This time around, the gimmick is Synchro Summoning. Synchro Summoning is a form of special summon that requires a combination of Tuner and non-Tuner monsters to help summon a Synchro Monster from your extra deck.
For the Synchro Festival, the only monsters you are allowed in your extra deck are Synchro monsters. While technically you don't even have to use the extra deck to win the game, you'll generally be up against players running focused Synchro decks. And may have a hard time if you don't lean into the mechanic.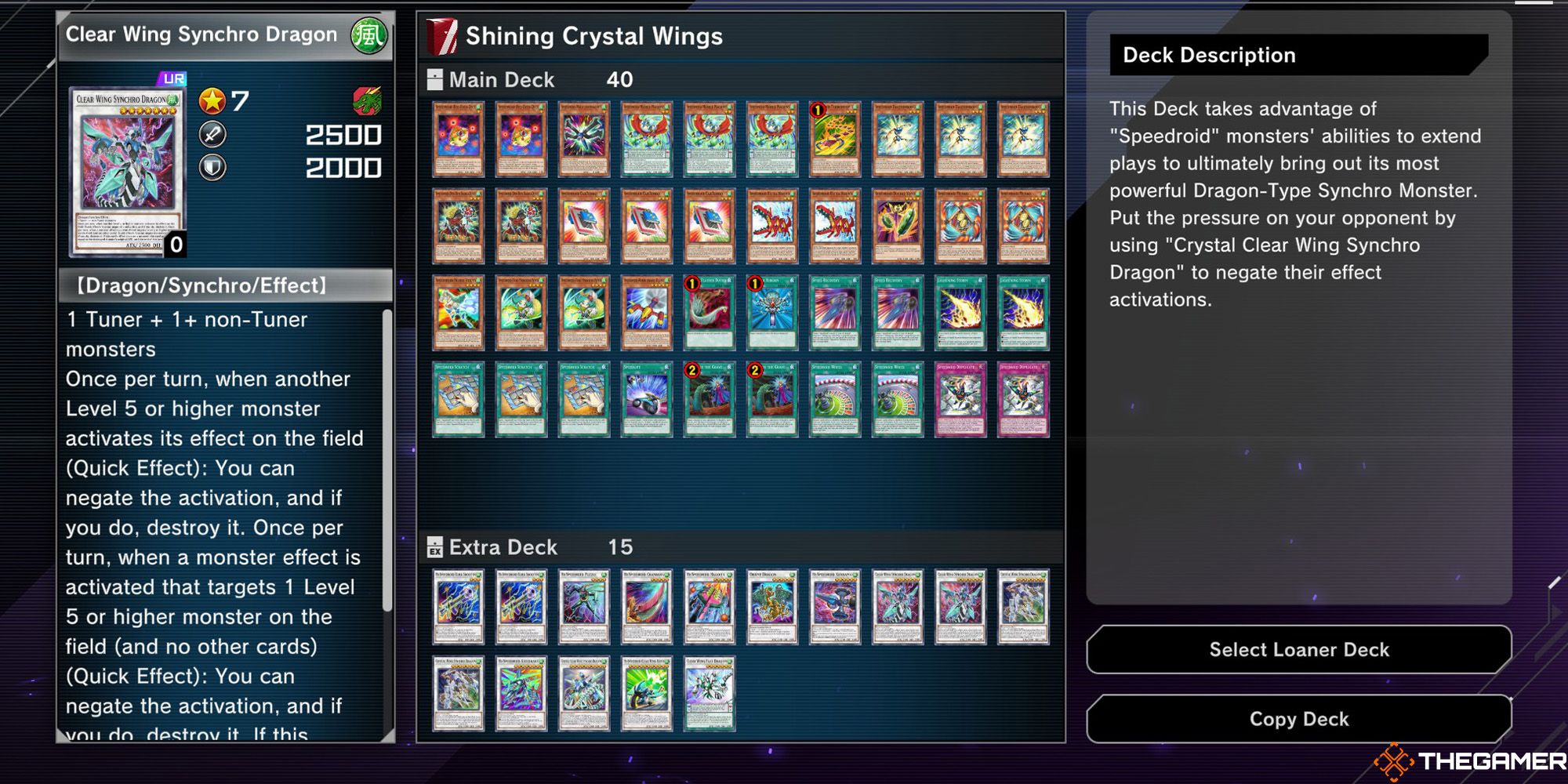 Other than banning any non-Synchro Fusion, Pendulum, Xyz, or Link monsters, the festival is using the regular Master Duel ban list. Master Duel's forbidden and limited list does differ slightly from the normal TCG forbidden list, so make sure the cards you're planning to run are legal before wasting your crafting components.
Fortunately, for those who just want to get stuck in, the event is offering three loaner decks, which have already been made with the festival in mind and are 100 per cent legal. These are:
Shining Crystal Wings, a Speedroid archetype deck that has an element of control as you frequently negate your opponent's effects.
Revolution Calls Thy Name, a Fleur Synchron archetype deck that uses lots of Warrior-types to destroy any card on the field.
Miracles of Convergence, a deck built around the popular Stardust Dragon archetype and focuses on pulling out Shooting Majestic Star Dragon to gain more than one attack each turn.
As the Synchro Festival is a limited-time event, you'll only have a few weeks to take part and earn rewards before it comes to an end. The event began on April 12, 2022, and will run until April 22, 2022.
How To Earn Rewards In The Synchro Festival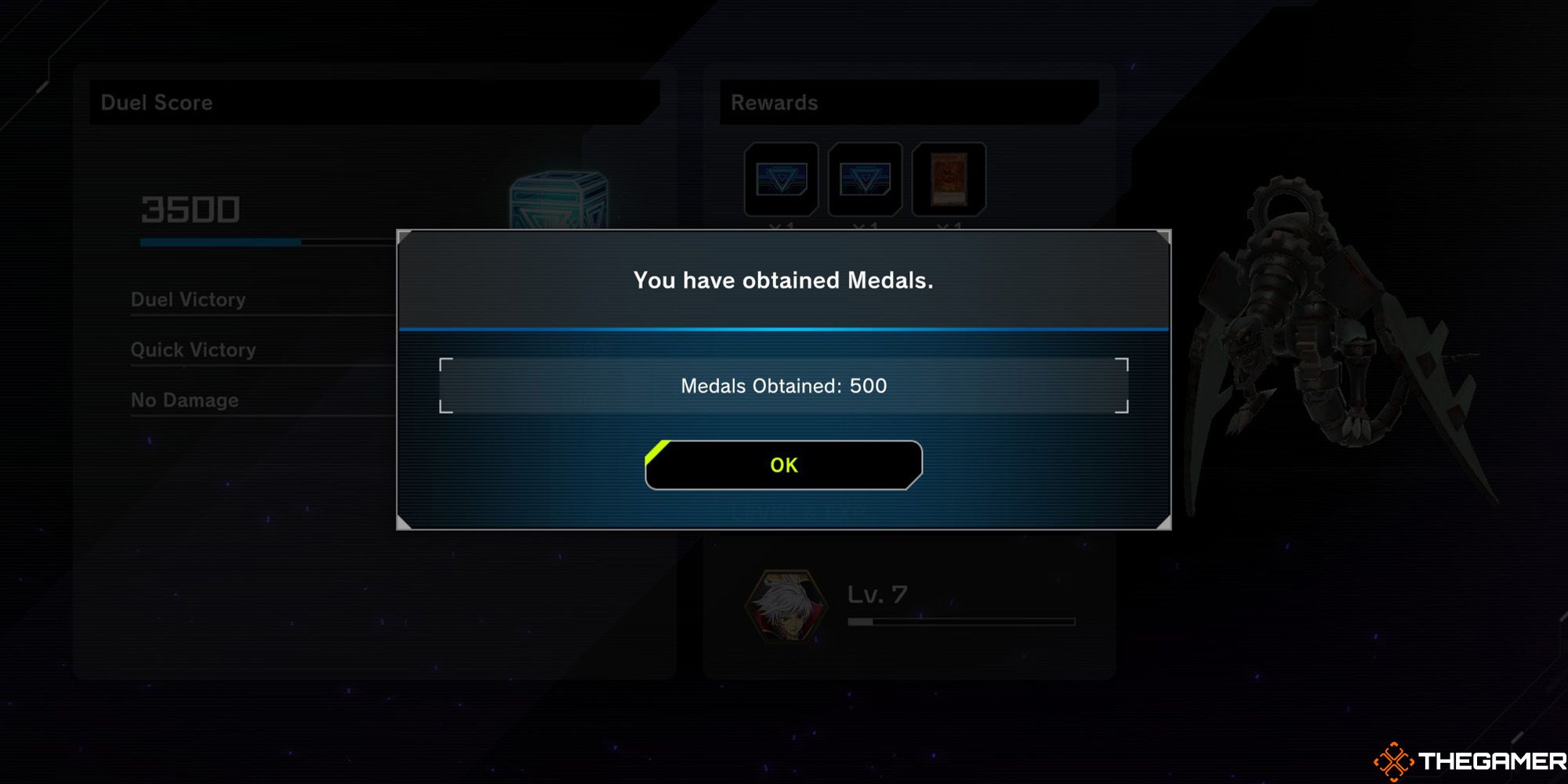 As with previous festivals, to earn prizes you'll need to duel and collect medals. The more medals you collect, the more rewards you'll unlock.
As players were often playing with quickly-losing decks during the first festival, Konami adjusted the rate at which players earn medals. For both the N And R Festival and, now, the Synchro Festival, you earn 500 medals for winning, and 50 medals for losing. You will not earn any medals for conceding, even though it does technically count as a loss.
One thing some players have been confused about in the past is that you don't spend the medals, you simply collect them. They simply serve as trackers for your progress in the festival, rather than as currency to 'buy' the rewards.
Like the N And R Festival, it doesn't matter if you're playing a loaned deck or one you constructed yourself, the rewards will be the same. This means you don't have to spend time making a deck if you don't want to just for the sake of the festival – if you do well with a loaner deck, you'll progress just as quickly as anyone else.
As usual, don't forget that winning duels in the festival also contributes to your Duel Pass. You'll level up and unlock rewards through that at the rate you would in any other duel, so you may be earning a lot more than just the limited-time rewards.
Every Reward In The Synchro Festival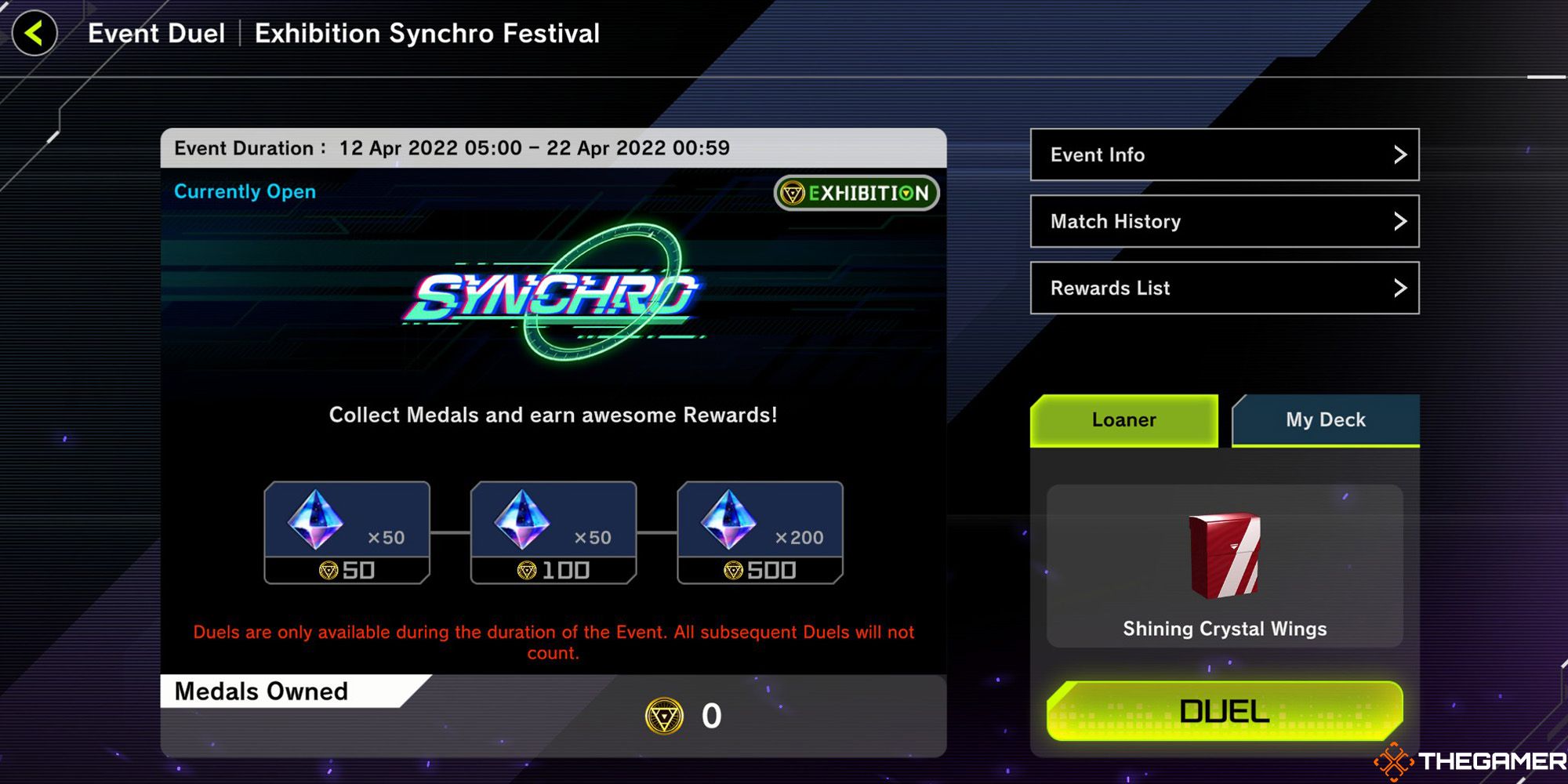 The Synchro Festival is special compared to other events in that there are many exclusive rewards only available through it.
Returning from the Xyz Festival are event-exclusive packs, this time known as Synchro Reward Tickets. These will start being earned once you hit 12,000 medals. However, this isn't the point where you can safely stop, as, for the first time, an exclusive title is being offered to those who go right to the end of the reward track and earn 22,000 medals.
Another noteworthy reward comes in at 5500 medals, where you'll be rewarded with a Flower Gathering Mate's Base. This sits under your mate while in a duel, and is a cosmetic currently exclusive to the Synchro Festival.
| Medals | Reward |
| --- | --- |
| 50 | Gems (x50) |
| 100 | Gems (x50) |
| 500 | Gems (x200) |
| 1000 | Gems (x200) |
| 1500 | Gems (x200) |
| 2000 | Gems (x100) |
| 2500 | Gems (x50) |
| 3000 | Gems (x50) |
| 3500 | Gems (x200) |
| 4000 | Gems (x50) |
| 4500 | Gems (x50) |
| 5000 | Gems (x300) |
| 5500 | Flower Gathering Mate's Base |
| 6000 | Gems (x50) |
| 7000 | Gems (x50) |
| 8000 | Gems (x300) |
| 9000 | Gems (x50) |
| 10000 | Gems (x50) |
| 11000 | Gems (x300) |
| 12000 | Synchro Reward Ticket (x2) |
| 13000 | Synchro Reward Ticket (x2) |
| 14000 | Synchro Reward Ticket (x2) |
| 15000 | Synchro Reward Ticket (x2) |
| 16000 | Synchro Reward Ticket (x2) |
| 17000 | Synchro Reward Ticket (x2) |
| 18000 | Synchro Reward Ticket (x2) |
| 19000 | Synchro Reward Ticket (x2) |
| 20000 | Synchro Reward Ticket (x2) |
| 21000 | Synchro Reward Ticket (x2) |
| 22000 | Synchro Festival 2022 Title |
Source: Read Full Article