THQ's Golden Wii Meant For The Queen Is Up For Auction
The Wii was one of Nintendo's biggest success stories, shifting more than 100 million consoles before it was replaced by the far less successful Wii U. One of those 100 million Wiis is completely unique and worth more than a large chunk of the regular consoles combined. A 24-karat gold Wii created by THQ for the Queen of England, and now's your chance to buy and own the one-of-a-kind console if you can stump up enough cash.
The gold-plated Wii (sadly not solid gold, even the Queen isn't worth that) has resurfaced and is currently up for sale through auction site Goldin (thanks, Eurogamer). The current bid sits at $2000, but if this is the real deal, which it certainly appears to be, you can expect the price to rise far higher than that by the time the auction is over. Six bids have been placed so far, but the auction still has more than two weeks to go before it comes to an end.
The story behind the golden Wii is equal parts bizarre and fascinating. The console was created by THQ as a marketing gimmick to promote the launch of its 2009 game, Big Family Games. A copy of that game comes with the console, by the way. Since the target demographic of the game was families, THQ decided to gold plate a Wii and send the console and a copy of Big Family Games to arguably the most famous family in the world. The British royal family.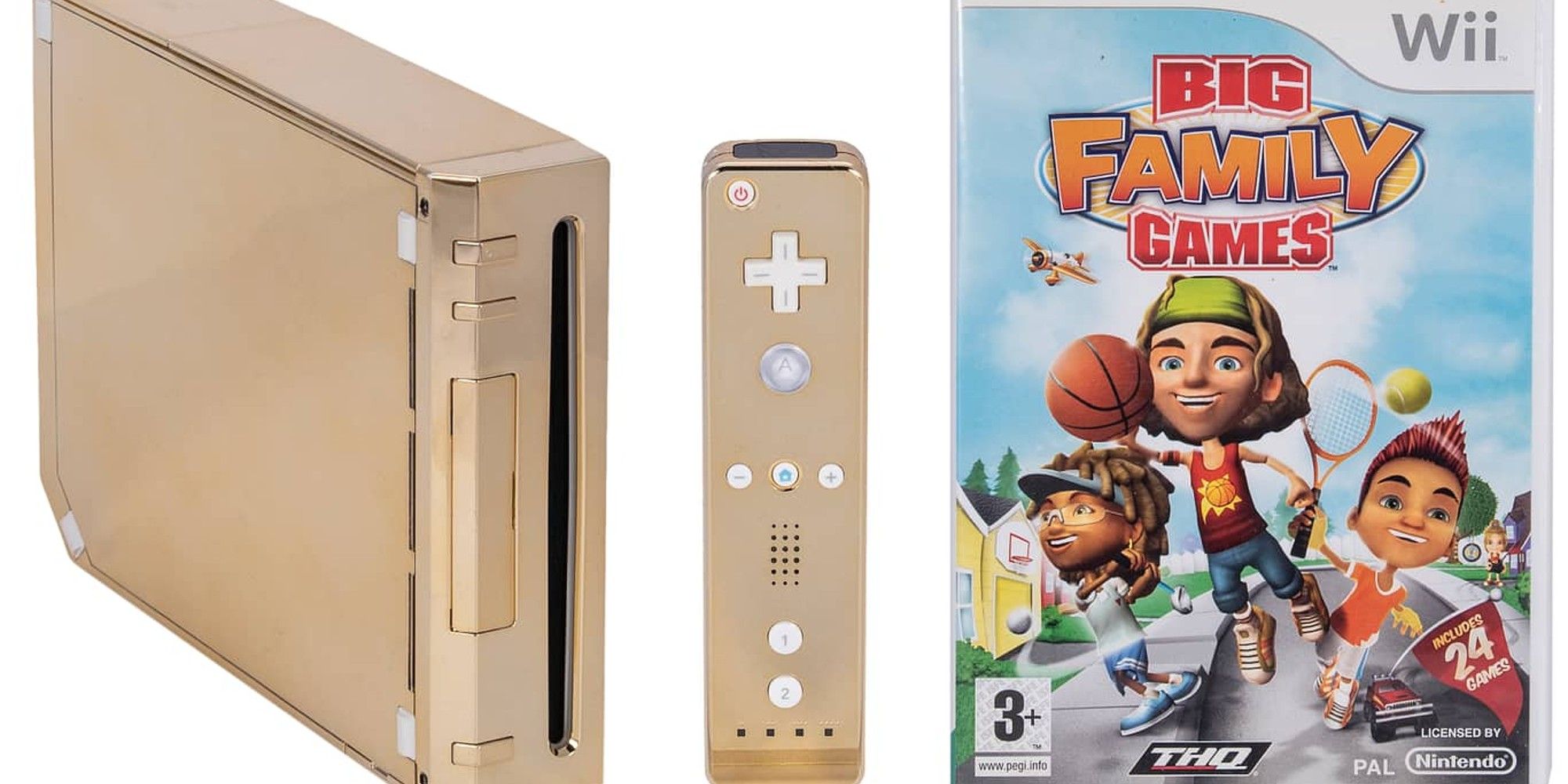 Even though the royal family declined THQ's gift and sent it back, the marketing ploy worked. Well, sort of. Big Family Games didn't become a Wii classic that we wistfully reminisce about all these years later. However, the legendary golden Wii is once again in the news 13 years later. THQ no longer owns what has become a piece of gaming history. That honor presumably still goes to a collector called Donny. People Make Games tracked Donny down in 2019. Two years later, Donny unsuccessfully attempted to sell it on eBay for $300,000.
At the time, Donny defended the lofty asking price, labeling it "reasonable". If they're still the owner, they'll be hoping the auction price rises much higher than the $2000 it currently sits at. The seller has certainly picked a good time to try and shift the console. Rare video game memorabilia has been selling for astonishing prices in recent years, and it doesn't get much rare than this. Last year, a sealed copy of the original Super Mario Bros. sold for $2 million.
Source: Read Full Article