The Last Of Us 2 Game Designer Shows How The Team Built Downtown Seattle
The Last of Us 2 is home to an immersive backdrop full of character, color, and detail, much like its predecessor. In a recent post on his website, level designer Michael Barclay broke down the process of creating downtown Seattle in Naughty Dog's sequel, and it's a fascinating read.
For the month of 'Blocktober' – a month-long event that showcases blockouts from game environment artists – Barclay wanted to share the creative process behind designing an iconic level from The Last of Us 2. Blockouts are produced during the primary stages of level design, where interiors and exteriors are created by using geometric shapes to fill in the environment. Barclay was the man who created the Blocktober hashtag in 2017, because he believed that this initial stage of level design was art in itself.
Working as a veteran level designer for Naughty Dog, Barclay began explaining the process from the very beginning, where a large amount of references were gathered – courtesy of Google Maps – to get a structural feel for downtown Seattle. The level labelled Ellie Day 1: Downtown was the largest single level that Barclay worked on; he made a point to thank fellow designer Mark Burroughs for his scripting on the level. Various "high level goals" were set at the start of the briefing, including theme, traversal, pacing, and objectives.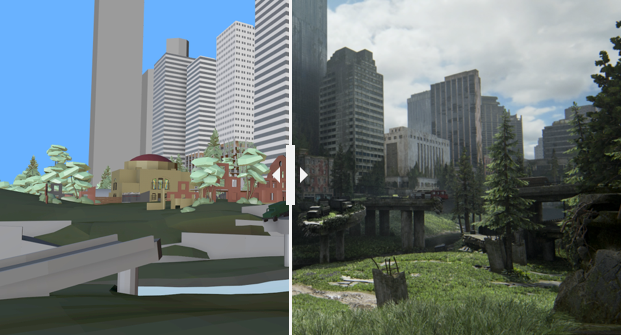 With these goals in mind, Barclay designed an environment that supported horse riding, offered an expanse for the character (and player) to reflect in, and encouraged exploration by lifting restrictions. Barclay wanted to capture as much of the post-apocalyptic aesthetic as possible, while also including inspiration from his time growing up in Scotland. The towering, moss-covered buildings and the labyrinth of a city in ruin were considered with freedom in mind; exploration was designed to be limitless and easily traversed on horseback, inspired by games such as Shadow of the Colossus.
Barclay admitted that he tried "too hard to stick to the actual layout of downtown Seattle at first." However, he did manage to retain the particular order of street names – something that is apparently very important to residents of Seattle. The early stages required little detail, but Barclay made sure to establish those hidden areas to achieve one of the main goals of encouraging exploration. Additionally, Barclay layered narrative into the environments, using the physical setting as a means to recount past events that brought the city to its point of decay.
Aside from the in-game missions, and traveling from point A to B, it's reassuring to be told by Barclay that exploration was one of the designer's top priorities. It makes us feel like neglecting the main objectives for a while, to really take in the beauty of the environment, was the right thing to do.
Source: Read Full Article