The Chase Is On In The Crew 2 Season 1 New Episode
Open-world motorsports race The Crew 2 recently waved the starting flag on its newest free update, signaling the start of Season One Episode One: The Chase. The Chase brings with it a brand new game mode, 12 new vehicles, eight weekly PvE competitions, and the new Motorpass progression system, along with much more.
Sitting in the passenger seat of The Chase is Patch 1.8.0, with approximately 27 GB of under-the-hood additions, fixes, and improvements, including all The Chase content. For the complete details, zip over to the Patch 1.8.0 Notes page on The Crew website.
The Chase is the name of the new game more here, and right from the start, places you behind the drivers' seat of Vault Corp's new elite Interception Unit, the Lamborghini Veneno Coupé Interception Unit (2020), and tasks you with stopping various outlaws before they can escape the city. Other new vehicles now available for purchase in Bucks or Crew Credits include the Dodge Challenger SRT Demon Interception Unit (2018), the Chevrolet Corvette C8 Stingray (2020), and the BMW M8 Competition Coupe (2020). The Demolition Derby discipline is getting a digital replica of an actual real-life demolition derby car for the first time in the form of the Dodge Charger R/T Hemi (1969).
According to the announcement post, the new Motorpass progression system is "an optional multi-tiered reward system, that players can progress through by completing Daily and Seasonal Challenges." The system consists of 50 tiers offering free and premium rewards, and will be run for each episode. ICYMI, the previously-posted Introducing the Motorpass post has all the details on that.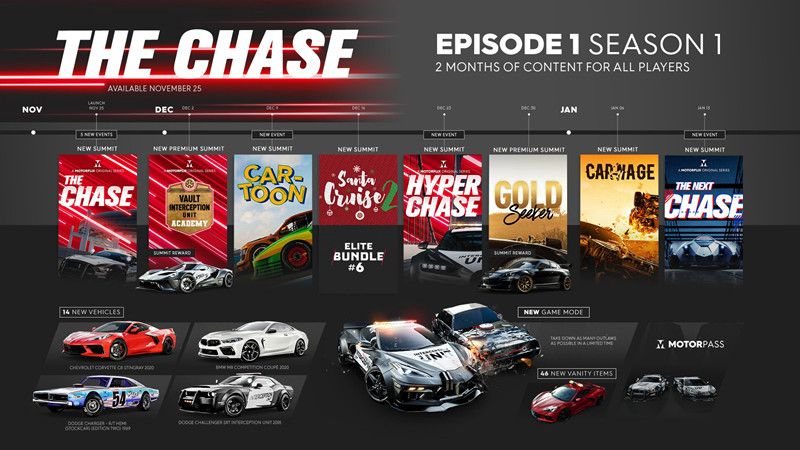 Premium LIVE Summits make their return with The Chase, and will include a variety of themes, "from Vault Security to seasonal holidays, via more classic brand-focused Summits." It also comes with a couple of exclusive new vehicles, beginning with the Ford GT Interception Unit (2017), which is up for grabs as "the platinum reward for the Vault Interception Unit Academy LIVE Summit, starting December 2."
Weekly articles on The Crew 2's official channels will be sharing more info on The Chase over the next couple of months, preparing you for Episode 2: The Hunt, scheduled to begin in January 2021.
Source: Read Full Article