The Best Dice To Give As Gifts For Tabletop Gamers This Holiday 2022
Tabletop gamers, in general, love dice. From Dungeons & Dragons to Warhammer and even Magic: The Gathering, dice are much more than a gameplay tool or status tracker. They're a personality statement! Walk into any game store, and you'll find someone looking for the set of dice that perfectly captures their RPG character, or matches the paint scheme of their tabletop army.
A quality set of dice makes a perfect gift for any tabletop gamer. We've rounded up some of the best choices for all budget levels; best of all, this is a gift you can be sure they'll use!
Chessex Pound-O-Dice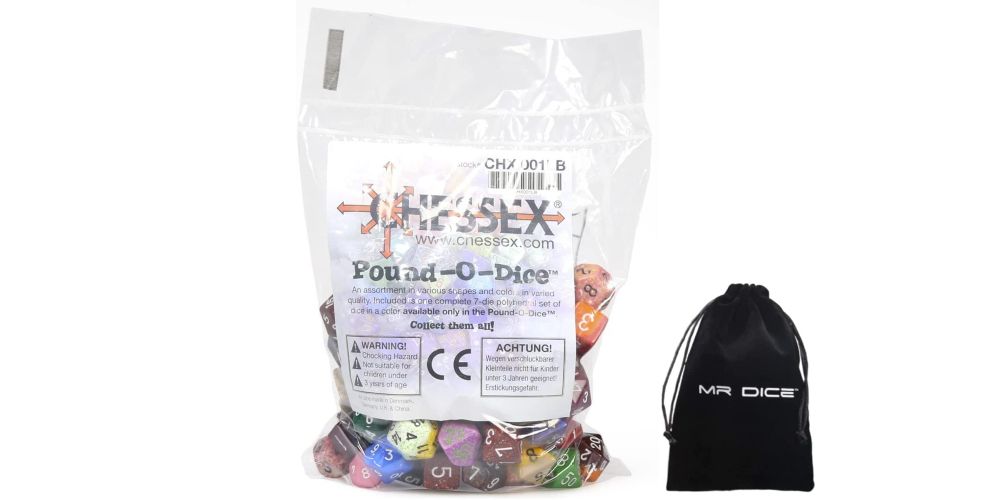 If someone you know is just starting their tabletop journey, you can jump-start their dice collection with the Pound-O-Dice. True to its name, this is one pound of randomly-assorted dice. Not only does it provide a huge mix at a good value, but the Pound-O-Dice is also guaranteed to contain at least one full set of matching polyhedral dice, perfect for D&D!
The bundle linked below also contains a drawstring bag to easily transport the recipient's favorite dice, nicely rounding out the gift.
Get it on Amazon here!
Dahan Dice Treasure Chest Set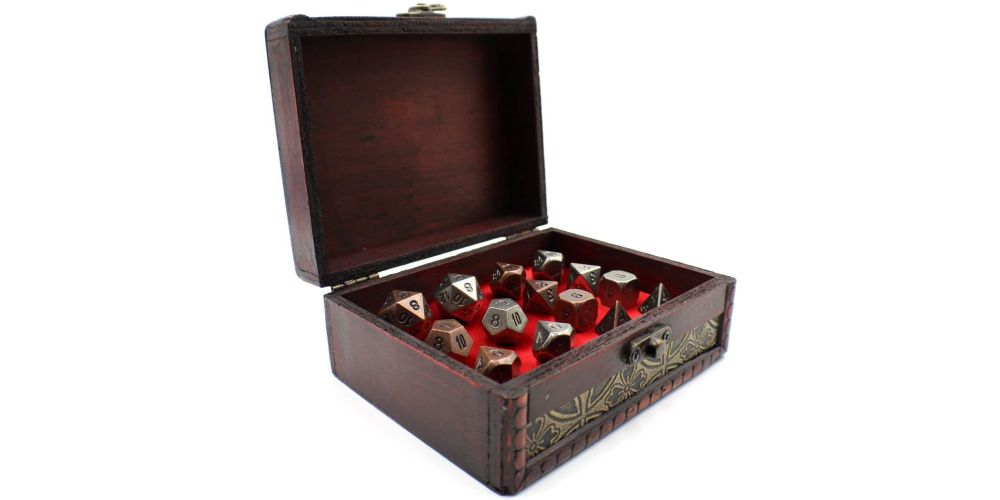 Metal dice are both impressive to look at and satisfying to roll. There are lots of metal sets available, specifically geared toward tabletop gamers, but Dahan Dice offers a fantastic gift set that won't break the bank.
This set contains two seven-piece polyhedral sets, one in bronze and one in silver. They come in a padded wooden chest that perfectly fits the fantasy aesthetic of the most popular RPGs on the market.
Get it on Amazon here!
The Witcher Dice Sets By Q-Workshop
If you know someone who's a fan of both tabletop RPGs and The Witcher – and let's face it, those fandoms intersect more often than not – then Q-Workshop's official Witcher dice sets are doubly thoughtful!
Each set contains eight polyhedral dice that can be used in any D&D game, as well as a metal coin engraved with the face of a fan-favorite character! Whether you toss the coin to your Witcher is, of course, up to you.
Get the Geralt set on Amazon here! Get the Yennefer set on Amazon here! Get the Triss set on Amazon here!
Get the Ciri set on Amazon here! Get the Dandelion set on Amazon here! Get the Vesemir set on Amazon here!
Wiz Masterwork Dice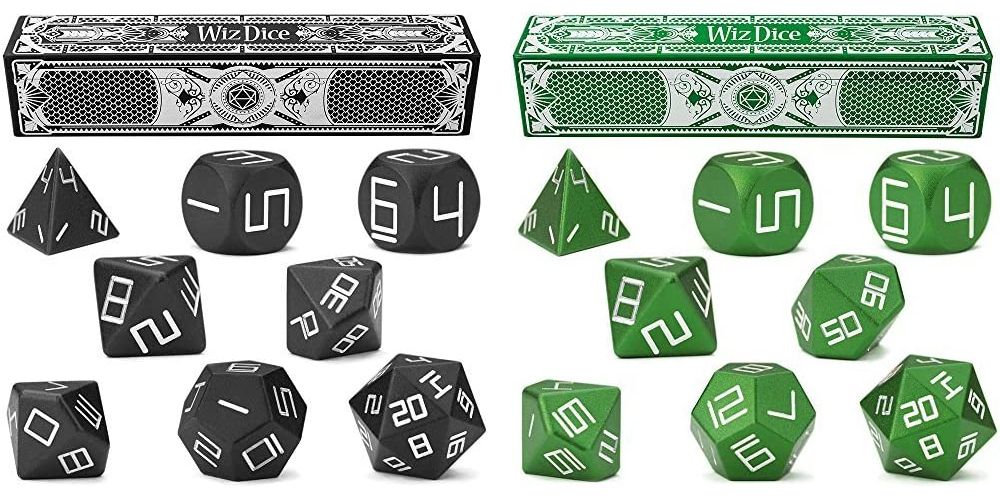 Most dice have slight imperfections that prevent them from being perfectly "true" – that is, having an exactly equal chance of landing on each side. The difference is often too small to be relevant, but with precision dice you'll never have to worry about your dice being slightly off, ever again!
The Masterwork series from Wiz Dice is a great set of precision dice. Not only is each face and corner perfectly balanced, but metal dice don't have the same risk of invisible air bubbles inside that plastic or resin dice sometimes develop during manufacture
Top it off with a slick carrying case and several color options, and you've got a dice set that any gamer will be happy to bring to the table.
Get it on Amazon here!
LED Dice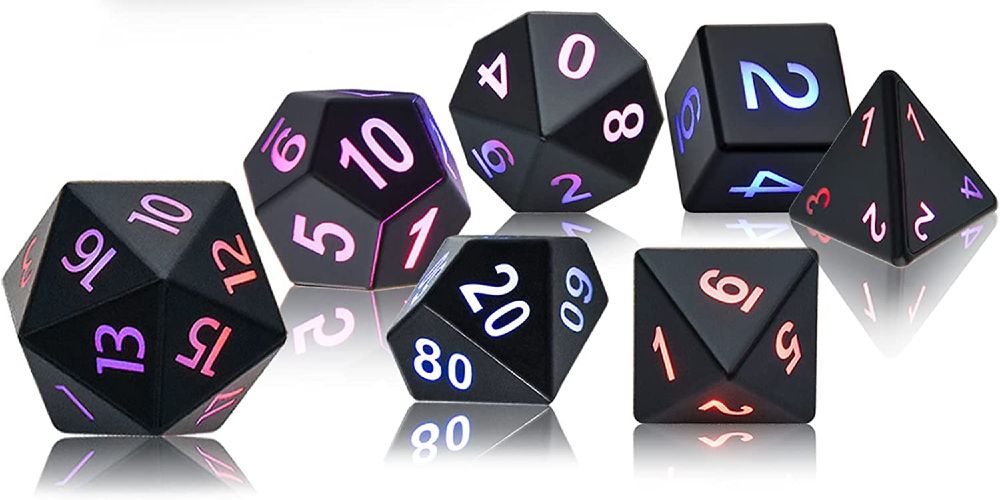 If you're looking for a really unique gamer gift, LED dice are sure to delight. This full polyhedral set doesn't just glow in the dark – each piece lights up with its own internal power source! They're perfect for any tabletop RPG, especially if your group plays in low light!
This LED dice set from ZHOORQI includes a carrying case that doubles as a charging station, allowing you to keep your dice topped up and ready to celebrate your critical successes with a light show!
Get it on Amazon here!
Natural Gemstone Dice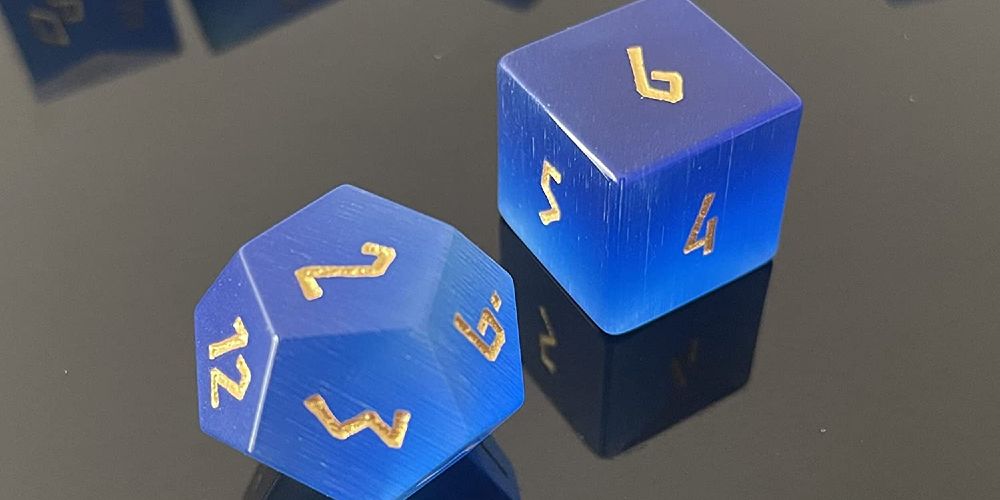 Most dice are made of plastic or metal. If you want to get unique, beautiful dice for someone special, consider a set carved from semiprecious stones. Amatolo offers a variety of quality options, all handmade.
With several colors and materials to choose from, you should have no trouble finding the perfect dice for your favorite gamer!
Get it on Amazon here!
Hollow Dice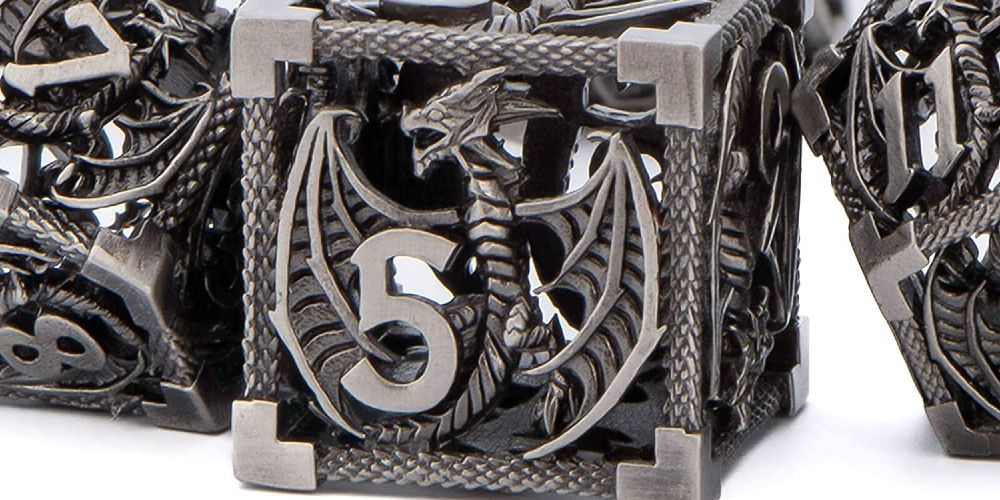 Players who like dice with a little bit of flair will love these hollow metal dice. Each side depicts a dragon alongside the number, giving the dice an intricate appearance that few can match. Best of all, despite the complex design the dice are all weight-balanced, ensuring fair rolls.
These dice come in a variety of colors and materials, and they're going fast – be sure to place your order early to get the set you want in time for the holidays!
Get it on Amazon here!
Metal-And-Resin Dice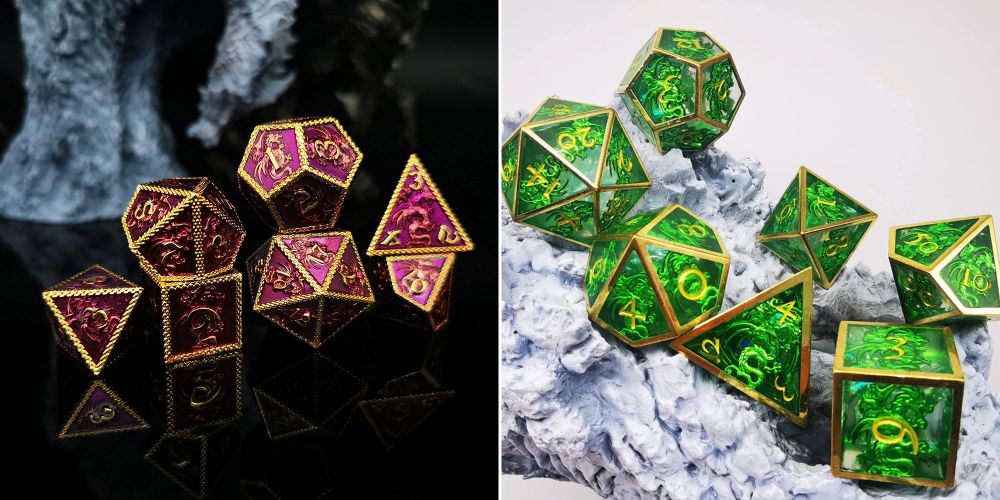 These metal-and-resin hybrid dice are some of the best-looking on the market. Available in many colors, they're sure to impress at the tabletop – to say nothing of the look on the recipient's face when they open this lovely gift!
The resin interior of the dice allows for the stunning, swirling colors, while the copper frame gives each die a heft that make them extremely satisfying to roll. This set is sure to become the centerpiece of any gamer's collection!
Get it on Amazon here!
We hope you like the items we recommend! TheGamer has affiliate partnerships, so we receive a share of the revenue from your purchase. This won't affect the price you pay and helps us offer the best product recommendations.
Source: Read Full Article