Temtem Roadmap Reveals 50 New Monsters Will Be Added This Year
Temtem is going to get 50 new magic monsters if Crema Games sticks to their 2020 schedule.
Temtem has come a long way in a very short time. The game only released last month on Steam Early Access and it's already sold over 500,000 copies. Many of those fans have already exhausted the early access gameplay that Temtem offers, and are eagerly awaiting news of what Crema plans to do to expand the game.
Well, the wait is over. Crema has revealed its tentative roadmap for Temtem in 2020.
For Spring 2020, Temtem will see a lot of changes that are aimed at fleshing out some of the game's core systems. First, a 1v1 ranked matchmaking PvP queue will be instituted to give tamers a place to test their mettle. Unlike in Pokémon, Crema plans to make competitive Temtem easy to get into by setting all SVs and Temtem level to their max rank. The only thing the tamer will have to do is train their Temtem's TVs to be what they want.
This Temtem auto-scaling will only apply to the ranked matchmaking queue and all other content will still use whatever SVs your Temtem actually has in the regular game.
Chat is another big addition coming this spring. Temtem famously launched with extremely limited communication options, but that will change with in-game chat, chat bubbles, and different chat channels for trading and battling.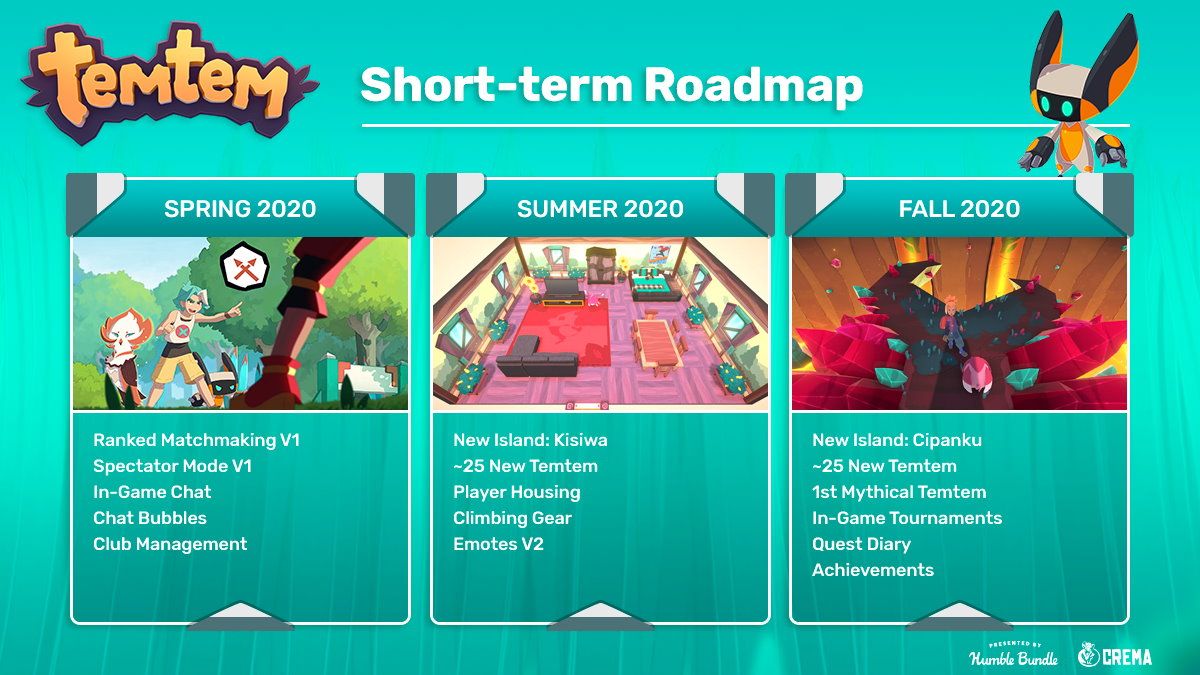 But the big stuff doesn't come until the summer when Temtem adds a new island called Kisiwa with 25 all-new Temtem. Then in the Fall, the Island of Cipanku will arrive with another 25 Temtem for 50 Temtem total, including the game's first Mythical Temtem.
We don't know what those Temtem might be, but it seems likely there will be added evolutions to existing Temtem (such as Tuwai).
Crema notes that these timeframes are still subject to change, so don't go getting your hopes up quite yet. Tomorrow, the Spanish developer plans to release a mid-term roadmap that includes info on the Trading House and Dojo wars, so stay tuned for more Temtem news.
Source: Read Full Article