Study Says Fortnite Is The Game Players Try To Cheat In The Most
Games have rules, but as the old saying goes those rules are meant to be broken – with the exception of cheating. A new study done by Surfshark has come out with a list of games that have the most cheaters, and Fortnite came out on top. With over 350 million users and growing, it's no surprise for the popular game.
Surfshark's findings were pretty eye-opening and it utilized search results from both Google and YouTube to identify the online games with the most cheaters. According to the data, Fortnite has 26,822,000 videos on YouTube alone related to cheating. Compare that to Overwatch, which came in second with 9,279,829 results.
Related: Fortnite Hosting A Film Festival On February 20
According to those numbers, Fortnite players interested in utilizing cheats have three times as many videos on how to do exploits such as aimbots and wallhacks. Aimbots are the more popular viewed video compared to the latter with 43,228,197 total views. The country that has the highest number of cheaters was Sweden. The USA and Australia tied for second place.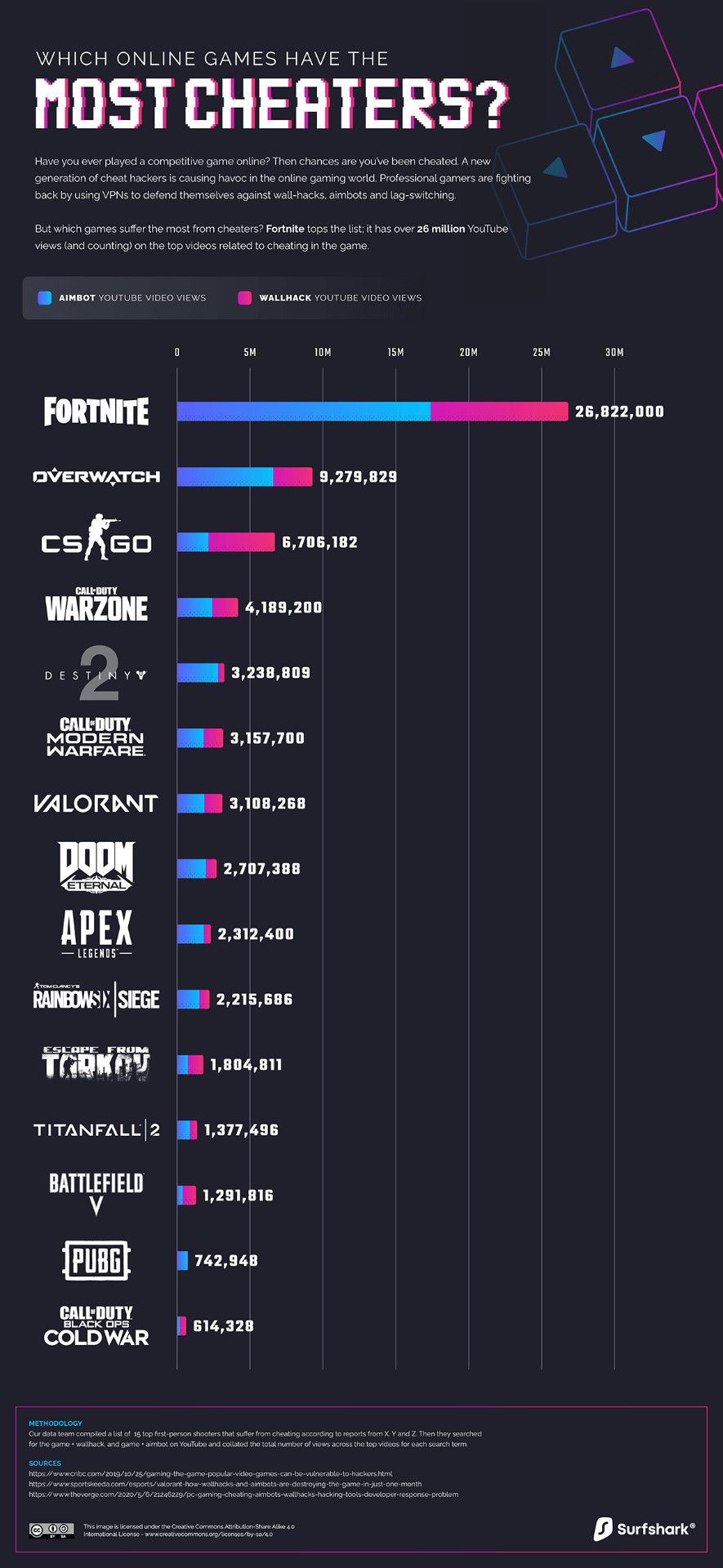 Epic Games has made its stance pretty clear on cheating: it has "zero tolerance" for that kind of software. Another interesting fact discovered in the study was that aimbots are often used in conjunction with triggerbots. That allows players to automatically aim and shoot at opposing players.
Hacks and malware now go seemingly hand in hand when it comes to cheating in online games. It is also a pretty profitable business for some who can make a regular income simply by selling the software. This can land you in serious legal trouble says the UK National Crime Agency report.
This stated that those who develop cheats for games go on to commit more serious cybercrime. The study also found that teenagers are among the ones who are more likely to be involved in acts like that. A streamer recently quit because of the problem in Call of Duty.
With Overwatch, the problem got so out of hand that gamers began to fight back against those using cheat software. Some formed the Overwatch Police Department to document cheating in-game and report it via the message boards. This group, instead of playing normally, act as sort of their own patrol within the game. Ultimately it is up to developers to police these kinds of things, but when they can't it's refreshing to see players try to combat it on their own.
 Next: 10 Battle Royale Games To Play Instead Of Fortnite
Source: Read Full Article