Stardew Valley: Everything You Need To Know About Trash Bear
Quick Links
When Does Trash Bear Appear?
As the seasons and years pass in Stardew Valley, new content will become available. Once you start your third year in the game, you will have the chance to talk to Trash Bear. This bear will give you quests to complete, in order to bring some beauty back to Pelican Town.
In this guide, we are going to go over when you can find Trash Bear, his location, and what his quests involve. First, let's take a look at when and where you can find Trash Bear.
Updated July 13, 2022 by Jacqueline Zalace: Trash Bear is a strange NPC that is tucked away near the bottom of the Cindersap Forest, so we've updated this guide with a clearer explanation on how to find him.
When Does Trash Bear Appear?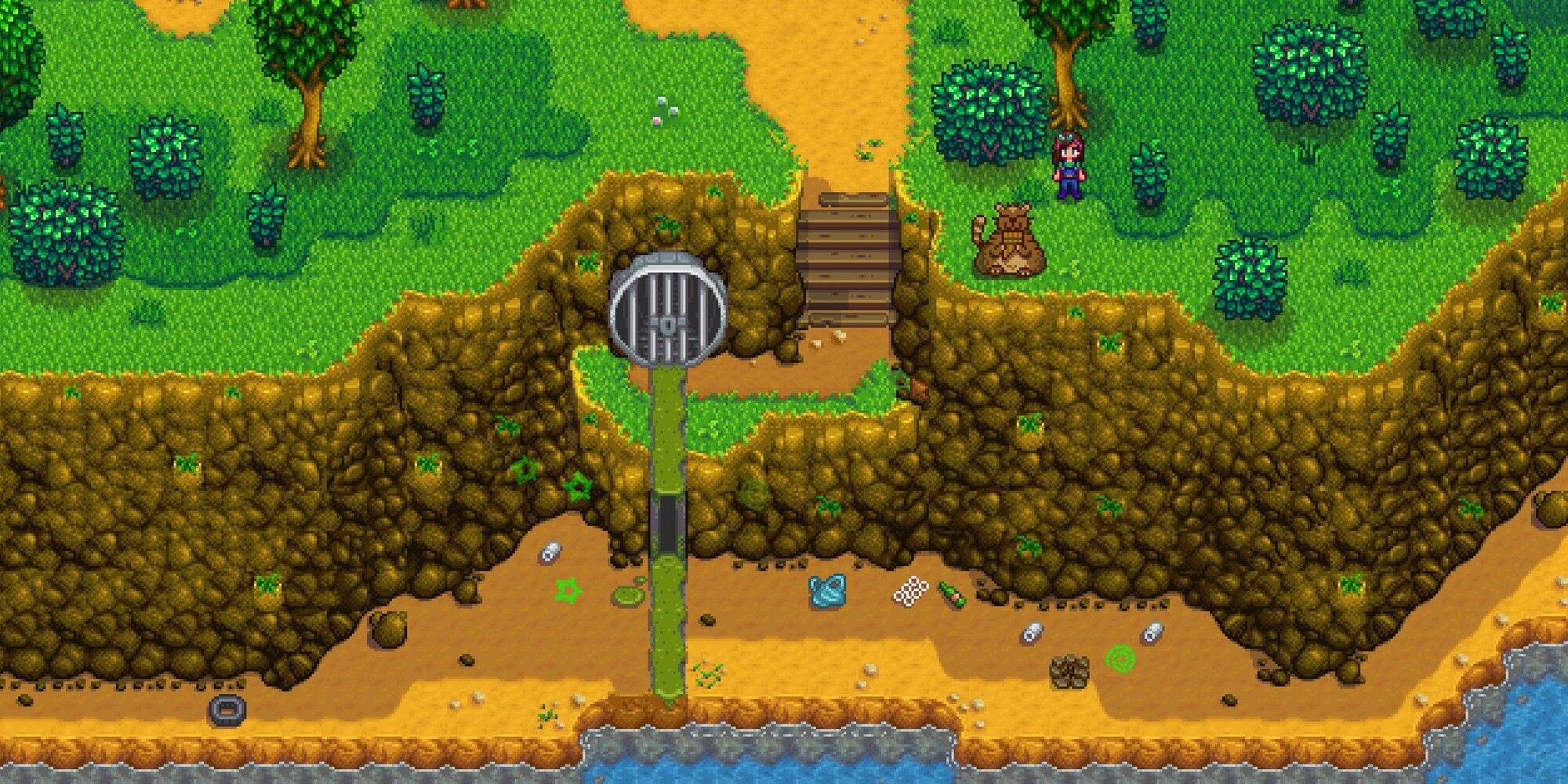 Trash Bear will not be available at the start of the game. Instead, you must wait until the first non-rainy day of year three. You won't have to wait too long to talk to Trash Bear in your third year though. If it happens to be raining, just wait until the next day, or whenever the rain stops.
Additionally, you do not have to immediately talk to Trash Bear. He will appear in his spot at the start of year three and will remain there until you finish his quest. This means that you can wait a few seasons to talk to him if you prefer.
Trash Bear's Location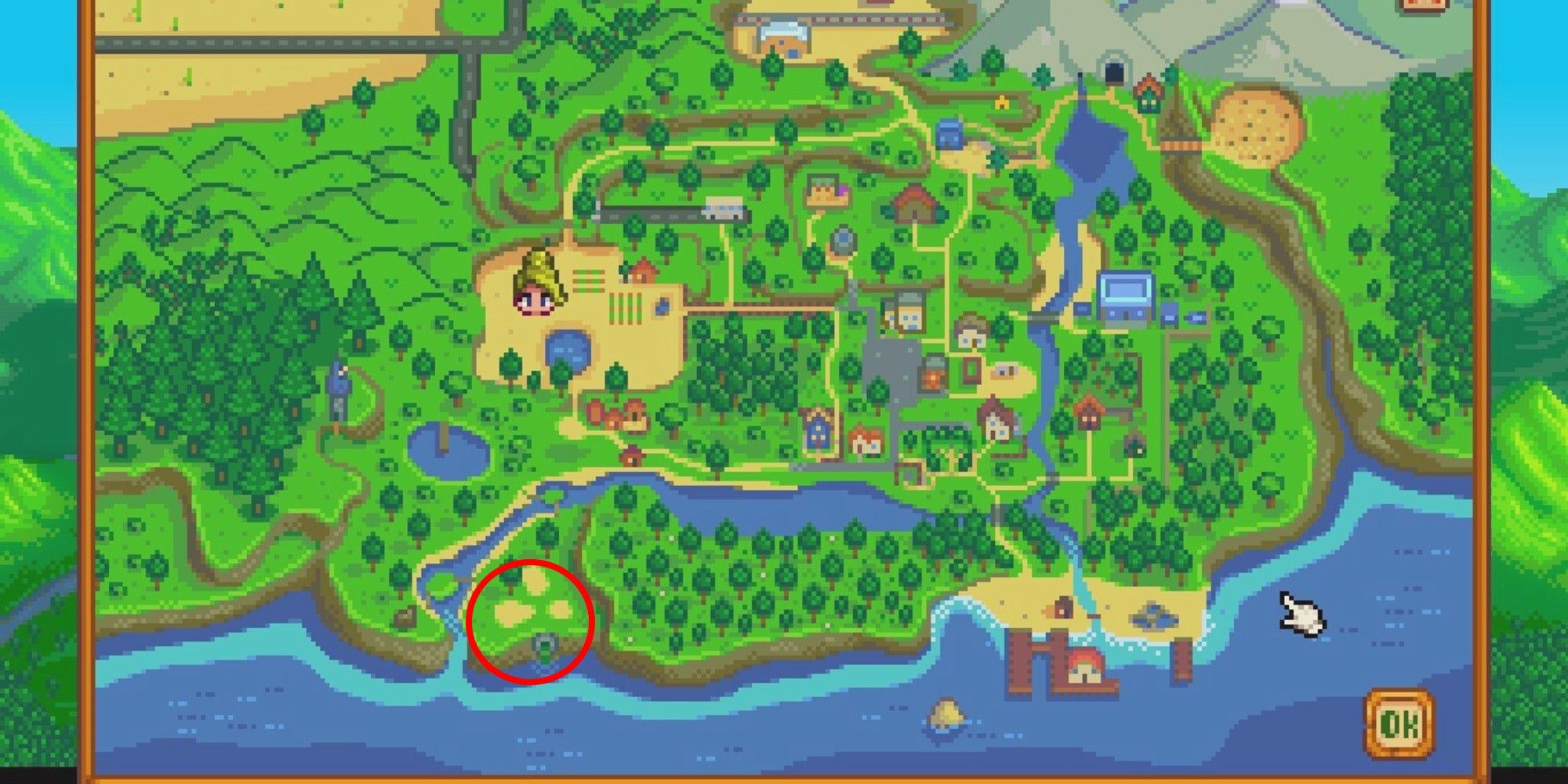 You can find Trash Bear in the Cindersap Forest, near the sewer drain at the bottom of the map. Above, you can see the location circled. Trash Bear will be at a cliff near the stairway leading down to the sewer.
To get there, enter the Cindersap Forest near Marnie's Ranch and head south until you come to the river.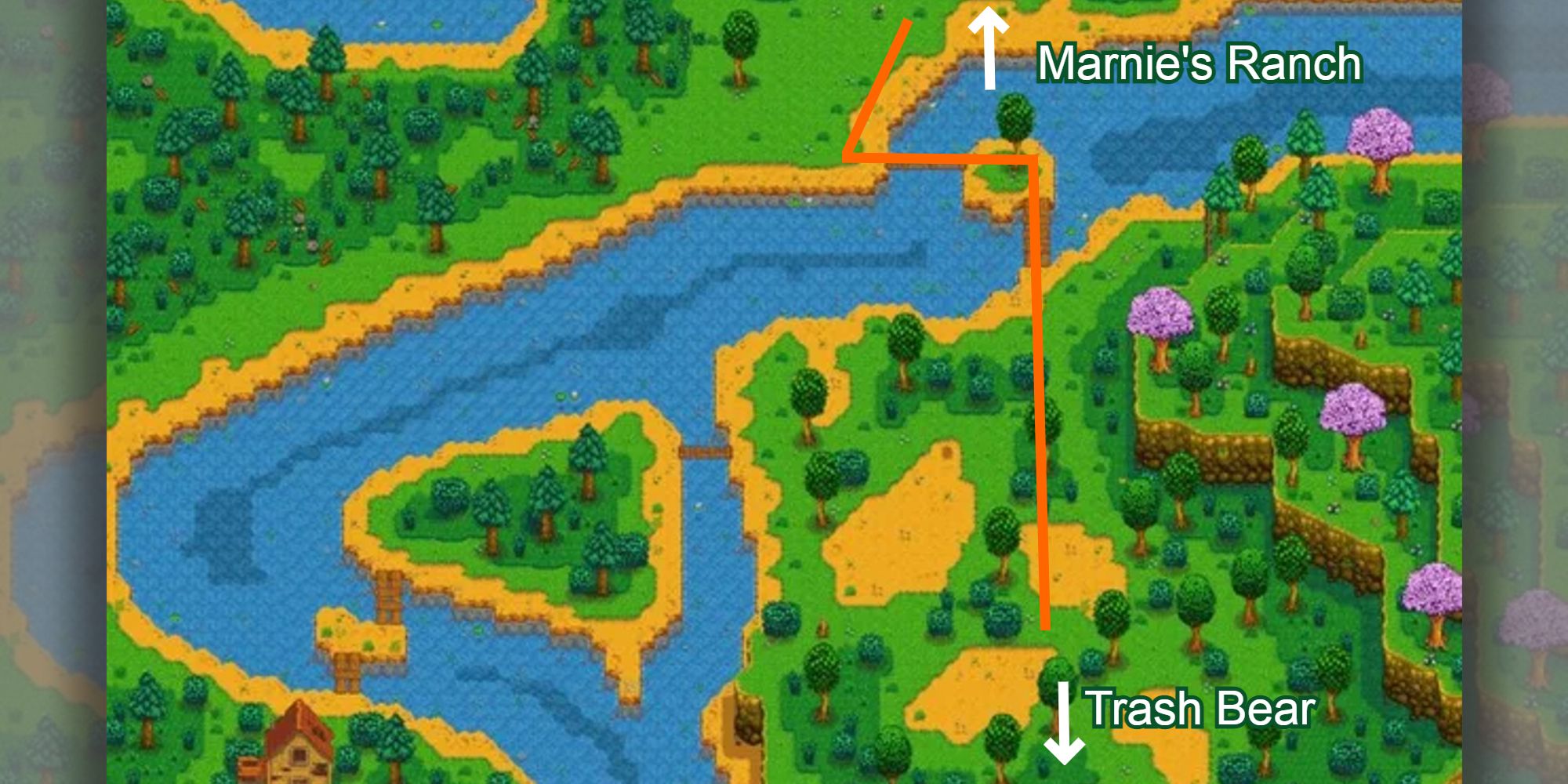 To your right, there should be a wooden bridge that leads to a small island, shown in the image above. Follow this path across the small island and across to the other side of the river.
From here, keep walking south until you come across Trash Bear.
Trash Bear's Quests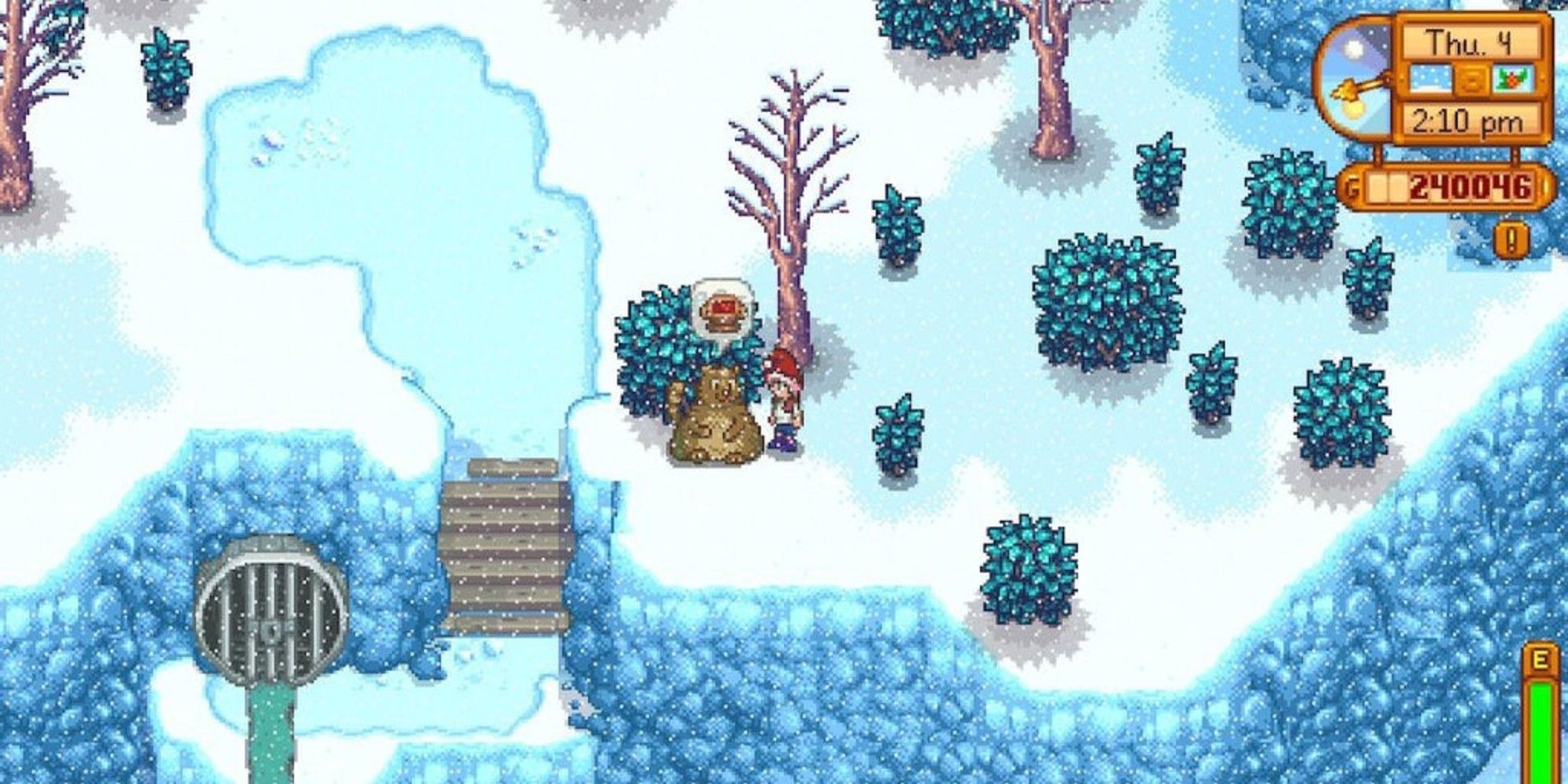 Once you find Trash Bear, talk to him. This will trigger a series of four quests, where Trash Bear will ask you to bring him different items.
Overall, he will ask you to bring two fish or foraged items, and two cooked dishes. The fish or foraged item requests will vary depending on the season, so let's take a look at all the possible requests below.
Season
Possible Requests
Spring

Anchovy
Bream
Carp
Catfish
Daffodil
Dandelion
Eel
Herring
Largemouth Bass
Leek
Sardine
Seaweed
Smallmouth Bass
Sunfish
Wild Horseradish

Summer

Bream
Carp
Grape
Largemouth Bass
Octopus
Pike
Pufferfish
Rainbow Trout
Red Mullet
Red Snapper
Sardine
Spice Berry
Sunfish
Super Cucumber
Sweet Pea
Tuna

Fall

Anchovy
Blackberry
Bream
Carp
Catfish
Common Mushroom
Eel
Hazelnut
Largemouth Bass
Red Snapper
Salmon
Sardine
Sea Cucumber
Smallmouth Bass
Super Cucumber
Walleye
Wild Plum

Winter

Bream
Catfish
Crocus
Crystal Fruit
Herring
Largemouth Bass
Perch
Pike
Red Mullet
Red Snapper
Sardine
Sea Cucumber
Snow Yam
Squid
Tuna
Walleye
Winter Root
Many of these requests are constant between all the seasons, however, some will only be requested during specific seasons. If the season changes while you are in the middle of a quest, the item requested will only remain constant if it is on the list for the next season.
For example, if Trash Bear wants a bream and it becomes Summer, he will still want a bream. If he wants an eel and the season changes, the request will change as well.
Some of these items are more difficult to obtain than others. If you are stuck with an item that you can't get, try waiting to see if it will change the following season.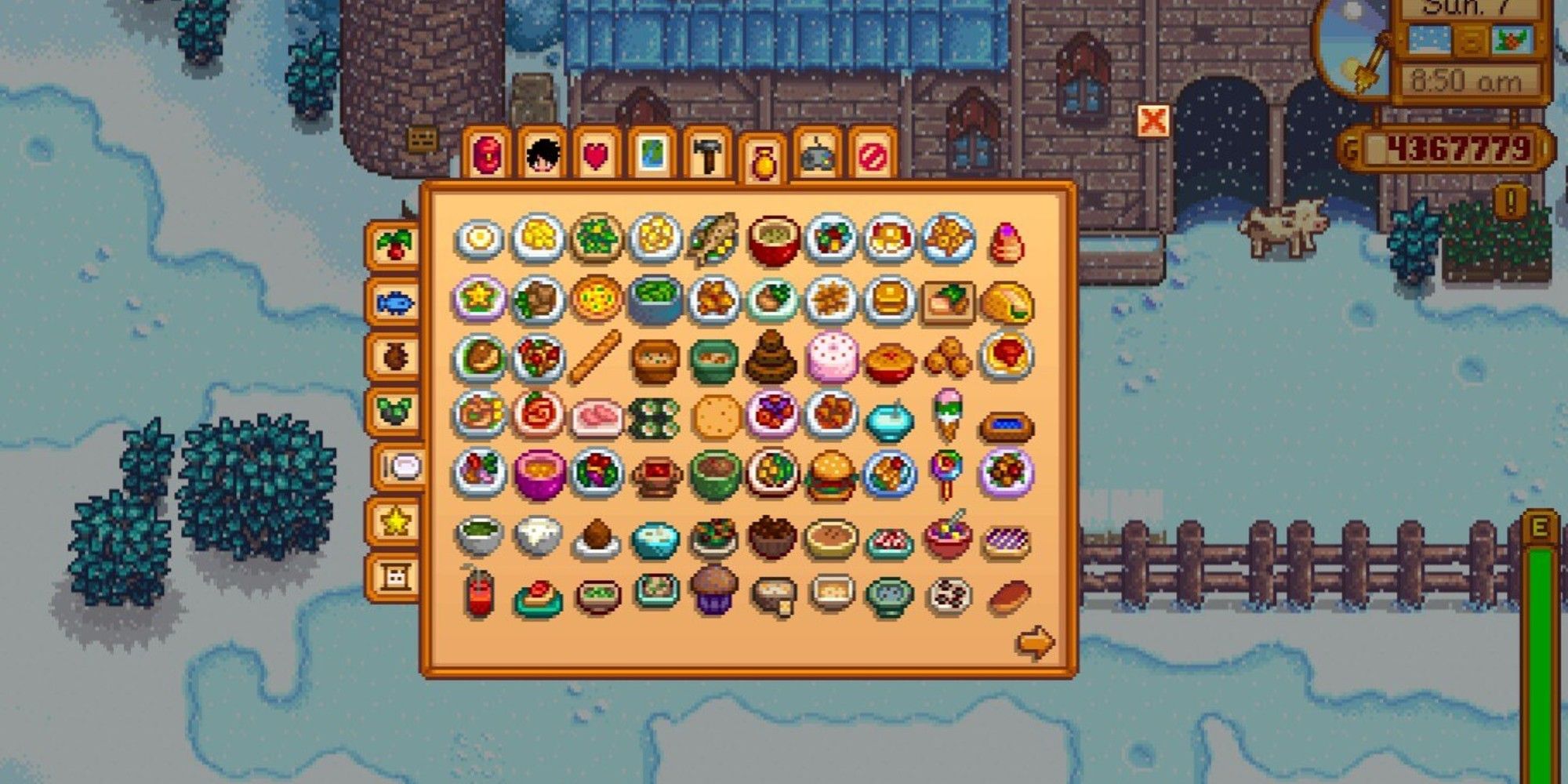 After bringing Trash Bear two fish or foraged items, he will request two cooked dishes. These dishes can be any meal in the game.
Cooked dishes can either be made or purchased from Gus and the Traveling Cart.
Recipes for these dishes can be learned from The Queen of Sauce television show that comes out every Sunday, as well as purchased from Gus or gifted from villagers. As the game progresses, you will learn more recipes.
Try to watch TV every Sunday for a chance to learn a new recipe. If you happen to miss the show, you can catch reruns on Wednesday.
There is no time limit to complete these quests. They do not have to be completed in the same season, but after completing all four requests, Trash Bear will reward you.
Rewards From Trash Bear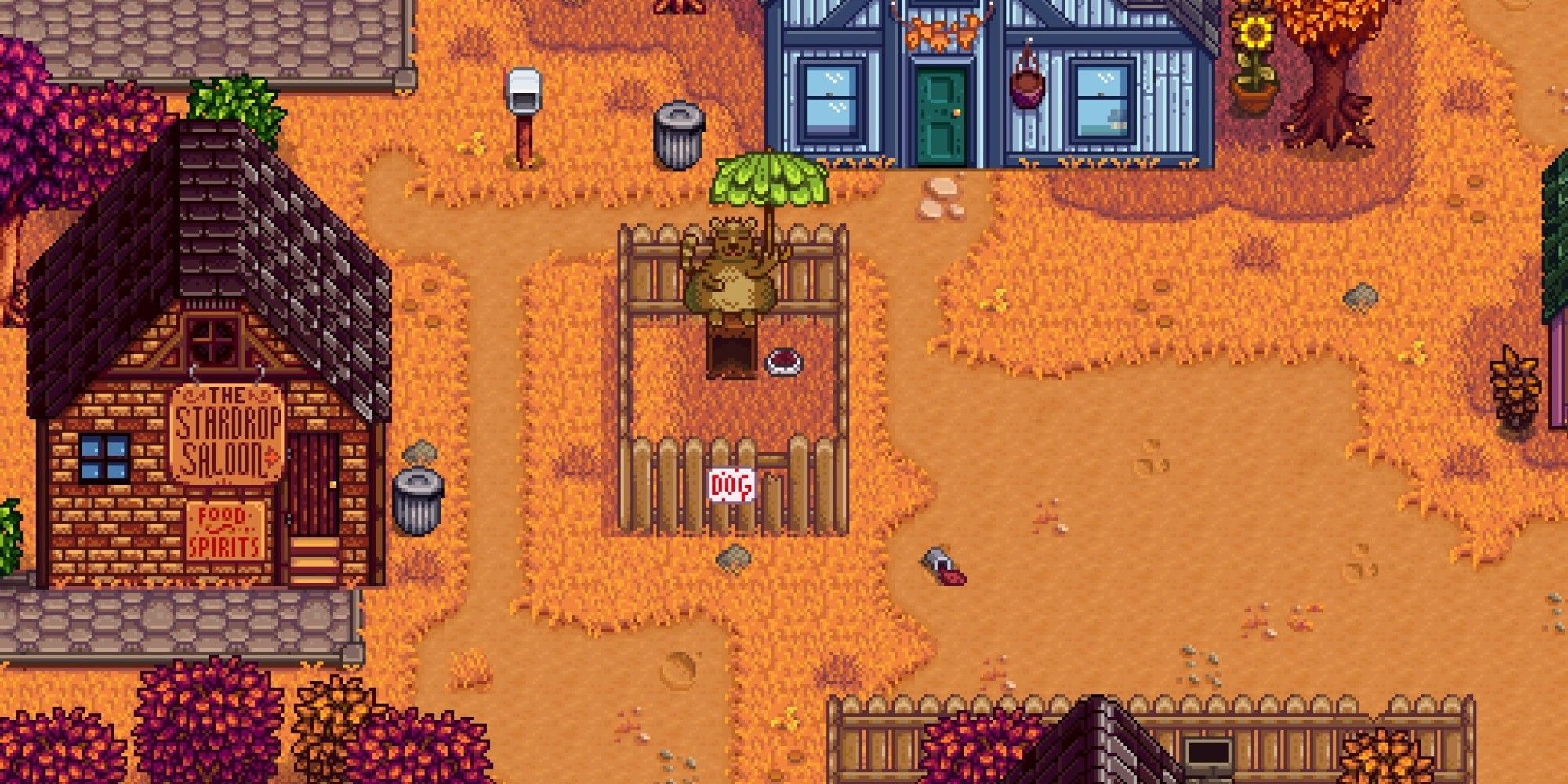 Once all four requests are complete, Trash Bear will fly away on his umbrella and gift you with the following rewards.
Replace the trash on the water's edge near the sewer with bushes and trees
Upgrade the dog pen next to the Stardrop Saloon
Remove the trash from Pam's front yard
These rewards are purely for aesthetic purposes. You don't really need to complete the Trash Bear quest, but if you do, then you can make the town look a bit nicer.
You will also be given the opportunity to upgrade Pam's house if you have a friendship level of nine hearts or more; this will change her trailer into a cute little cottage. You definitely don't want the front to be littered with trash after upgrading her house, so remember to talk to Trash Bear!
Source: Read Full Article