Shantae: 1/2 Genie Hero Headlines An Eclectic Games With Gold Lineup For March
You can never fault Microsoft for trying with its "Games with Gold" program. The company announced the selection of games that will be available to Xbox Live Gold subscribers next month and the choices are certainly eclectic. Shantae: 1/2 Genie Hero is likely the biggest standout, but I'm not quite sure what the other games have in common.
Coming to Xbox One, players will have access to the aforementioned genie simulator Telltale Games' Batman: The Enemy Within. On the Xbox 360 side, players can nab Castlevania: Lords of Shadow 2 and Sonic Generations. As always, there's some weird time frames for when you can grab them, but we'll post that below.
I guess the idea is that these are sequels? It's so strange to mix gritty, dark stories alongside colorful adventures. For months now, I've gotten the feeling that Microsoft isn't quite sure what it wants to do with Games with Gold anymore. With Xbox Game Pass taking off rather nicely, is there even a reason to keep around these freebies for Live Gold?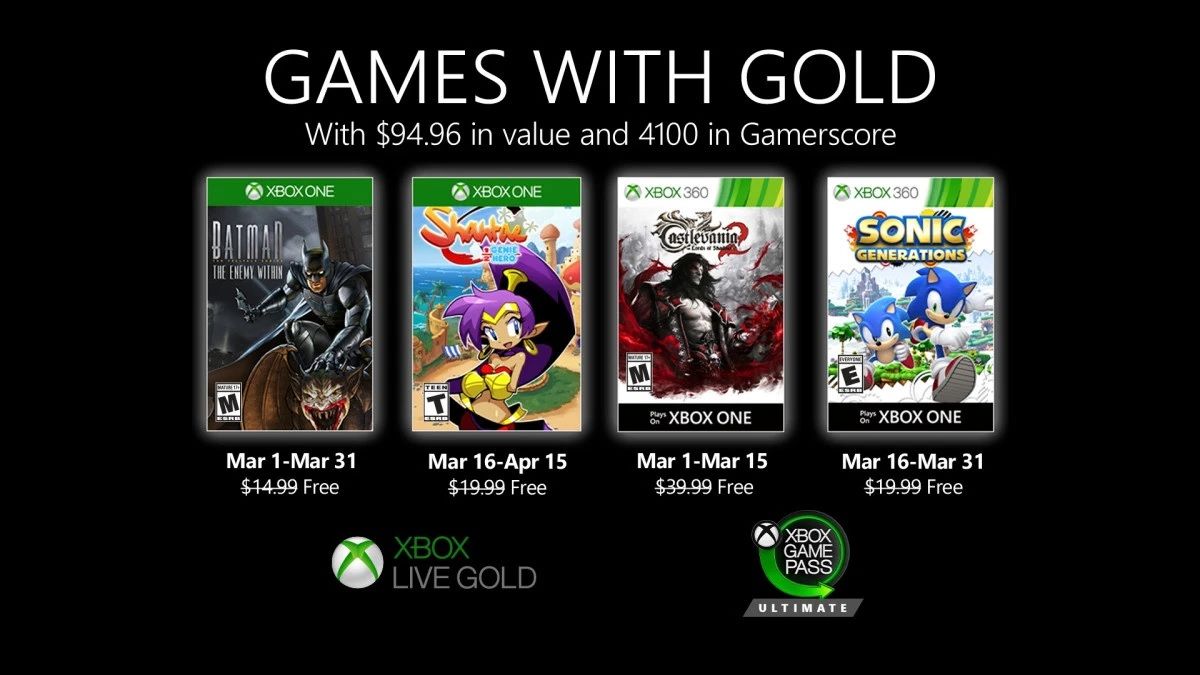 What's interesting about Shantae is that Microsoft is only handing out the standard edition of the game. A $40 "Ultimate Edition" is available that includes some extra DLC campaigns for players to try out. Obviously the idea is to give people the first taste for free, then get them to buy the DLC. Still, it would have been nice to get the complete package.
At any rate, this month is better than the past few. Aside from Lords of Shadow 2, the games here are worth playing. Sonic Generations remains the best attempt at a 3D Sonic game yet and Batman: The Enemy Within was a solid continuation of what Telltale started with the first season of this series.
With backward compatibility supporting having ended on Xbox One, one has to wonder what will happen in the future. Microsoft has said it may return to the idea once the Series X is out in the wild, but the company is eventually going to run out of older titles to hand out. Will Live Gold go the PlayStation Plus route and cut down the offerings to two games while keeping the price the same? That wouldn't be so great.
Source: Read Full Article