Roccat Magma Keyboard Review: Silence Is Golden
Roccat recently gave me the chance to review two of its new gaming keyboards. First was the Roccat Pyro, a refined version of its mechanical keyboard. The Pyro is clearly meant to be the premium of the pair, with a focus on responsive keys, long-lasting construction, and an overall emphasis on quality for its price point. The Roccat Magma is positioned more as the fun RGB keyboard with lots of lighting options. It's also the cheaper of the two at $59.99. But honestly? The Roccat Magma is my new favorite keyboard.
That mostly comes down to, as cliche as it might be to say, the feel of the Magma. The Magma uses membrane keys instead of the mechanical ones that are becoming popular with high-end keyboards. I get it, mechanical keys offer very responsive inputs. Yet my time with the Magma hasn't slowed me down in any way I can see. I'm not the most competitive gamer, and perhaps it takes someone with that need for precision to tell the difference. For me, I still get the performance I need but with the addition of silent, soft feedback.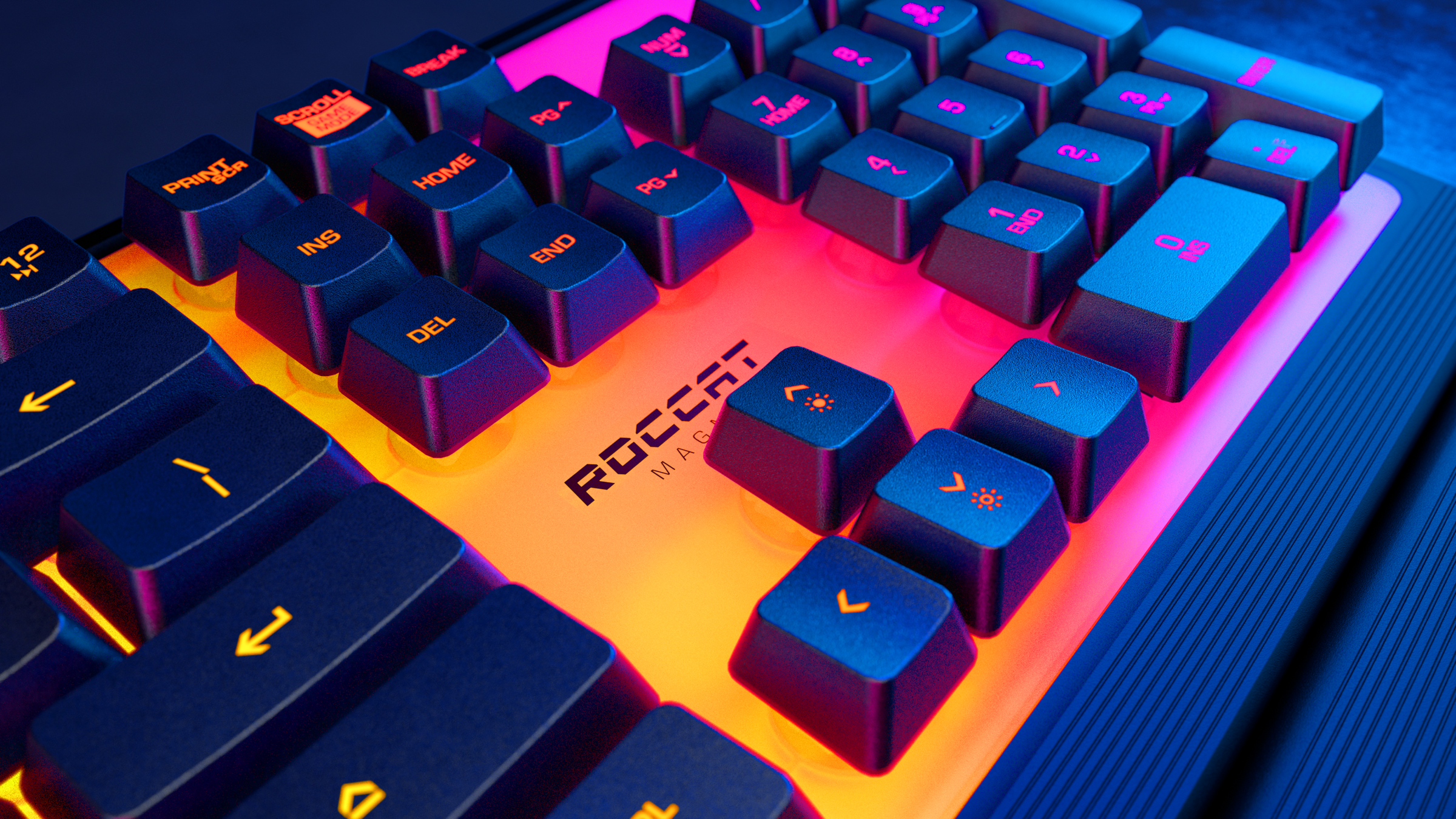 The other selling point of the Magma is its focus on custom RGB lighting. The whole top plate is a semi-transparent white, which allows for five different backlights to shine through. When you first plug it in, you'll get the typical rainbow lighting. But if you download Roccat's free Swarm software, you can play with the settings to adjust each of the five lights individually. You can set up pulses, waves, or in my case, different shades of blue that match the lighting on your Roccat Kone mouse.
Another interesting, although mixed, feature is the detachable palm rest. It's wonderful to see Roccat keep ergonomics in mind, but the palm rest is just a little too thin to do its best work. I'd prefer to see a thicker, maybe cushioned, version in a future design.
All in all, I'm in love with the Roccat Magma. I gave it the place of honor at my gaming PC desk and even took the time to color-coordinate the RGB with my mouse. The feel of the membrane keys and very attractive price come with the performance of a top-tier keyboard.
A Roccat Magma was provided for this review. It's now available, along with the Pyro, on the Roccat site.
Source: Read Full Article