Redfall Is Arcane's Dying Light, Not Its Left 4 Dead
When Redfall was revealed at E3 2021, my heart sank a little. As a fervent Prey defender and diehard Immersive Sim fan, I was worried that Arkane Studios had abandoned the genre it made its name with. I love that Deathloop brought new players into Immersive Sims by offering greater direction and approachability, but I never want to see Arcane give up what makes its games so special in pursuit of broader mainstream success. Redfall, a co-op open-world shooter, initially sounded like my worst fears come to life. Now that we've seen some gameplay and heard from director Harvey Smith at Summer Game Fest, it's clear that Arkane isn't cashing out. Redfall looks like all the things that Arkane excels at, applied to the open-world RPG genre. It's not Left 4 Dead, but it might be an Im Sim Dying Light.
When people hear co-op shooter, a lot of them immediately think of Left 4 Dead. With the series on freeze and lots of games trying to pick up the torch, including Back 4 Blood, World War Z, and the upcoming Darktide, it's no surprise that a lot of people took one look at Redfall's colorful cast of character and four-player co-op and assumed it was yet another L4D-like. Of course, that isn't the kind of game that Arkane makes, and Smith has been trying to correct that narrative throughout the Summer Game Fest season. "We love Left 4 Dead, but [Redfall] is not Left 4 Dead in any way," he told GameSpot last weekend. Redfall doesn't have individual missions or a requirement to play with a full party, even if that means running with bots. It has a full, linear campaign in an open-world with characters that you level up and unlock abilities for through skill trees. GameSpot's interviewer Jordan Ramée is reminded of Borderlands, but Smith's explanation and the gameplay trailer remind me a lot more of Dying Light.
Redfall's eternal night, brought on by the vampire cult that has taken over the titular town of Redfall, establishes the blood soaked, horror-tinged tone of the game. The gameplay trailer starts with a slow, apprehensive exploration of an abandoned house that would fit in perfectly with the dark zones and abandoned shops in Dying Light 2's Villedor. Between its visually distinct districts and post-apocalyptic urban setting covered in makeshift structures and militant marauders, Redfall (the city) and Villedor actually have a lot in common, especially when you consider the role that rooftops and the advantages play in both. In an interview with IGN, Smith revealed that Redfall even has two completely separate maps – a downtown area and a rural zone – which is a feature unique to both Dying Light games.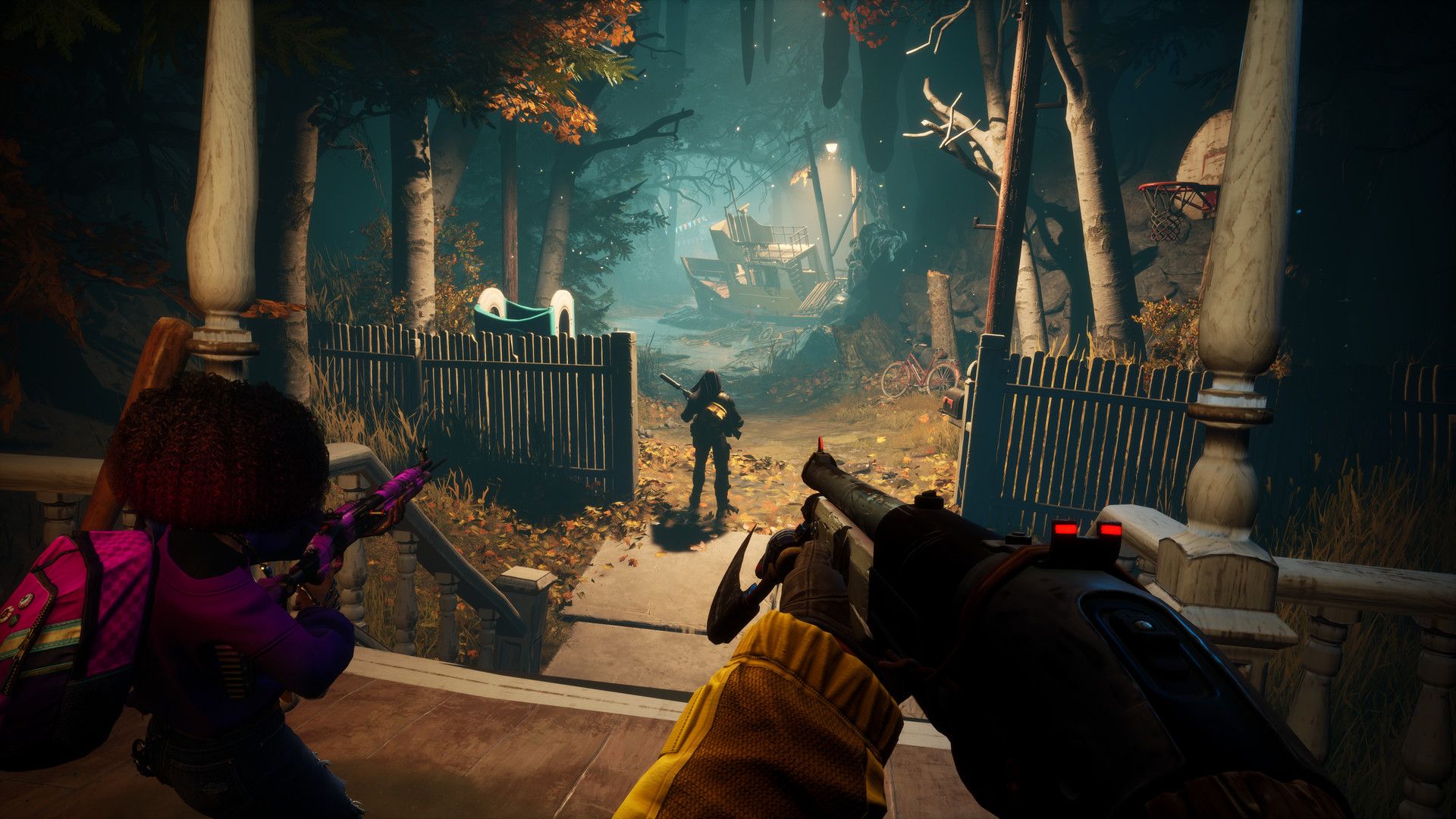 There's also a lot of similarities in the way both games handle pace and action. Smith describes the way that players will be able to use stealth to find interesting vantage points and avoid combat when they're in a bad situation, but that trying to avoid enemies can backfire. "[Stealth] generates these moments where you think you're moving through an area and no one hears you, no one sees you, but suddenly you have a tail and you're kiting one set of enemies into another set of enemies." Dying Light is well known for its stealth sequence that turns into pulse-pounding chases through the city, and from Smith's description it sounds like Redfall will feature similar moments of all hell breaking loose.
The big question is how Redfall will represent Arkane's well-established design principles, and Smith addresses that as well. In a video interview with GameSpot's Tamoor Hussain and Lucy James, Smith said that Redfall was Arkane's attempt to take Arkane's DNA into a co-op open-world game. He names those qualities specifically: "the layers of narrative, the game mechanics that overlap in creative and surprising ways, the immersive movement in the body, and RPG level-ups, somewhere between a shooter and an RPG." It might not look like the kind of Arkane game we're used to, but Smith promises that the studio isn't giving up what it does best.
If there's one thing you know for sure about an Arkane game it's that the trailers never quite do them justice. I've heard some lukewarm reactions to the Redfall reveal, just as I did for Deathloop in 2020. You really have to get Arkane's games in your hands to understand how unique and special they are. No matter how many comparisons we draw to Left 4 Dead, Borderlands, or Dying Light, the truth is that Redfall will be more original than it is derivative, at least if history is any indication. I don't mind giving Redfall the benefit of the doubt based on Arkane's pedigree – it's certainly earned that. We don't know exactly what it will be yet, but there's little doubt it will be something special.
Source: Read Full Article