Redditors Compare Video Games and NSFW Rules
Social network Reddit is pretty good at finding people who can find similarities between things that, frankly, don't really share much in common – at least on the surface of it. One example is the correlation between video games and sex. Although the old adage goes something like, "Those who want one of these two aren't likely to get the other," the users in the thread beg to differ in a series of hilarious, well-thought out puns and jokes.
One of the funniest comments by far – as evidenced by the number of awards it received, which stood at 12 at the time of writing – was by user u/OatsBikes, who said, "You can make a living off it by live streaming it if you do it well enough, but your parents will be disappointed in you." We're guessing people who make a living in either of these industries are pretty used to it by now. Others stress the importance of good preparation: "Putting some extra points in stamina and dexterity will pay off in the long run," advises u/Catseyes77, while u/choowycooky says, "Don't skip the tutorial and hope that you don't need a walkthrough after failing so many times." That one hurt.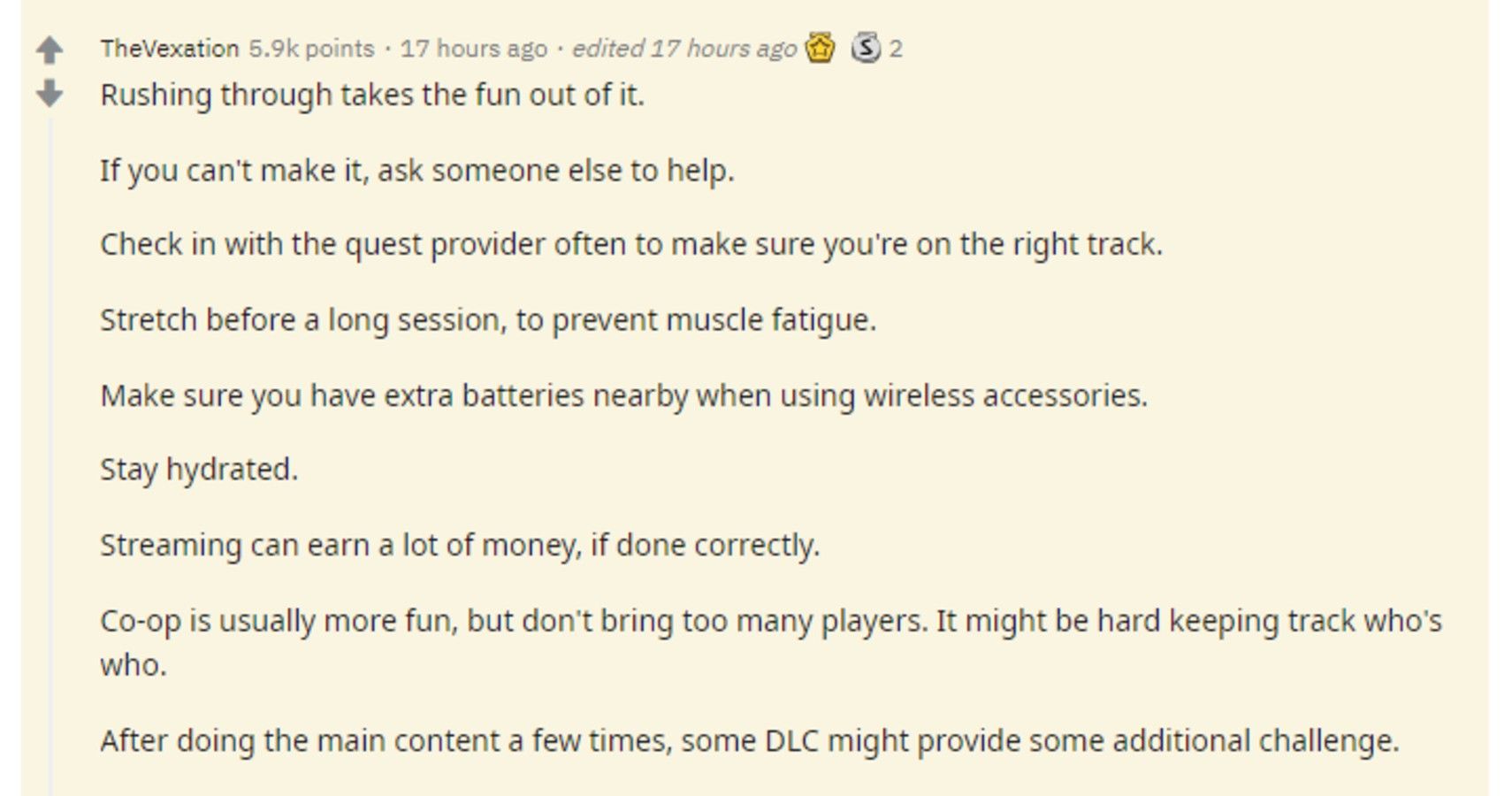 Some comments are pretty wholesome, as well as applicable to other areas of your life: "Cheating is for losers," says u/themistergraves, while u/TheVexation came through with a bunch of pretty good advice, some of which includes, "If you can't make it, ask someone else to help," "Stretch before a long session, to prevent muscle fatigue," and "Co-op is usually more fun, but don't bring too many players. It might be hard keeping track who's who." There's also advice for those feeling nostalgic for good ol' times: "If it's not working, blow it before I stick it in," wisdom straight from the keyboard of u/mikefl91.
There are also things we need to remember in general, like u/RoguesGalleryX words, "Pushing the button harder does not always make things better…" Then, there are the ones that took a dark turn pretty quickly. "Depending on the situation spawn killing is frowned upon," says u/AtlasHugged17, while u/TheHeroicOnion points out (quite correctly) that, "It's better without microtransactions."
If you've laughed, head over to the original thread for more similar comments. If you haven't, head over anyway and show them how it's done (you may also use that same sentence as an example). And don't forget: speedrunning only looks impressive, but you'll find it lacking in reality. It's better to take your time and enjoy the process.
Source: Read Full Article