Psychedelic Heavy Metal-Inspired RPG The Ultra Violet Grasslands Now Taking Preorders
What would you get if you combined psychedelic heavy metal music from the deep '60s and '70s, the classic Oregon Trail video game, and the Dying Earth tabletop RPG series? The answer is The Ultra Violet Grasslands, a tabletop RPG that is now taking preorders, with its expected full physical release happening later this month.
According to its product page on Exalted Funeral Press, The Ultraviolet Grasslands and the Black City is a "role-playing game book, half setting, half adventure, and half epic trip", and the work of one Luka Rejec. Rejec owns and operates WTF Studio, where the WTF stands for wizard thief fighter. In addition to taking preorders for the full release, Rejec has also made available a PWYW 70-page Ultraviolet Grasslands (UVG) Player's Guide on the Studio's itchio page. The full release will be available through the Studio's itchio page, as well as on DriveThruRPG, for the groovy price of $25.00.
UVG is the result of a highly successful Kickstarter campaign launched in February 2019 that reached its $15,000 funding goal in only seven hours 46 minutes, finishing with an impressive $108,793. Rejec's Patreon, known as the Stratometaship, is also credited with helping UVG come to life, and that's where you can also see the other projects Rejec is working on.
According to the Kickstarter page, UVG is set in the Rainbowlands, and will take players and GMs on a psychedelic trip from the Violet City (located "at the Left End of the Right Road") across the continent's seven time zones to the fabled Black City, "where time and space become one on the shores of the wine-dark sea." Along the way, we'll encounter up to thirty uncanny locations, and over 100 points of interest, such as the Porcelain Citadel, the Dead Bridge, the Forest of Meat, the Fallen Iron Obelisk, the Erosion of War, "and the time-distorting Copper Hulls".
The game will also introduce us to hundreds of encounters involving odd magics and uncanny equipment, wielded by an array of strange new human characters, "from the poly-bodied porcelain princes to the ever be-suited satraps and the mind-controlling cats." In fact, it seems as if (these) cats play a prominent role in UVG, as they are mentioned in a couple of other places where the game is described.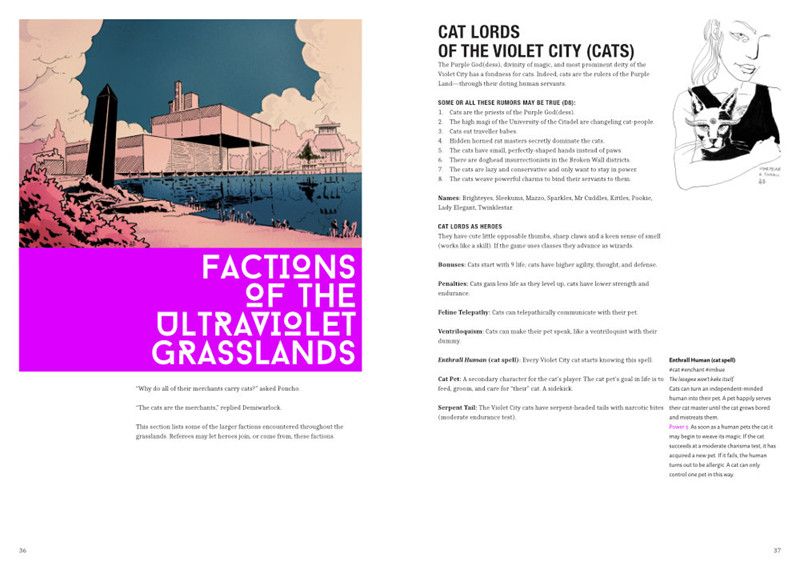 As a child of the 1970s and 40-year TTRPG player, you can be sure this writer will be buying a copy of UVG as soon as it's released. You can get yours from itchio and DriveThruRPG, and connect to WTF Studio's Twitter, Facebook, YouTube, and Instagram channels while you're at it.
Source: Read Full Article