Justice League Artist Shows Concept Designs For Apokolips Guards
In order to fully grasp the magnitude of Zack Snyder's Justice League and all its references, a second or third watch is needed – but most won't sit willingly for another four hours. While some of the battle sequences were extended for the Snyder Cut, other scenes remained short, giving us a few moments to register its significance. One of those scenes showcased Darkseid on his planet Apokolips, and his army of guards may have been overlooked had it not been for a recent reveal of their concept art.
Zack Snyder's four-hour epic has been marked in history for two reasons: For his unique, extended vision of DC characters, as well as the controversy surrounding how the Snyder Cut eventually came to fruition. Its popularity has even warranted a 'Justice is Gray' black-and-white release, but Snyder's planned sequels are still very much up in the air at this point. The director spent a lot of time integrating popular comic book arcs into Justice League's narrative while setting up potential sequels, one of which could have led to a spin-off focusing on the planet Apokolips.
The antithesis of the DC planet New Genesis is known to be ruled by Darkseid – Justice League's main antagonist and puppet master of Steppenwolf. Under Darkseid's control are his personal guards, the Female Furies, who we only get a brief glimpse of in Justice League. The set piece for this scene is a vast but short affair, however, concept artist Jerad S. Marantz gave us a closer look at the guards. Included in an Instagram post, the artist shared mock-ups of the Apokolips Guards, with one design featuring a metal layered suit with an alien-looking helmet. The second design was more in line with Steppenwolf's armor, sporting more symmetrical layers of metal.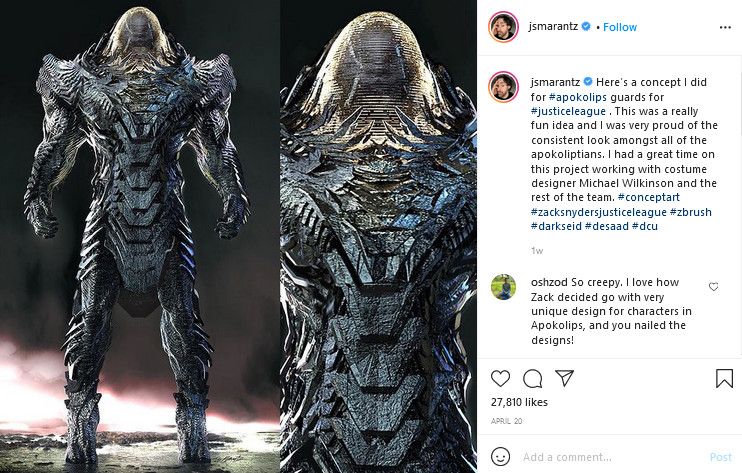 The Female Furies of the comic book world are designed much differently, of course, sporting colorful outfits of various shapes and sizes. The group of female supervillains are a band of New Gods who serve at Darkseid's side, trained by the silver fox Granny Goodness. The Female Furies also operate as the elite army of Apokolips, first appearing in Mister Miracle #6 in 1972.
Warner Bros. has put a halt on Snyder's vision for the time being, as the company focuses on its imminent releases within the next two years. Black Adam, The Batman, and Aquaman 2 are all in production right now, and fans will perhaps get a closer look at these projects during this year's DC FanDome event.
Source: Read Full Article