How To Complete Fortnite's Deadpool Challenges
Deadpool popped up very unexpectedly in the launch trailer for Fortnite Season 2, and the anti-hero brought a couple of new challenges along with him.
Fortnite has held a number of crossover events with various other major franchises. The biggest of those crossovers might well be the relationship it has struck up with Marvel. There have been two major Marvel x Fortnite in-game events so far and the launch trailer for the new season might well have revealed that number three is just around the corner.
Truth be told, the third crossover has already begun. It's not Thanos coming to the island this time, though — instead, it's Deadpool. Eagle-eyed Fortnite fans who have seen the trailer will have noticed Deadpool show up a couple of times — behind Peely's bookcase, and his image was also carved into a tree trunk.
Now that Season 2 has launched, it has become clear that Deadpool will be playing a key role in it throughout. The Marvel anti-hero has come equipped with his very own set of challenges, but so far only two are available to complete. The first one requires players to hunt down Deadpool's letter to Epic Games. Thankfully, it really isn't that tricky to track down as long as you know where to look.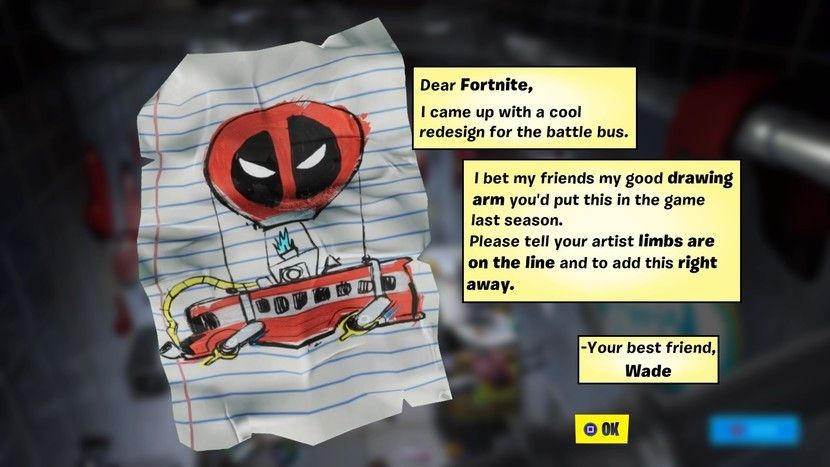 First off, players will need to have purchased the Battle Pass, otherwise, the Deadpool challenges will not be available to them. Once in the Battle Pass menu, click on the vent. After that, click on the computer icon to view the challenges and then move to the left. There, you will find Deadpool's letter complete with a new design for the Battle Bus he claims Epic promised to put to good use last season.
The second challenge goes hand-in-hand with the first and actually requires players to not do something. Don't thank the Battle Bus driver, presumably because Wade is upset about his design going unused. Most of us will instinctively thank the driver before every single round, so it might sound like a trickier challenge to complete as it seems as we battle with our instincts and reflexes.
There will likely be more Deadpool challenges to come as the season progresses.
Source: Read Full Article