GameStop Ireland Warns Customers Not To Expect Pre-Ordered PS5s Until 2021
GameStop Ireland has been informing some customers who pre-ordered a PS5 that they might not get the console until 2021.
The PS5 pre-order process was a mess, and that's putting it mildly. Sony assured gamers over the summer that it would not spring pre-orders for the console on people unexpectedly. Not only is that exactly what happened, but most retailers launched their pre-order process the night before Sony said they would go live. The result was a lot of disgruntled gamers, most of which will be left without a PS5 on launch day.
Sony has apologized for the mess and promised that more consoles will be available soon. However, evidence to the contrary continues to rear its head. In fact, it would appear that there isn't enough stock to go around for those lucky few who did manage to secure a pre-order. That's what appears to be happening in the UK and Ireland right now anyway.
Multiple GameStop Ireland customers have reported to Video Games Chronicle that they have received an email from the retailer revealing the arrival of their PS5 will be delayed. Not just by a week or two, but until an undetermined time in 2021. The email simply states that GameStop "won't be able to fulfill your pre-order until 2021", blaming it on circumstances out of its control.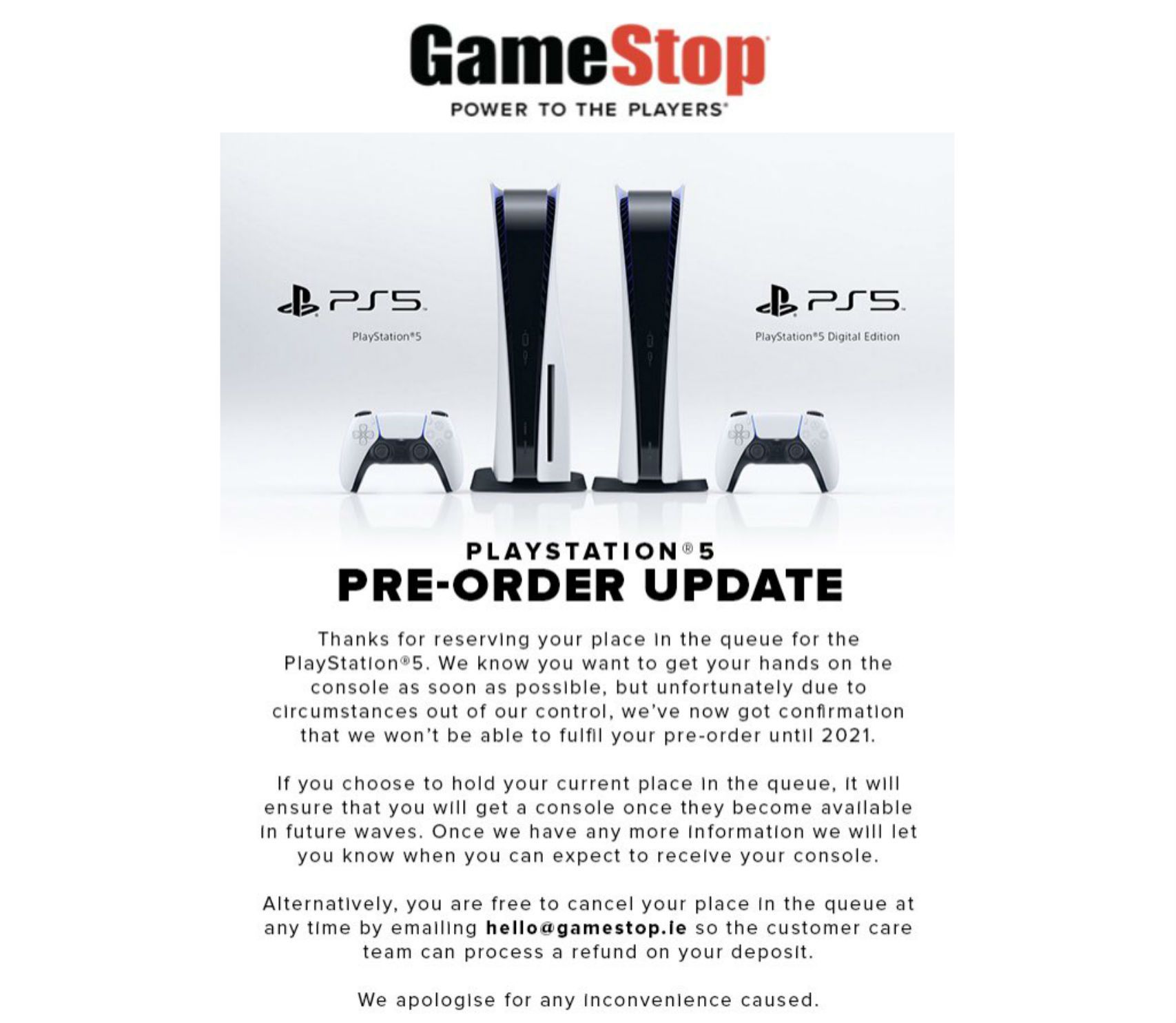 GameStop isn't the only one. ShopTo in the UK sent a similar email out to some of its customers on Monday. It revealed that Sony had clarified the number of consoles it will receive at launch and has realized it will not be able to fulfill all of its pre-orders right away. Amazon has sent out a similar warning, but not told customers one way or the other if they will be receiving their console in time or not.
This comes as Sony reveals to retailers how many consoles they will have and when they will be getting them. It also leans into the rumors that PlayStation has had to cut back on the number of PS5s it ships before the end of March 2021, rumors Sony has outright denied. If you have a PS5 locked in for release day, you might want to keep an eye on your emails in the coming hours and days.
Source: Read Full Article