Fortnite: All May The 4th Quests Guide
Quick Links
The force is strong today! To celebrate May 4, Star Wars day, Fortnite is once again doing a new collaboration event to give us some new Star Wars-related quests – if you do them all you'll even get a fun reward once you're done.
Throughout the May The 4th event, Lightsabers are going to be unvaulted and available for players to enjoy in Battle Royale modes and there are event-themed Stormtrooper checkpoints. Here's everything you need to know.
May The 4th Quests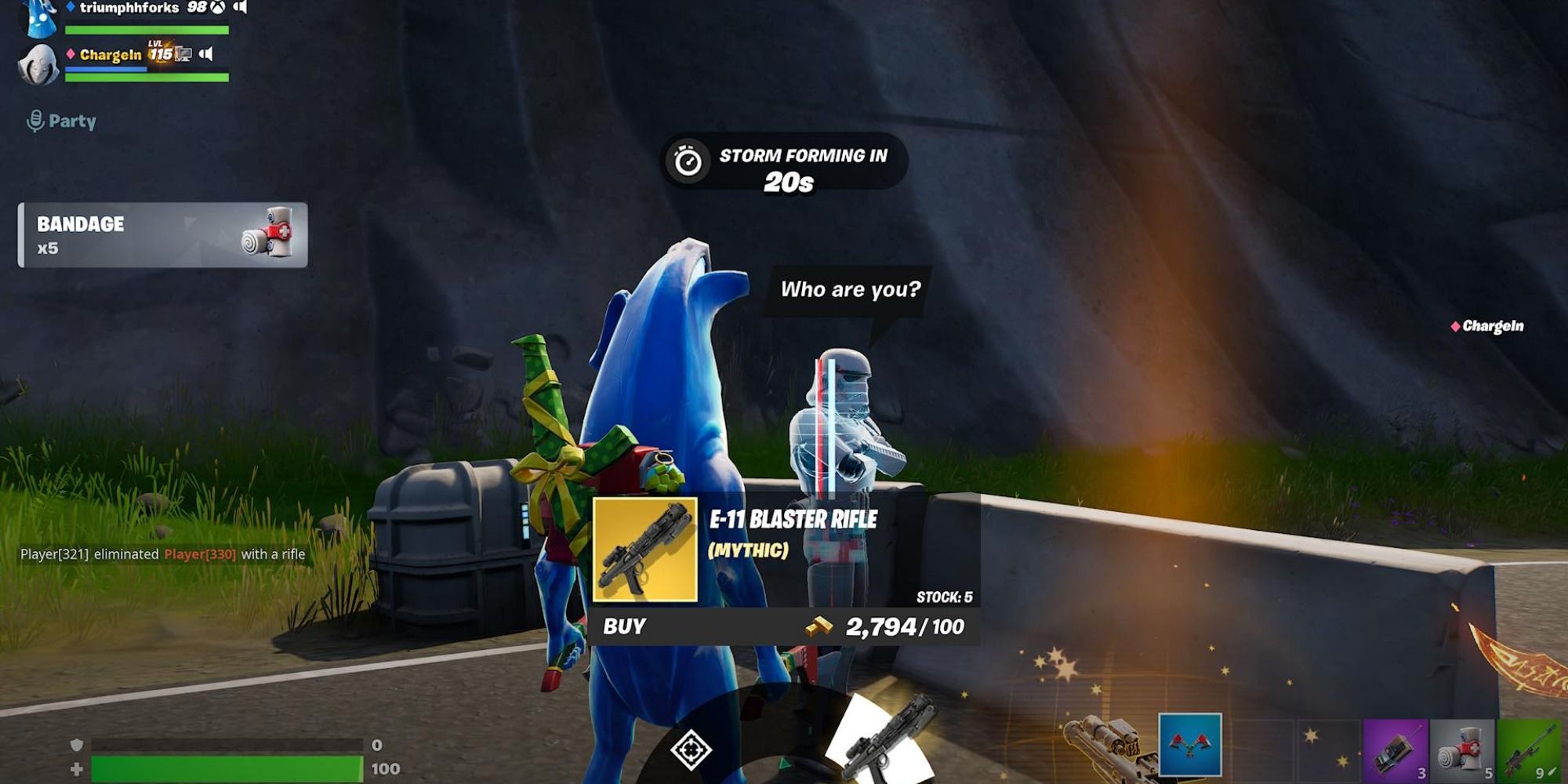 There is a total of five May The 4th quests, completing a quest will give you 30,000 XP. Then, you can even win a special Star Wars banner for completing a bonus goal.
These quests will be out for two weeks, from May 3 until May 17 at 12 AM ET. If you want to get your rewards, you'll have until then to finish them all before they are no longer available. Here is how you can complete all Star Wars day quests in Fortnite.
Land at a Stormtrooper Checkpoint, then place Top 25
With this most recent update, there are three Stormtrooper Checkpoints in the game. Each checkpoint has two Stormtroopers roaming around and they're blocking roads so if you're driving by be careful not to run them over. You can find them on the road from Greasy Grove to Camp Cuddle, from Condo Canyon to The Joneses, and from Sleepy Sound to Coney Crossroads.
Complete a bounty from a Stormtrooper
If you speak to Stormtroopers at Stormtrooper Checkpoints, they can either sell you a weapon or ask you to complete a bounty for them. Then, all you have to do is eliminate the player they ask for. If you're playing duos, trios, or squads, just know that it doesn't have to be you to talk to the Stormtrooper, anyone in your team can do it. And, even if your bounty is poached, it'll count as completing it.
Drive a vehicle from Chonker's Speedway or Logjam Lumberyard to a Stormtrooper Checkpoint
Block hits using a Lightsaber (10)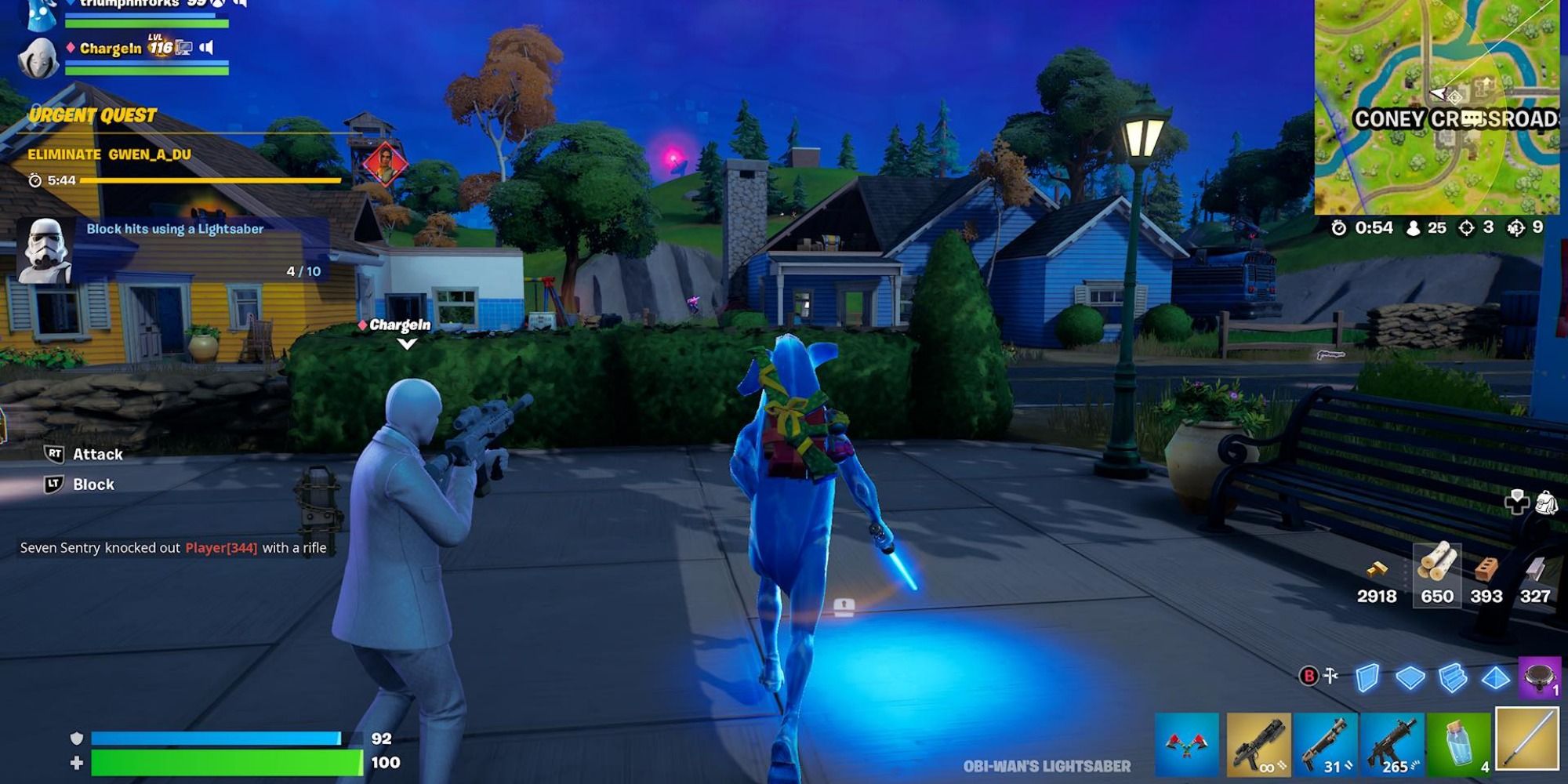 ​​​​​​​
​​​​​​​You might've used the Lightsaber before as it was once in the game a few Seasons ago. But, if you haven't, it's not too difficult to use, there are only two options: you can block and you can attack. When someone is shooting at you, if you press the 'block' button at the right moment, it'll deflect their bullets. Do this successfully a total of ten times.
Damage opponents within 30 meters using the E-11 Blaster Rifle (1,000)
​​​​​​​There are E-11 Blaster Rifles all around the map, you can find them as floor loot, in chests, or you can even purchase them from Stormtroopers at checkpoints for 100 gold bars. It has infinite ammo, it does 30 body damage and 37 headshot damage. Deal a total of 1,000 damage to opponents within 30 meters to complete this mission. If you're having trouble, try this in Team Rumble or try it on IO Forces or a Loot Shark.
Bonus Goal: Complete the Star Wars May the 4th Quests (5)
​​​​​​​The bonus goal requires you to complete all the quests listed above. If you do this, you'll receive the Empire Banner as a reward.
​​​​​​​
Source: Read Full Article