Final Fantasy 14: Shadowbringers – Where To Find All Aether Currents In The Tempest
The events of The Tempest are appropriately tempestuous. Certain game-long Final Fantasy 14 revelations hit hard, leaving fans with their jaws agape — and their eyes staring skyward just to chat with a few black-robed NPCs. Best not to spoil.
But we'll happily spoil all those aether current locations. As of Endwalker, there are four field-based currents in every previous expansion's zone rather than ten. That said, The Tempest's are a little harder to grab than some others. Plus, there's still those five quest-based currents, and it's always helpful to know when those are around the corner.
The Tempest Aether Current Locations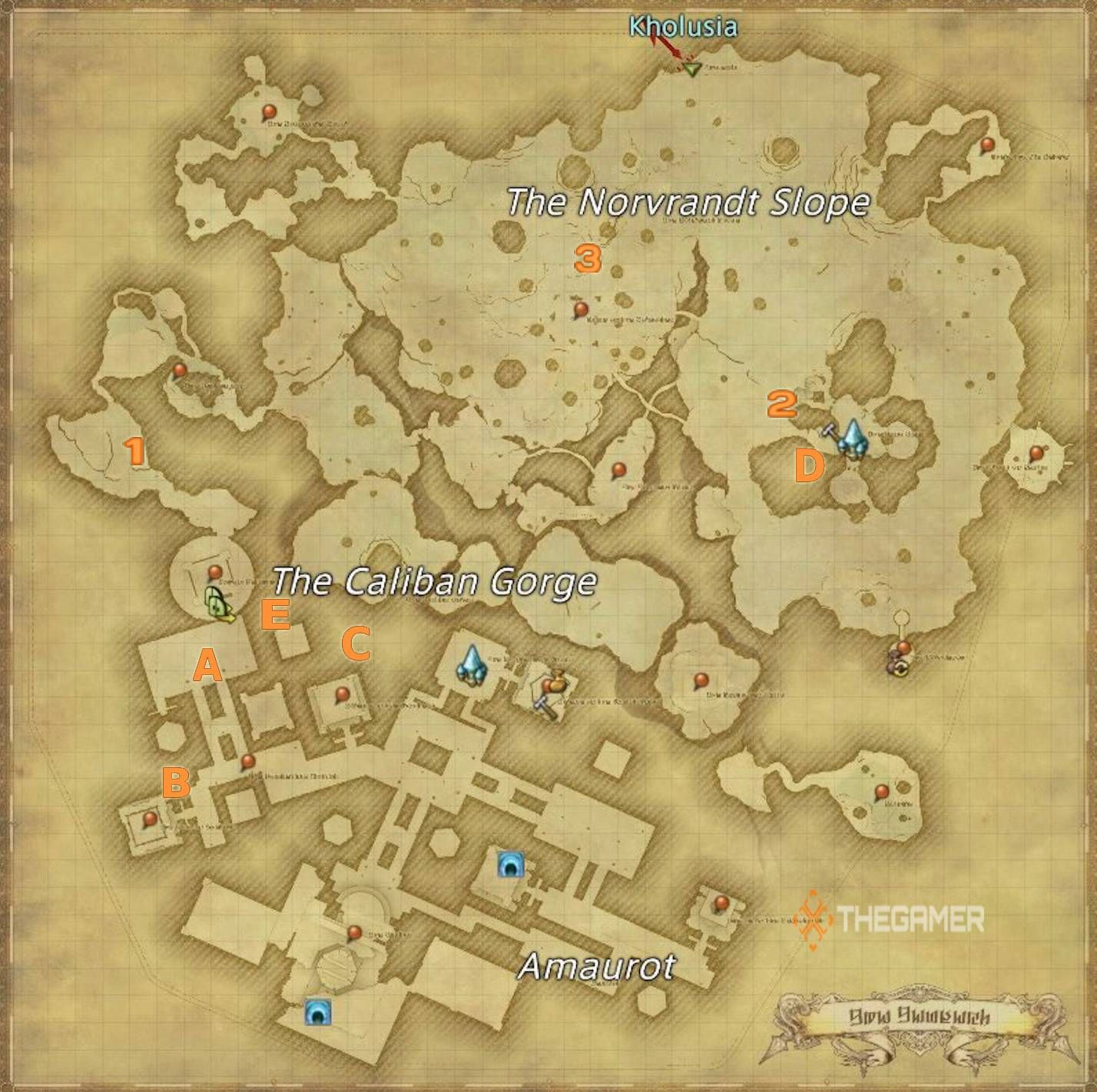 Aether Currents Found On the Map
| | Aether Co-ordinates | Notes |
| --- | --- | --- |
| 1 | (X:5.3, Y:19.4) | Overlooking Amaurot. |
| 2 | (X:28.2, Y:15.9) | – |
| 3 | (X:22.8, Y:11.2) | – |
| 4 | (X:29.2, Y:7.1) | Southeast of the exit to Kholusia. |
Aether Currents Obtained Via Quests
| | Quest Name | Quest Level | Quest Location | Notes |
| --- | --- | --- | --- | --- |
| A | Community Cohesion | 70 | (X:9.5, Y:28.2) | Becomes available upon completing the main scenario quest 'The End of a World'. |
| B | Debate and Discourse | 70 | (X:7.2, Y:31.4) | Becomes available upon completing the main scenario quest 'The End of a World'. |
| C | Responsible Creation | 70 | (X:13.7, Y:27.6) | Becomes available upon completing the main scenario quest 'The End of a World'. |
| D | Koal of the Cups | 70 | (X:32.1, Y:16.5) | Becomes available upon completing the main scenario quest 'Waiting in the Depths'. |
| E | A Greater Purpose | 80 | (X:8.9, Y:26.5) | Becomes available upon completing the main scenario quest 'The End of a World'. |
Source: Read Full Article