Fallout 76 Ignites Free Play Week With Bombs Drop Day Celebration
Bethesda Game Studios has announced Fallout 76 will be free to play for a week starting October 20 in celebration of Bombs Drop Day. The week-long celebration will also include a free play preview of Fallout 1st, in-game events, and in and out-of-game sales.
In Fallout lore, October 23, 2077, is the day the world ended in a fiery nuclear apocalyptic Great War that lasted just two hours. From now until October 26, you can download and play Fallout 76 for free, including the Wastelanders and Nuclear Winter updates, and experience the post-apocalypse Appalachia, West Virginia region surrounding Vault 76 for yourself.
New players who find they want to continue their adventures in Appalachia after the week's celebration will not lose any of their well-earned progress. Additionally, Bethesda will have the base game and all the content bundles on sale.
Three Bombs Drop Day celebration events are happening in-game during the week. Double S.C.O.R.E. and Double XP earnings lead the celebratory offerings available to all players. Purveyor Murmrgh at the Rusty Pick has dropped a 25% off sale on all Legendary armor and weapons in the shop. And for the first time ever, Atom Packs are on sale from 20-35% off as follows:
500 Atoms – 20% off base price
1000 Atoms (+100 bonus Atoms) – 25% off base price
2000 Atoms (+400 bonus Atoms) – 30% off base price
4000 Atoms (+1000 bonus Atoms) – 35% off base price
Fallout 76 itself will also be on sale for the celebration week at 60% off its base price. The Wastelanders Deluxe Edition is 50% off, the Raiders and Settlers Content Bundle is 40% off (excluding PlayStation Store), and the individual Raider Content Bundle and Settlers Content Bundle are likewise at 40% off each. Bethesda has also placed Fallout 4 on sale, with the base game and the GOTY both at 70% off. All four Fallout 4 DLCs are on sale at 60% off (excluding PlayStation Store), and the Fallout 4 Season Pass is on sale for 60% off.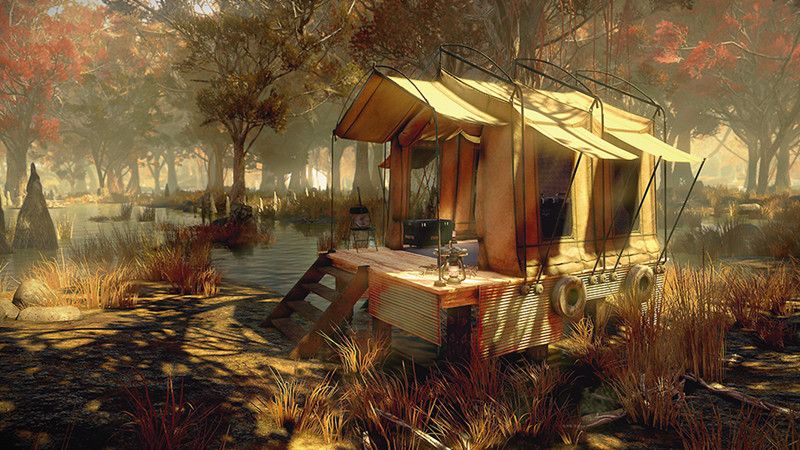 And last but not least, you can get a limited Fallout 1st preview sample membership from now until October 26. The limited preview will allow you to access some of the benefits full Fallout 1st members have, including the Survival Tent (which comes with with a Stash, Sleeping Bag, Scrapbox, Instrument and Cooking Station), a separate Scrapbox for your C.A.M.P., and October's Fallout 1st free items – the Mechanic's Wallpaper and Mechanic's Floor and Foundation.
Click over to the Bombs Drop Day Celebration announcement for the full details.
Source: Read Full Article