Eiyuden Chronicle: Rising – How To Unlock The Accessory Shop
Quick Links
How To Build The Accessory Shop
The Accessory Shop is a useful building that will aid you in your journey in Eiyuden Chronicle: Rising. Teased at the very beginning by its owner, you'll be able to craft and purchase accessories for your protagonists.
There are lots of items you can create here — and that's without counting the ones that become available when upgraded the place. That's why this guide will help you with how to unlock the Accessory Shop and explain what this store will offer for you.
How To Build The Accessory Shop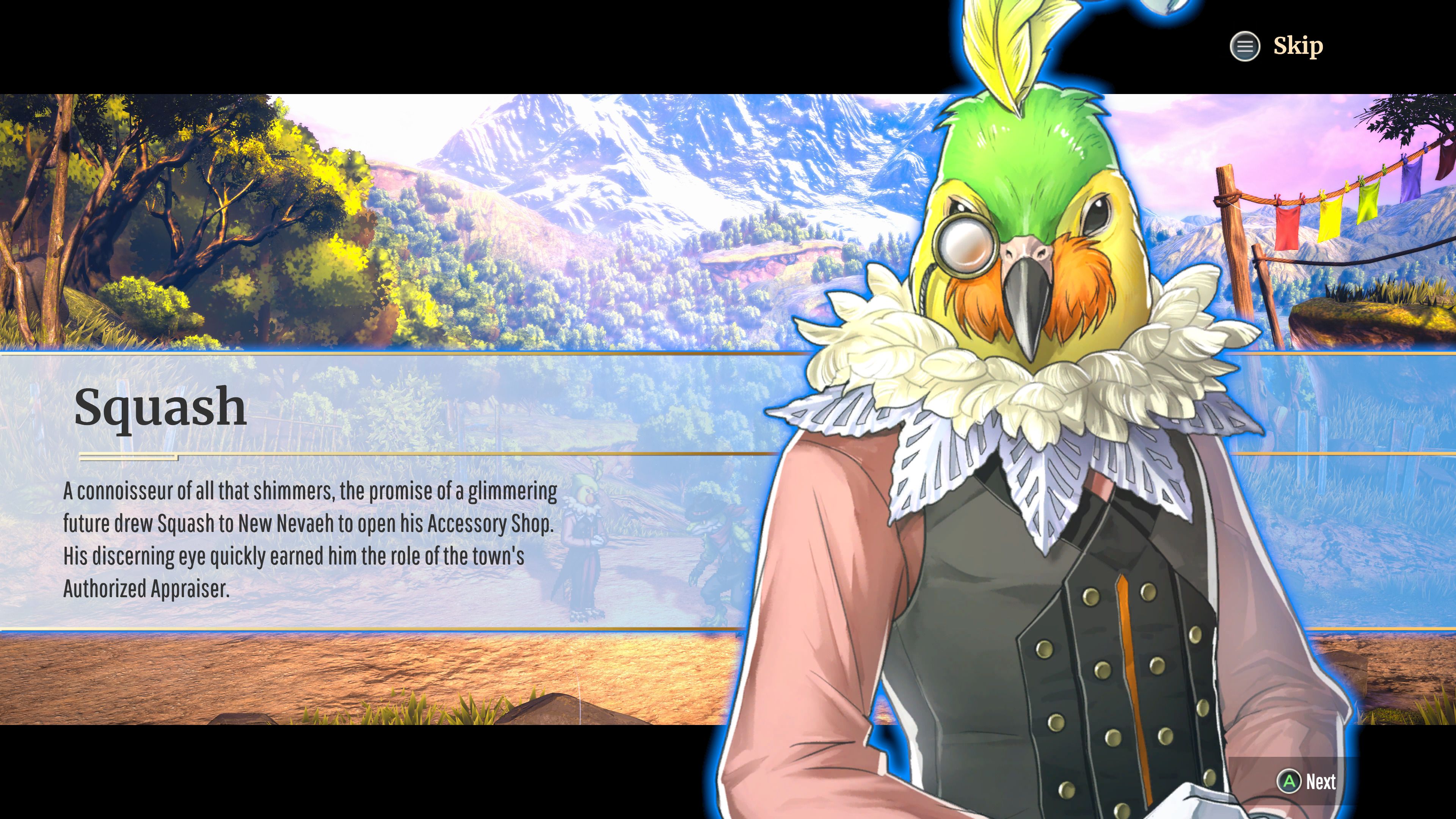 Quite at the beginning of your adventure, you'll meet an NPC named Squash. This is a fancy parrot-like character that is the "Authorized Appraiser" of New Nevaeh. He'll tell you about his desire to open an Accessory Shop, but this won't be possible until some hours into the game.
The opportunity will come in Main Quest 7: Catch That Girl! At the end of your previous primary quest, you unlocked Second Street, a new region in town whose entrance is located a few steps to the right of where the blacksmith Tatara is based (on Outlander Lane). Simply go to this new zone and Squash will be right there, with a task for you.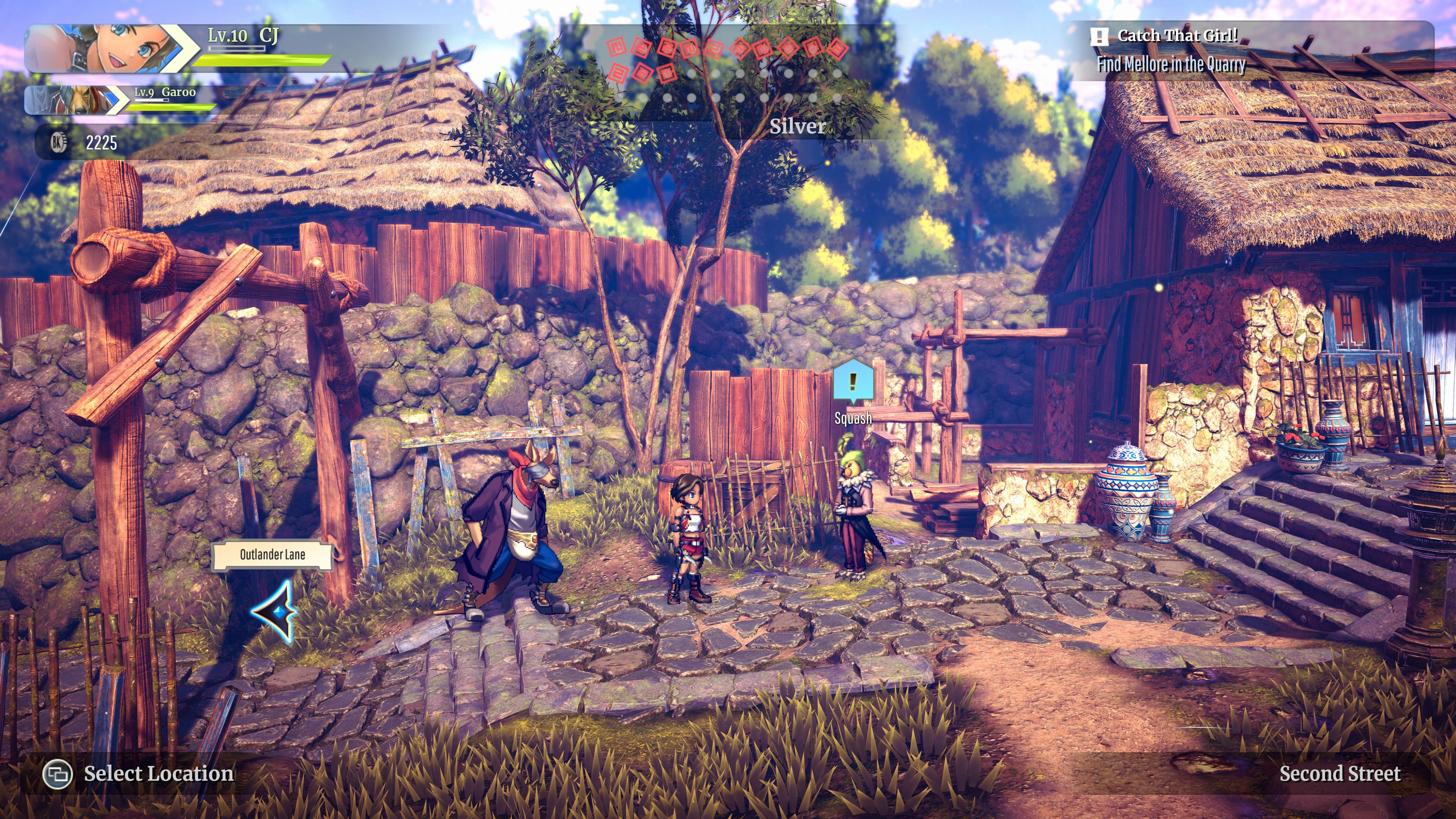 For the Shop Quest Spectacular Appraiser's Spectacles, Squash will ask you to find the Appraiser's Spectacles, which he can't find by himself. He tells you they might be on the Plaza, so there's where we are going.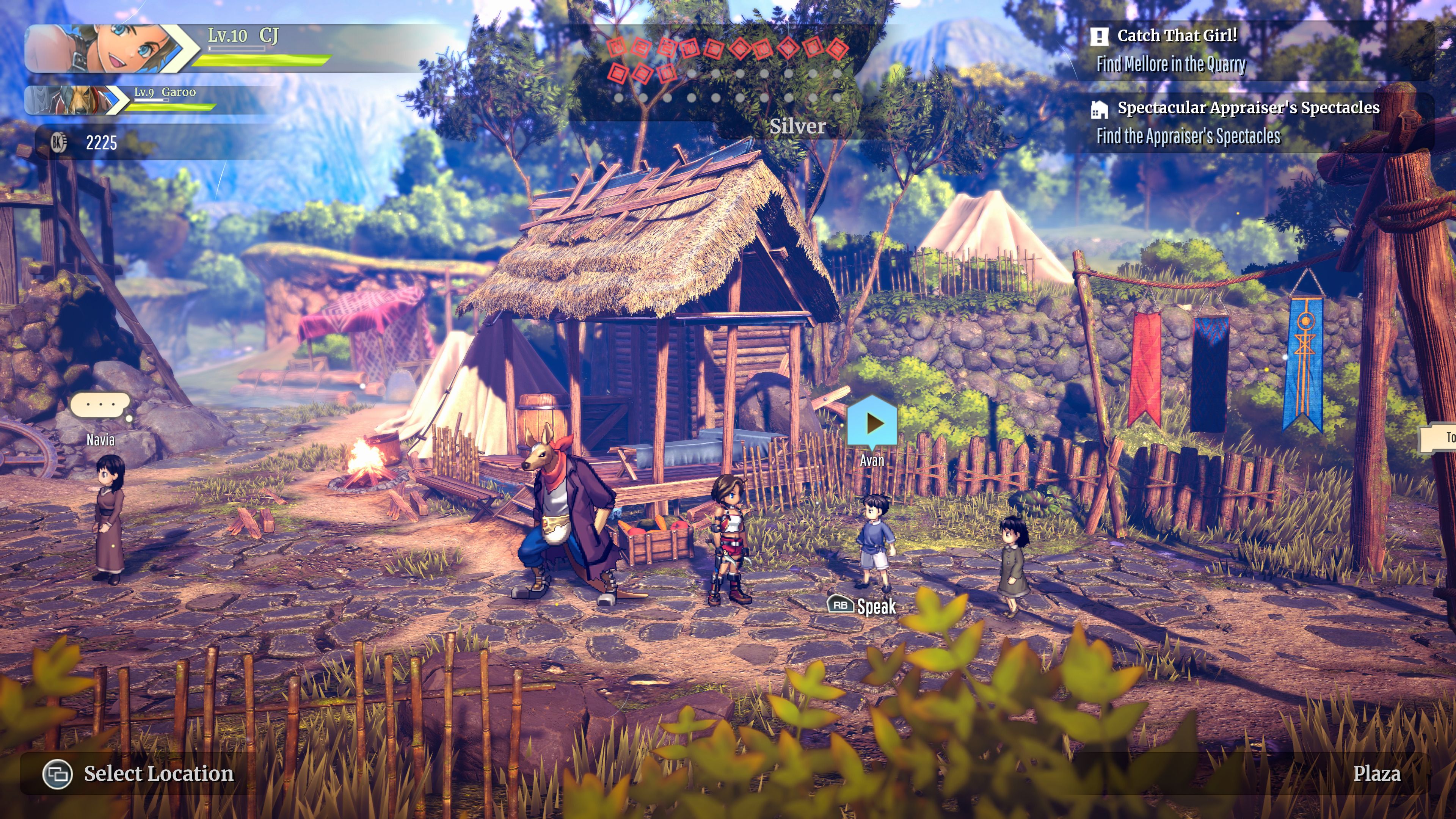 Go to the right end of the Plaza and you'll spot a sad boy standing around. His name is Evan and he will speak about "shiny glasses" and bugs that scared him. Keep talking to Evan and he'll give you those glasses, which are actually the Appraiser's Spectacles.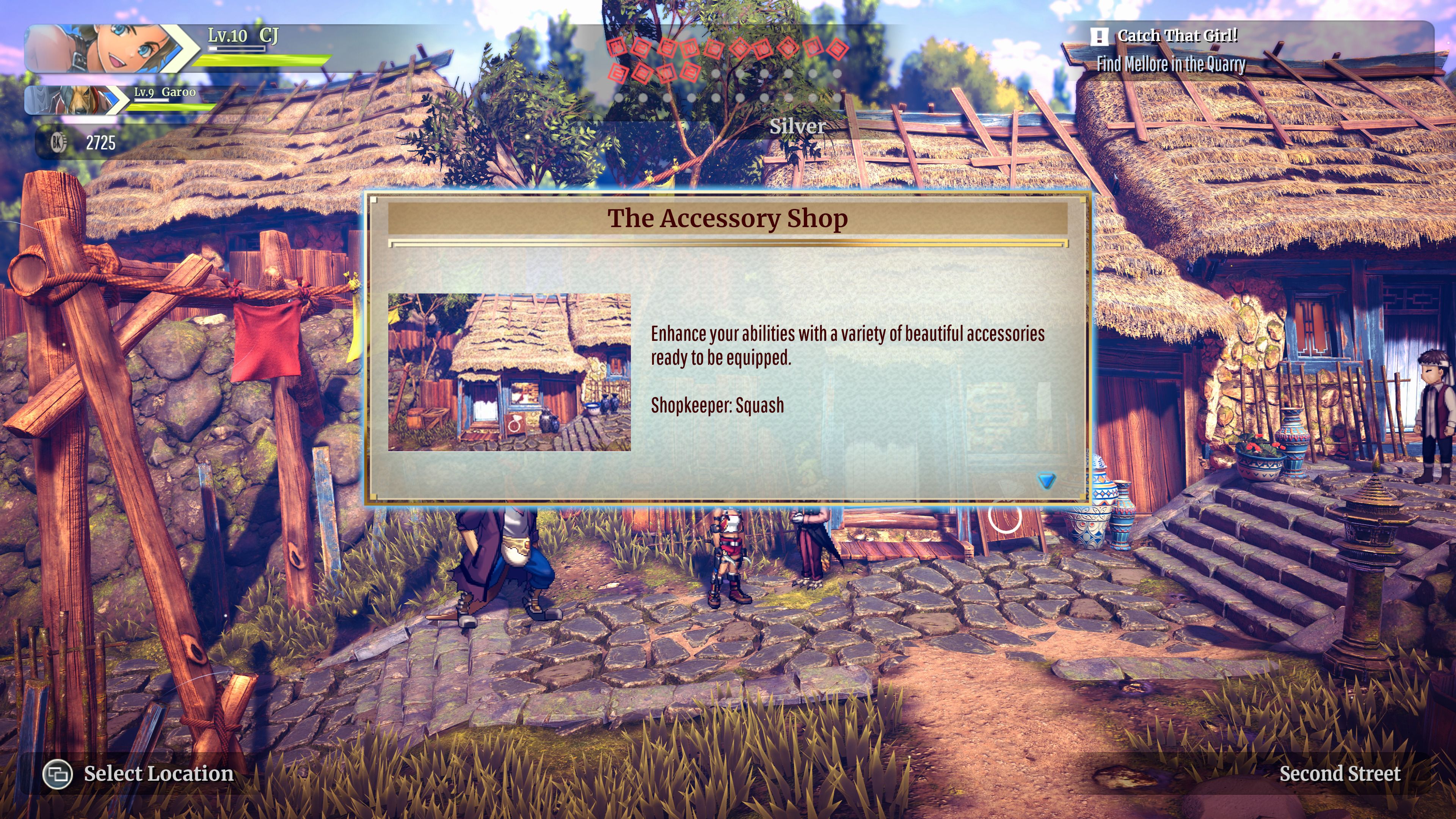 Now go back to the entrance of Second Street and speak with Squash. He'll thank you and open the Accessory Shop.
The Accessory Shop Items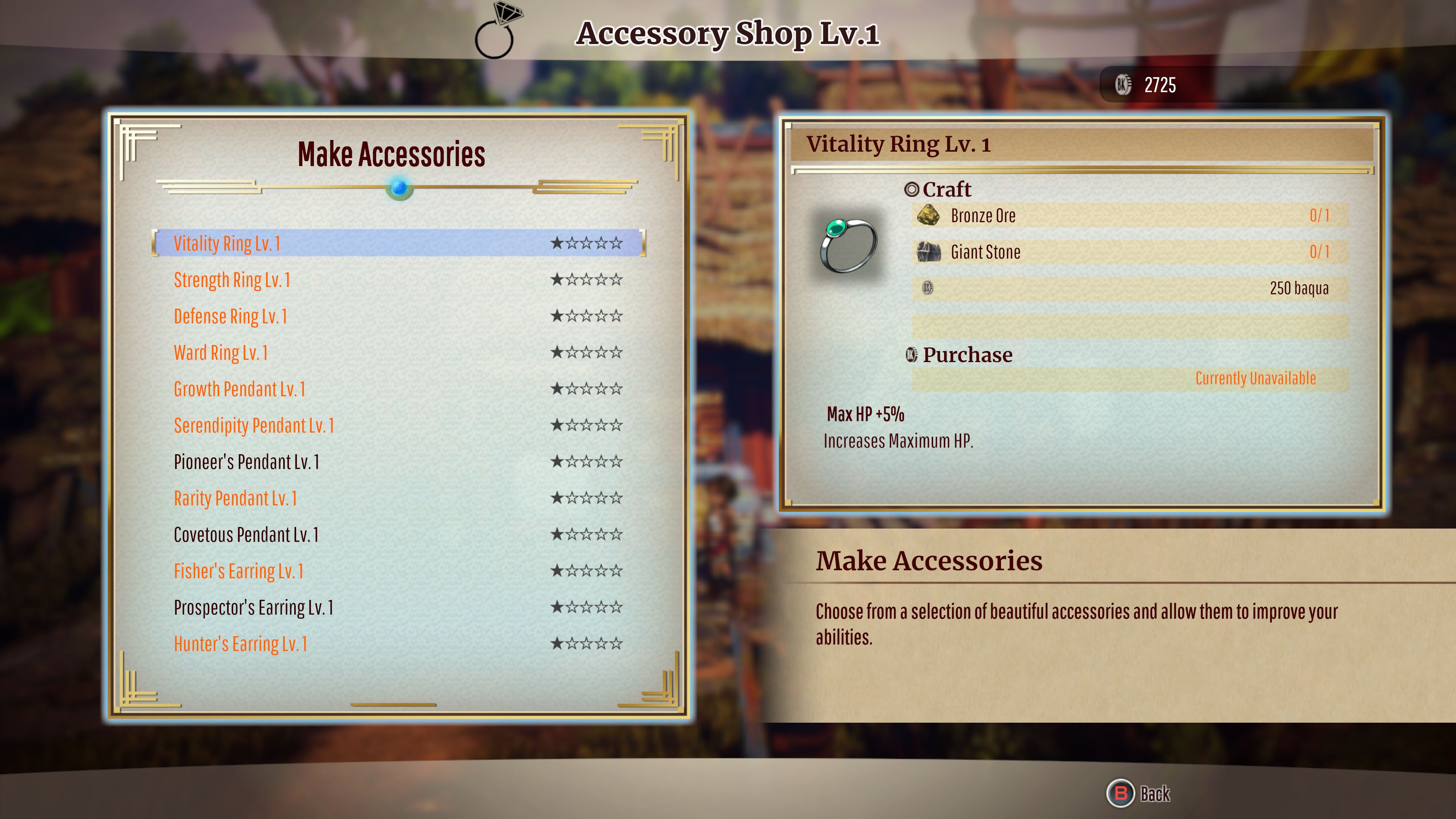 This shop has a good amount of items you can craft for your characters. Accessories give passive bonuses and effects, and you can only equip two per member of your party. So, take your time to discover all of them and decide which ones you want.
Below is a table with the starting items in the Accessory Shop.
Accessory Name
Effect
Resources Needed
Vitality Ring Lv. 1
Max HP +5%

Bronze Ore
Giant Stone
250 baqua

Strength Ring Lv. 1
Attack Power +5%

1 Bronze Ore
3 Ogre Horn
250 baqua

Defense Ring Lv. 1
Physical Defense Power +5%

1 Bronze Ore
1 Giant Branch
250 baqua

Ward Ring Lv. 1
Magic Defense Power +5%

1 Bronze Ore
1 Ice Magic Vestige
250 baqua

Growth Pendant Lv. 1
EXP gained +5%

1 Giant Branch
3 Meat
3 Fish
250 baqua

Serendipity Pendant Lv. 1
Critical Hit Rate +5%

3 Crystal
1 Ebony Pelt
1 Sylvan Crystal
250 baqua

Pioneer's Pendant Lv. 1
Drop Rate Up +4%

3 Lumber
3 Stone
3 Savorcap
250 baqua

Rarity Pendant Lv. 1
Rare Item Drop Rate Up +4%

1 Crystal
1 Giant Branch
1 Sylvan Crystal
250 baqua

Covetous Pendant Lv. 1
Drop Haul Up +4%

3 Slimejelly
3 Sugar
3 Savorcap
250 baqua

Fisher's Earring Lv. 1
Fishing Haul Up +4%
Prospector's Earring Lv. 1
Mining Skill Up +4%
Hunter's Earring Lv. 1
Trap Rate Up +4%
You can equip these accessories to any of your characters.
Better items will be available once you upgrade the Accessory Shop. To do so, you'll have to keep progressing through the main story and find a Shop Quest from Squash. Complete it and you'll improve the building to level 2.
Source: Read Full Article