EA Has Pulled Out Of GDC 2020 Due To Threat Of Coronavirus
Concerns regarding the novel coronavirus have led to another video game company pulling out of a live event, as EA will no longer have an official presence at GDC 2020, and its staff has been advised not to travel to San Francisco.
The coronavirus has currently claimed over two thousand lives around the world and many areas of China have been quarantined in an effort to contain the spread of infection. There have also been reports of infection in other countries, which has led to companies canceling or pulling out of live events for the time being, in order to eliminate the risk of spreading the disease.
Related: Kojima Productions Won't Be Participating At GDC Due To Coronavirus Concerns
The 2020 GDC (Game Developers Conference) event has seen several prominent companies pull out due to the coronavirus, including Facebook, Kojima Productions, and Sony. The latest company to announce its absence from the event is EA, as per a post on Linkedin from Ad Product Development Specialist Alex Sherer. According to Sherer, EA will be canceling its participation in GDC and employees have been asked not to travel to the event.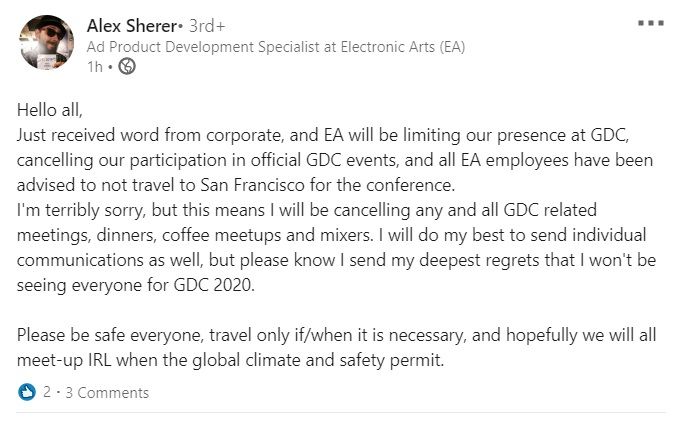 GDC 2020 isn't the only event that will be affected by the coronavirus, as several companies have also backed out of PAX East, which is due to take place later this week. It remains to be seen how other events in 2020 will be affected. A lot of it will depend on what happens at GDC and PAX East. The organizers of PAX East have already stated their commitment to health & safety and sanitation at the event, which should be the primary concern of all attendees.
It's always disappointing when companies pull out of events like this, but the reasoning is understandable. The health and well-being of staff members are far more important than video game announcements or industry panels. It's possible that other events in 2020 could be affected and that companies have to rely on digital methods to make announcements, especially with E3 due to take place in a couple of months.
GDC 2020 will run from March 16 to March 20.
Source: Read Full Article