Dream Daddy: How To Romance Hugo
Dream Daddy is the small, quirky dating sim from Game Grumps.  A rather LGBT-positive game, players can create their very own Dad-sona of their dreams, goaded on by daughter Amanda to date one – or many, or all – of seven sexy other daddy bachelors.
One of these few fine, eligible bachelors is Hugo Vega. He's an English teacher – Amanda's, specifically – and father to a son of his own, Ernest. Is he bookish and scholarly? Yes. Is he also a raging nerd with a secret, not-so-teacherly fixation? Also yes. For those seeking out that kind of Daddy, here's a small guide on how to woo Hugo.
Likes and Dislikes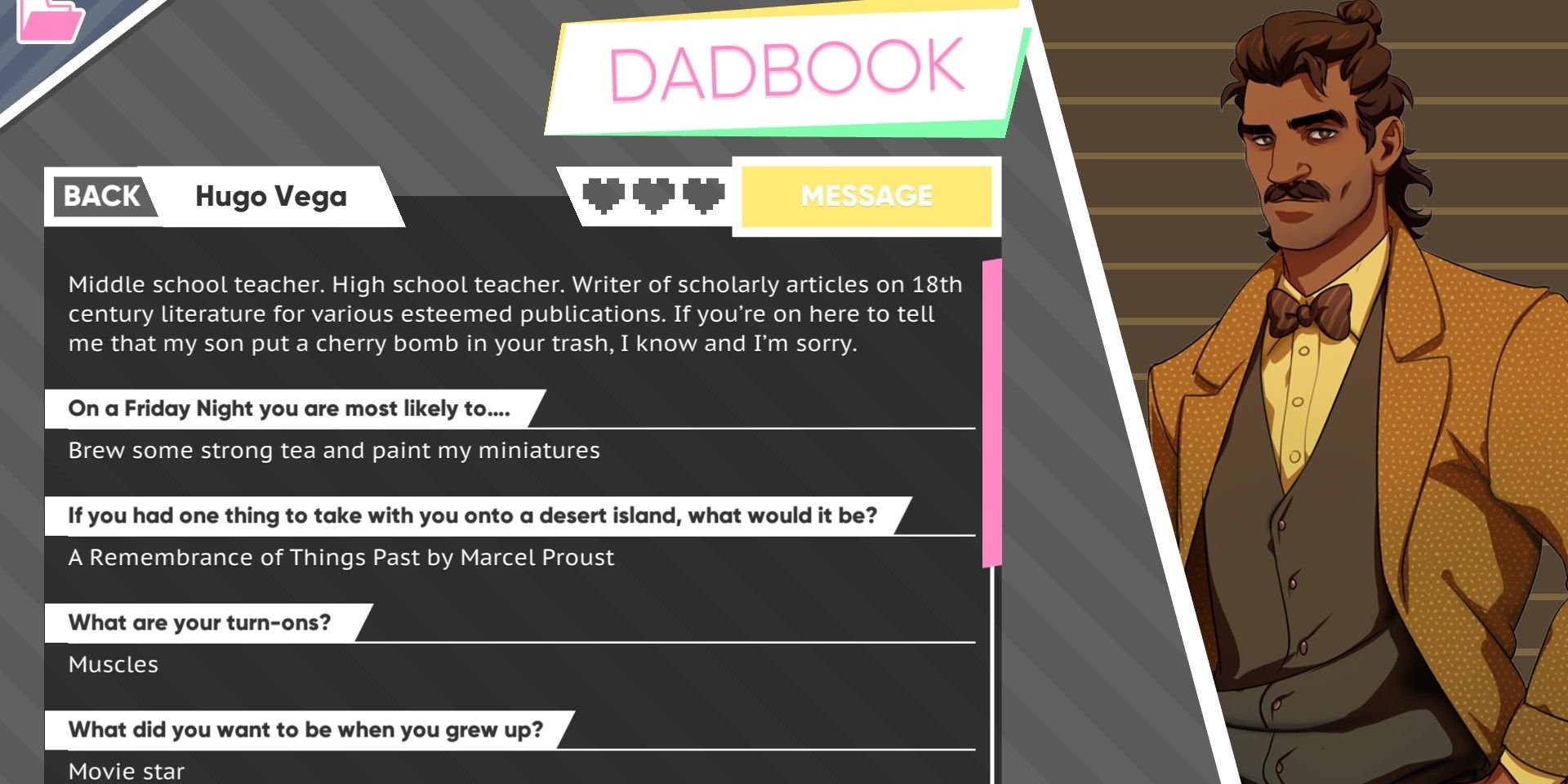 Looking at the game's character log – a dating site called DadBook – there are several things we learn about Hugo. He likes wine and cheese, romantic art gallery dates, and books. He dislikes bad media adaptations of books, his son's questionable behaviors, and summer school.
Sounds a bit sophisticated, but what he likes in a partner is a bit more nuanced. Reading the rest of his DadBook profile reveals him to be a bit more casual and goofy, somewhat down-to-earth. And that's what he seeks out more in any possible pairing.
First Date: Aquarium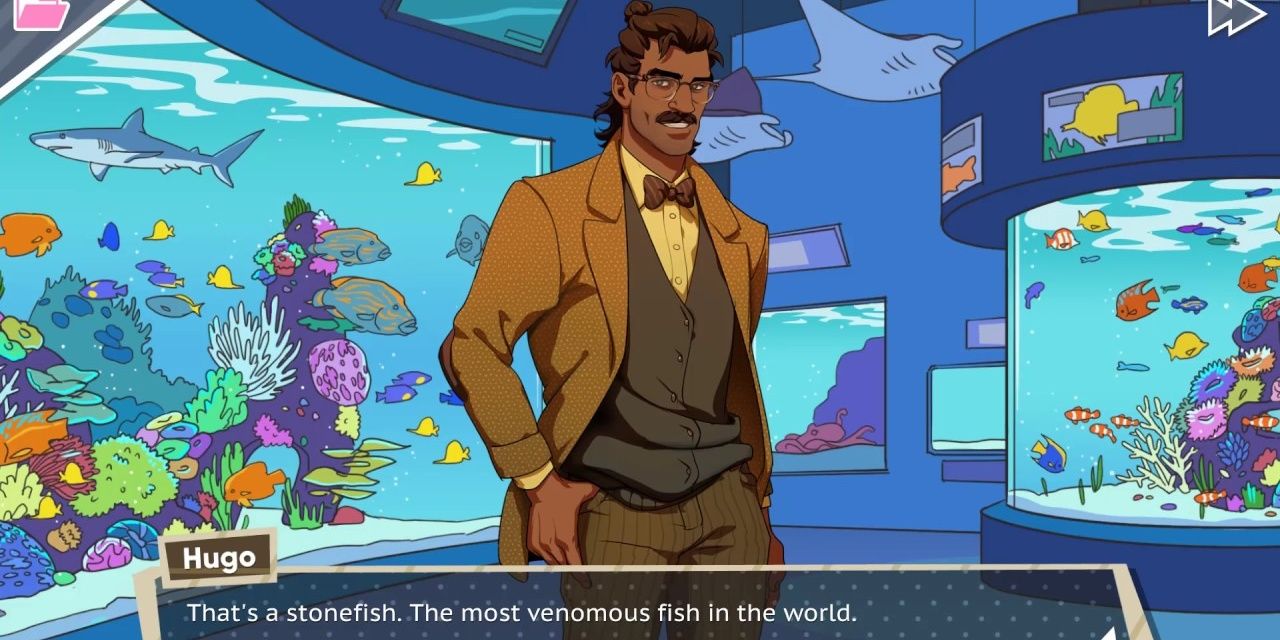 Players' first date with this scholastic Daddy will be quite unorthodox. Instead of the usual, casual dinner date or movie-going, they'll have to act as a chaperone on a school field trip, to the local aquarium.
But even with the odd choice of venue, the player's actions will still make or break any further romance with Hugo. The best way to woo this teacher over, in this scenario, is two-fold. With the kids around, it's best to be as good a role model as possible in choices, but in those brief moments alone, it's okay to make the goofier decision.
Post Date: Cheesy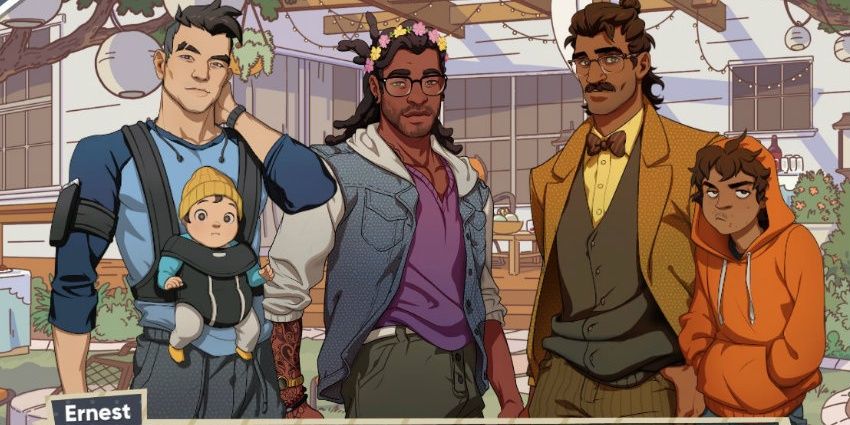 Assuming all ended well at the aquarium, and a second date was scored, there's always a brief-post date scene.
Players' choices in this scene still can have an impact on any budding romance.
For this post-nautical date, it's best to remember that Hugo is a fine connoisseur of cheese. It'll also play a small (yet important) role in date number two.
Second Date: Trivia Night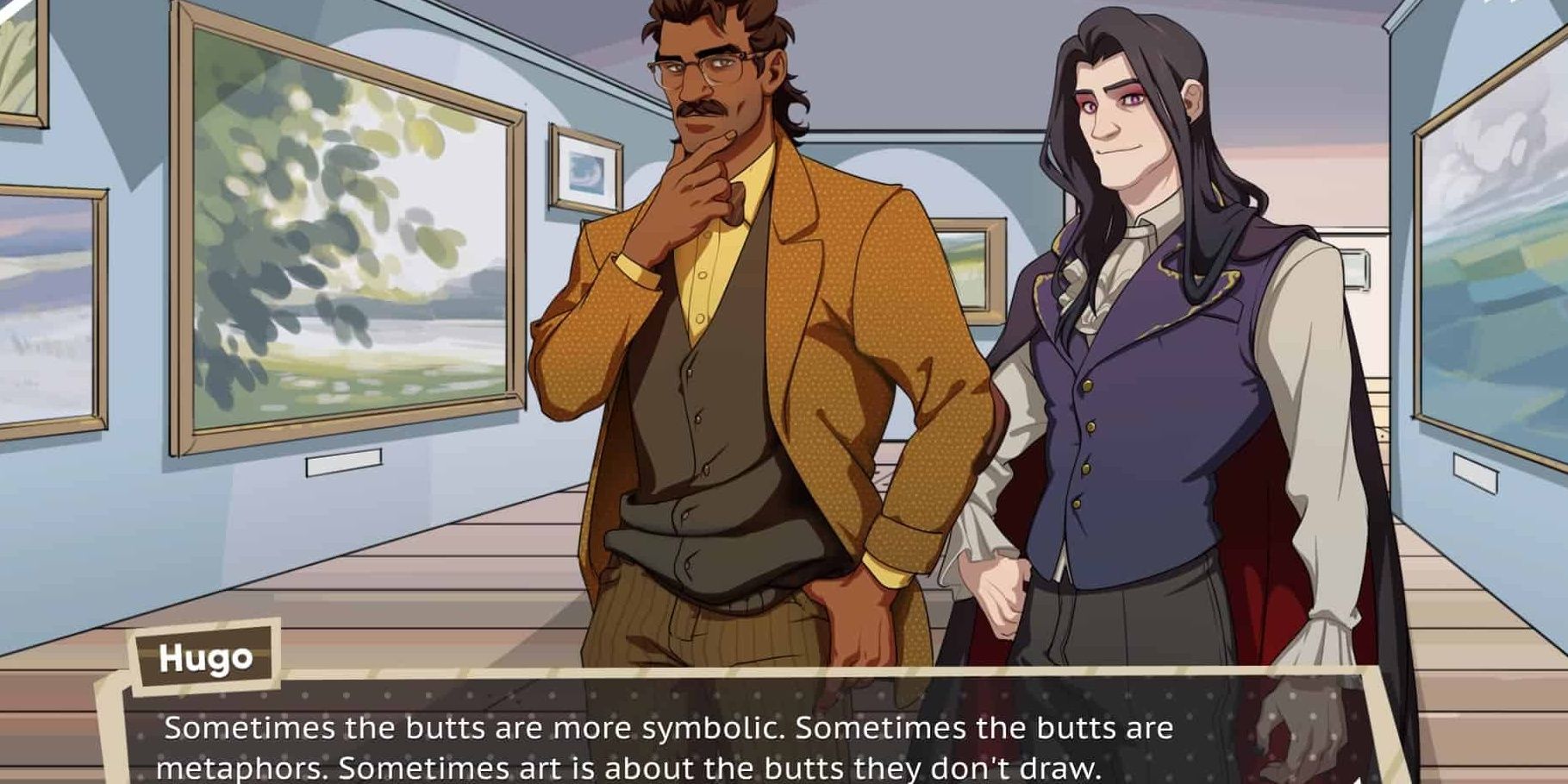 Date night number two is where Hugo sheds his more suave scholarly persona, to let his inner nerd shine in the best way possible: trivia! Players can partake in this geeky competition, letting their own nerdy knowledge shine through and hopefully impressing Hugo.
The competition depends on which out of three categories are selected: literature, cinema, or animals. Each category has three multiple-choice questions, with four possible answers to select from, but they're not to be underestimated, especially for the casual consumer of any category.
The literary trivia deals mostly with Romantic Era works, and will ask the following questions. First, players will have to recall the name of an Elven continent. Then, they must correctly name the author of Tarzan. Lastly, they'll need to name a work by Edmond Dante.
The cinematic trivia deals with more mainline movies, though it focuses on small details. The first question will be about a quote from Star Wars. The second will discuss a Gremlins 2 actor. The last will discuss a trope of the horror genre: the Indian burial ground.
The animal trivia is the typical, obscure facts more common to the competition. Its questions include knowing which animal isn't native to the Canary Islands, as well as the last animal in the dictionary, alongside which animal has the thickest fur.
Post Date: Secret Fascination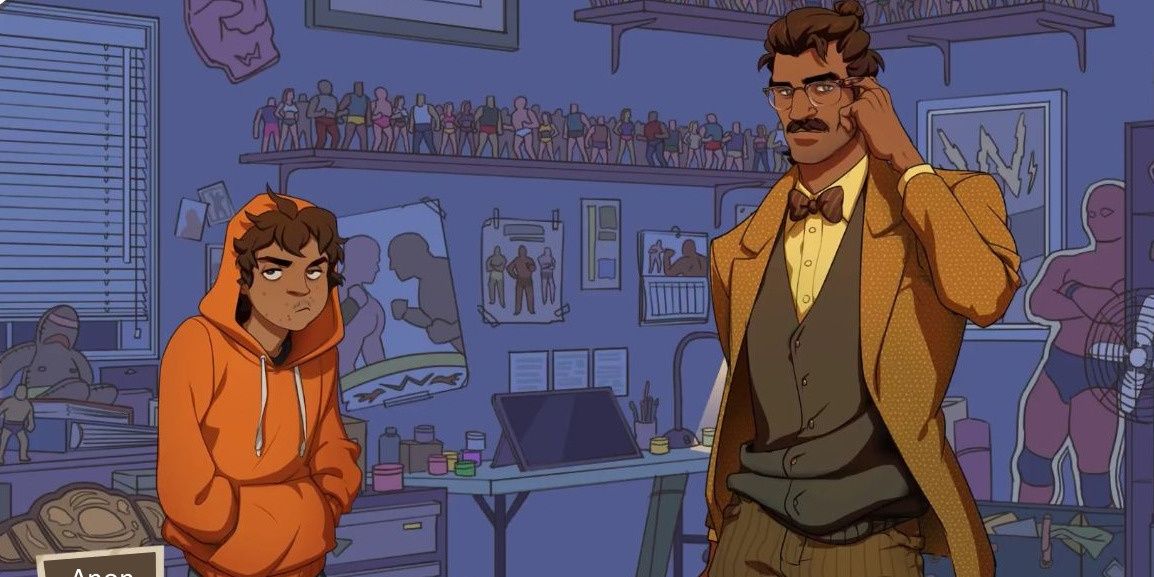 Should players answer every question correctly and emerge victorious, Hugo will be impressed by this feat of knowledge. He'll be successfully wooed, his third and final date will be secured, and then it's a matter of moving onto the post-date scenario.
This post-date scene reveals something slightly more interesting to Hugo. As he opens up more of his private life to the player, they'll learn that he has a not-so-academic, secret passion. Said secret passion? Professional wrestling. And rest assured, that's where the third date will be headed.
Third Date: Wrestling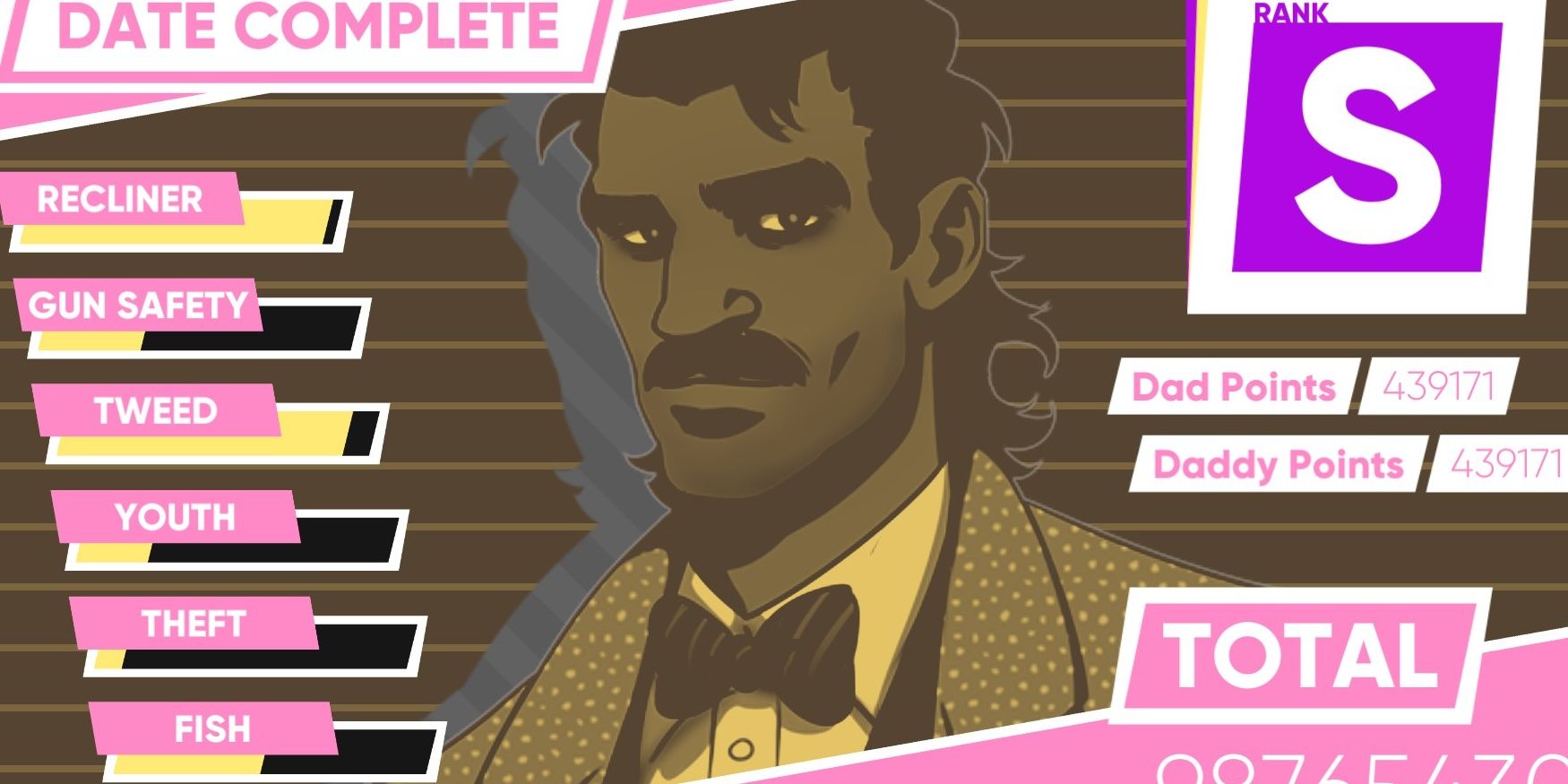 As a complete change of pace, players will find themselves accompanying Hugo, not to a school-trip aquarium or nerd-night trivia, but instead to a bustling arena with plenty of wrestlers ready to rumble, and fans galore. Reaffirming a shared love of the sport will keep the date running smoothly… until a group of his students shows up. From there, the date will split into three paths.
The simplest path is to just walk back to their seats, ignoring whatever judgment the students may hold. It has no sub-choices of its own, and Hugo will like it. But the other options are to create a diversion or sneak by the group, and both have sub-choices that can result in even greater favor from Hugo.
Simply put, the bolder the choices that the player makes, the better Hugo will react, to the very end of the date.
Post Date: "Wrestling"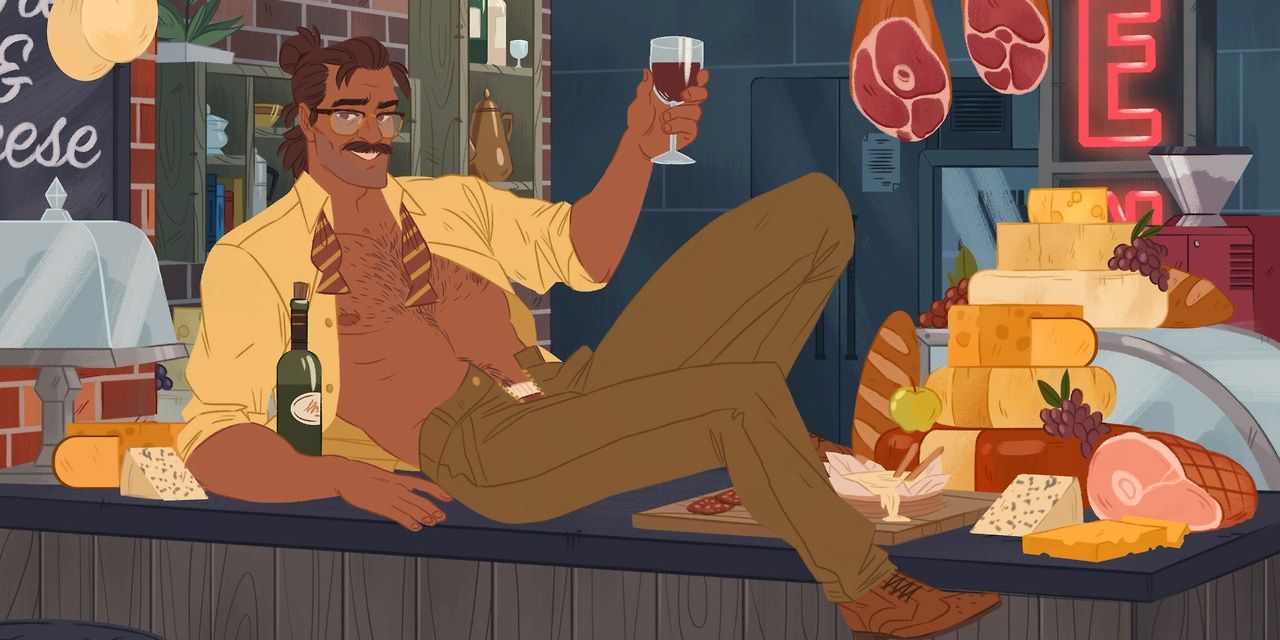 After a fun, crazy night of student-dodging and wrestling-watching, the romance with Hugo will finally draw to a successful close. It'll take place back at his home, and wrestling will still be on the brain for his last few choices.
The same method still applies here – the bolder the choice, the more Hugo will like it.
Making the boldest choices will land players on the receiving end of a few special "wrestling" moves of his own, alongside a sweet ending cutscene, and risque,  pin-up poster of Hugo. For any players who love themselves a simple, nerdy, wrestle-maniac Daddy, it will be the perfect romantic reward.
Next: 10 Best Visual Novels On PC, Ranked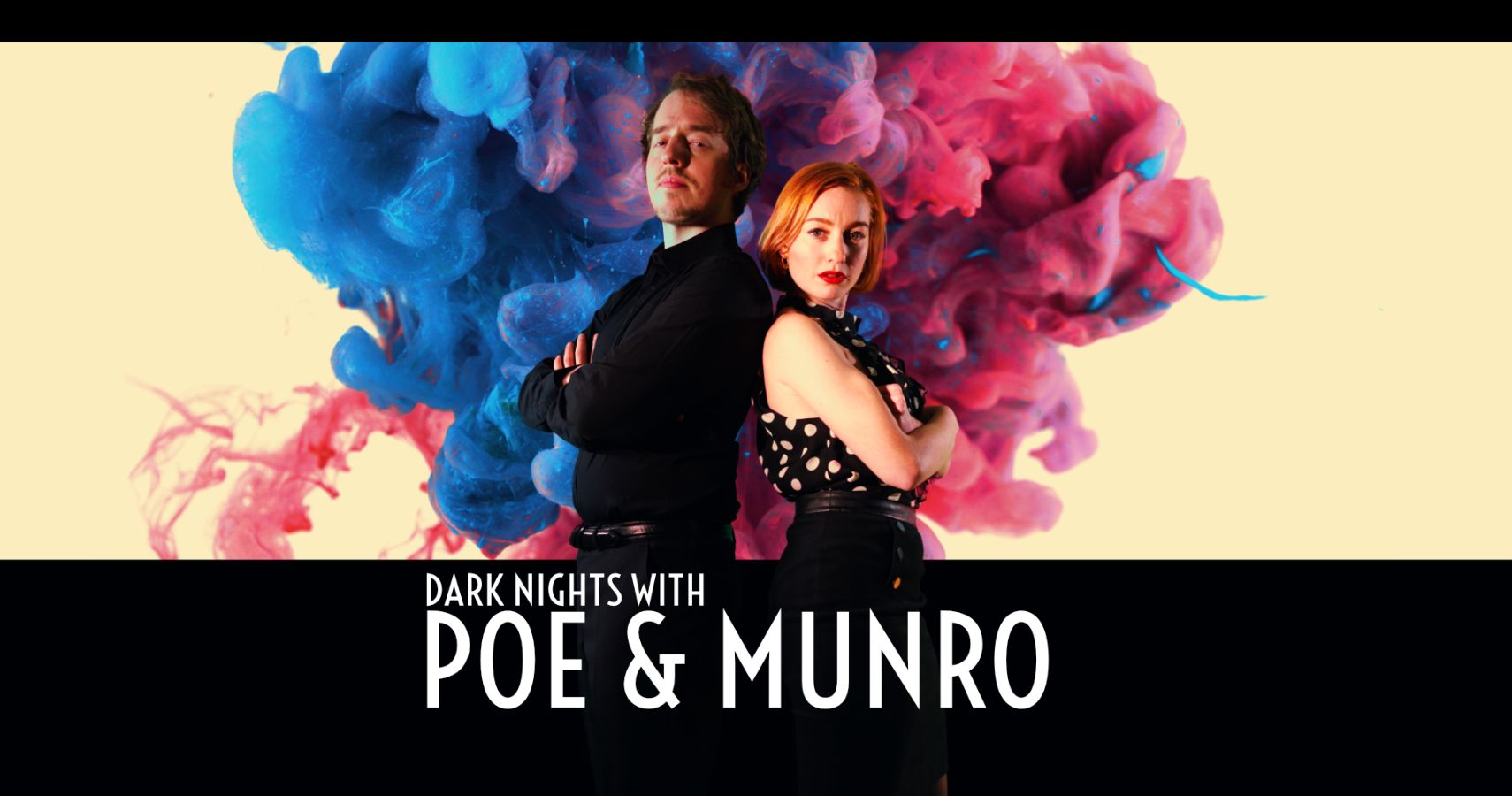 Avid reader and passionate writer, with a bit of casual gaming thrown into the mix. Previously worked and/or interned in marketing, teaching, and copy editing, but is mostly educated in the latter and writing. Entering the first stepping stones of a professional writing career, and excited to do so.
Source: Read Full Article