Dokapon Kingdom: Connect Spotted On German Rating Board
Dokapon may be returning to the west after more than a decade's absence. The combination RPG and digital tabletop board game franchise just got a new title rated for the Nintendo Switch in Germany, with speculation being a localization of the previously Japan-only release of Dokapon UP! Mugen no Roulette.
Dokapon Kingdom: Connect was recently rated for all ages by Germany's USK rating board. No game of this name has been announced, however, leading Gematsu to suggest it could be a western localization of Dokapon UP! Mugen no Roulette, a crossover set in the world of Utawarerumono but using Dokapon game mechanics.
Utawarerumono is a series of visual novels first released on PC back in 2002. A port was handled for PlayStation by Sting, who also owns the license for Dokapan. Both are generally set in a fantasy world. Although Dokapan tends to go for a more high-fantasy setting while Utawarerumono has more Japanese cultural influences.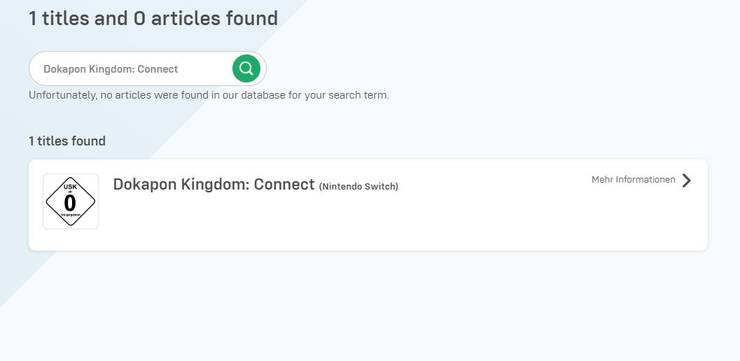 Those looking to play the Utawarerumono games will have a hard time finding them on PlayStation after both Utawarerumono: Mask of Deception and Utawarerumono: Mask of Truth were pulled from the PlayStation Store by Atlus. The reason given was an expiration of the IP rights with the publisher. Utawarerumono: Prelude to the Fallen and Utawarerumono: Zan remain available for purchase.
Dokapon UP! Mugen no Roulette was first released in Japan back in December 2020. Like previous Dokapan games, players move around a game board with random events ranging from finding random loot to engaging in battles against monsters. Each character has unique stats and skills that unlock after leveling up. Dokapon UP! Mugen no Roulette was the first Dokapon game to feature online matchmaking for multiplayer games, although the story is still single-player only.
The German rating indicates Still will be developing Dokapon Kingdom: Connect while publishing duties will be handled by Reef Entertainment. Reef handles distribution for various game companies in Europe, including Aksys Games, Idea Factory International, and NIS America, but only Aksys and Idea Factory are associated with Reef in Germany. We could see either of those companies handle the distribution of Dokapon Kingdom: Connect.
Source: Read Full Article