Beadle & Grimm's Reveals Its Here Be Dragons Magic: The Gathering Secret Lair
June has already started with two Secret Lair drops, Magic: The Gathering's limited-release products that can be anything from one-off crossovers with established franchises to alternate art cards celebrating real-world events. This latest Secret Lair announcement comes courtesy of Beadle & Grimm's Pandemonium Warehouse, the online storefront co-founded by Shaggy himself (or Matthew Lillard as he normally goes by).
Called "Secret Lair x Beadle & Grimm's: Here Be Dragons," the limited release will provide Magic players with seven "limited-edition traditional foil cards featuring classic D&D dragon-themed art, gradually revealed in a fold-out papercraft display." It'll also include a full-metal dragon life counter that counts up to 45 and comes nestled in its own foam-fitted case, as well as a deck box with a "secret surprise that must be discovered by the owner."
Of those seven cards, six of them are famous Legendary dragons that were previously released as part of Magic's D&D crossover expansion, Adventures in the Forgotten Realms. Those dragons include Old Gnawbone; Tiamat; Ebondeath, Dracolich; Inferno of the Star Mounts; Iymrith, Desert Doom; and Icingdeath, Frost Tyrant. Icingdeath's sword, Frost Tongue, is also represented as an artifact.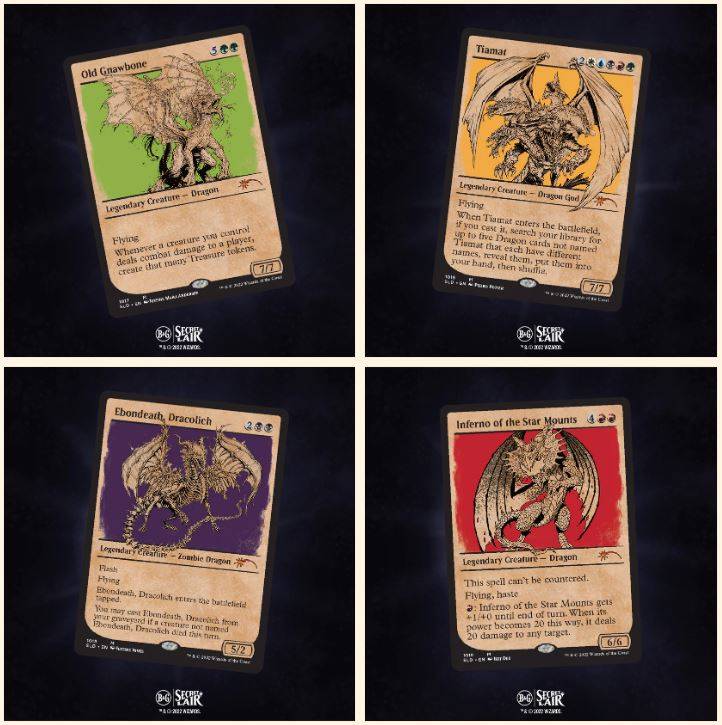 To keep those cards safe (as well as your whole Commander deck), Here Be Dragons comes with 100 sleeves with Inferno of the Star Mounts' art on the back.
This is going to be one of the pricier Secret Lair drops. Here Be Dragons is priced at $125 USD, which doesn't include shipping. Pre-orders are available now with deliveries expected to last from August to September.
June's Secret Lair super drop is available now with full-art Tokyo Lands as well as guest artists making new art for some of Magic's most famous cards. Check it out on the official Secret Lair page here.
Source: Read Full Article