Assassin's Creed Valhalla Wrath Of The Druids Walkthrough: How To Complete Irish Trade
Irish Trade is the first quest in Assassin's Creed Valhalla's Wrath of the Druids expansion. Despite its name, Irish Trade actually takes place in England shortly before you set sail for the Emerald Isle. It's coupled with another brief quest – Irish Adventure – and serves as the mission that tees up your voyage across the Irish Sea.
As mentioned in our guide on how to start Wrath of the Druids, Irish Trade can be acquired by speaking to Azar, a merchant who has sailed all the way from Ireland to deliver a letter to you.
If you're having trouble with Irish Trade or Irish Adventure and just want to make your way to Dublin already, look no further than this handy Assassin's Creed Valhalla: Wrath of the Druids Irish Trade guide, which will break down exactly how to complete this quest and leave for Ireland in detail.
Assassin's Creed Valhalla Wrath Of The Druids Walkthrough: How To Complete Irish Trade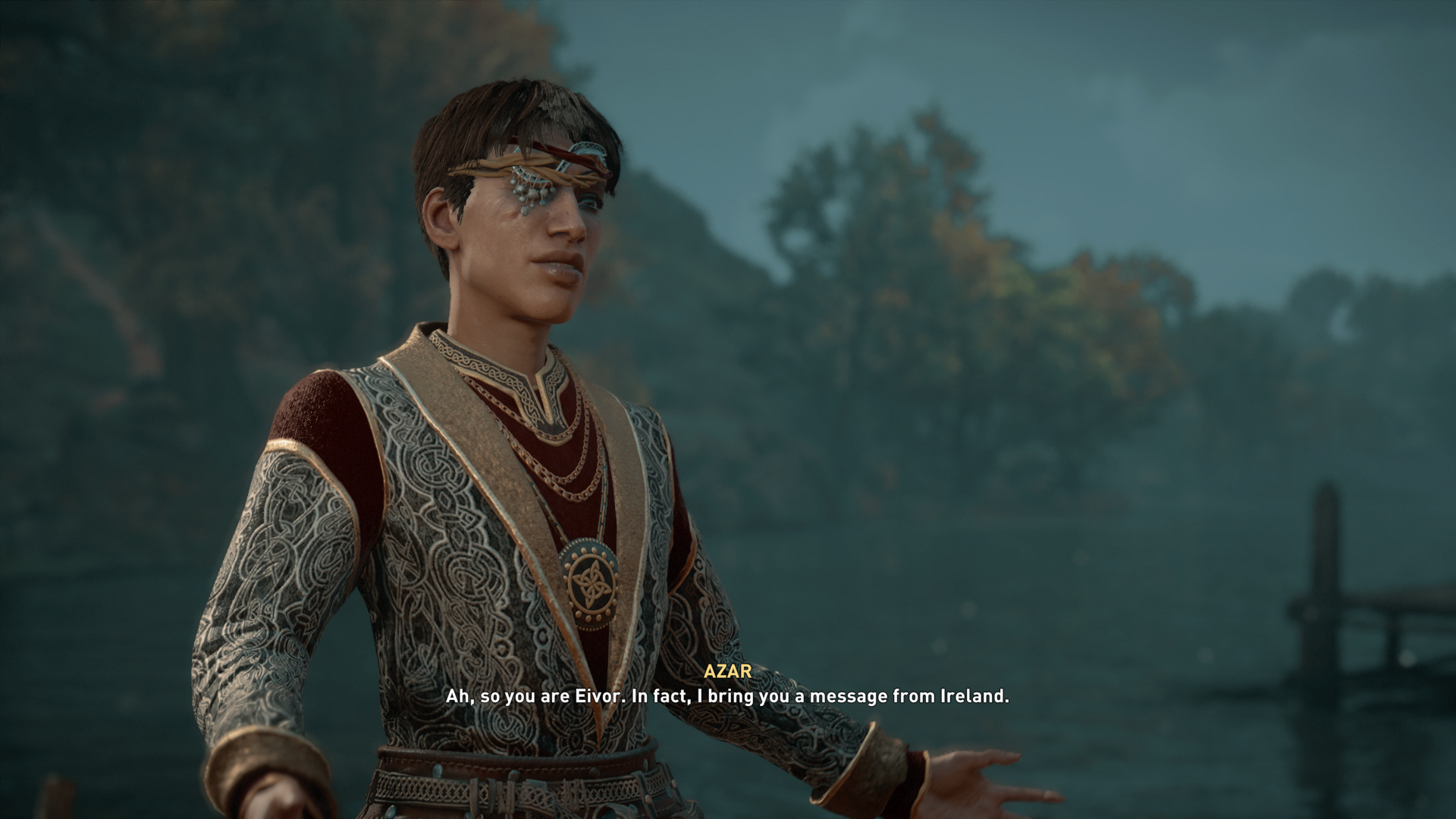 After meeting Azar at the port in Ravensthorpe and learning that the ships from Ireland were intercepted by bandits, Azar and Hytham will task you with journeying to a naval outpost in order to burn a blockade.
You can head to the blockade by following the quest marker on your map. Although the sea route is technically faster, I would recommend going through the inland rivers so you can call your crew to raid with you – if you approach from the sea, they're just kind of useless NPCs stuck in a longboat.
When you arrive at the naval outpost, kill the enemies there. You can do this with stealth if you like, and if you haven't played Valhalla in a while, I'd recommend doing so to reacquaint yourself with the controls. Ultimately, though, there aren't a whole lot of enemies here and most of them are fairly easy to incapacitate.
The aim of this quest is to destroy property on either side of the blockade. I recommend going to the northern shore first – on your right if you came from the sea, on your left if you traveled up via inland rivers. Kill everyone here and blow up carts with red barrels until you max out the destroyed property meter. Once you do this, climb up to the top of the scaffold by the water and you can use a ballista to clear out enemies on the opposite side of the river. Once you do that, head over and burn down straw huts by throwing torches at them to max out the property destruction meter for this side of the blockade, too.
Once you've completed your objective here, head back to Azar in Ravensthorpe.
Assassin's Creed Valhalla Wrath Of The Druids Walkthrough: How To Complete Irish Adventure
Irish Adventure is basically a brief addendum to Irish Trade. Speak to Azar after dealing with the blockade and a cutscene will play. Irish Adventure will now be unlocked, which simply asks you to speak to Azar again and say you are ready to sail to Ireland. Once you arrive there, you will get a new quest, kicking off the Wrath of the Druids DLC in earnest.
Source: Read Full Article