Animal Crossing: New Horizons – What Is A Bell Voucher?
Bell Vouchers are an item that become available to Animal Crossing: New Horizons players upon opening the Resident Services building. They're available through the Nook Stop terminal from then on. While its function is implicit in its name, exactly how the item works—and namely, how many Bells each Voucher is worth—can't be gleaned without buying one first. For those hoping to save some Nook Miles before committing to the purchase, here's exactly what the item does, and how to make them available in the first place.
Opening Resident Services
Bell Vouchers aren't available until players open the Resident Services building first. This is one of the sequential tasks that provide a progression system for new players after starting the game, beginning with the first home loan payment. Resident Services will open, given that everything necessary beforehand is accomplished as soon as possible, on the eighth day of play. This follows your first home loan payment, opening the Nook's Cranny shop, and welcoming three additional villagers onto your island.
After Resident Services has been opened (which means that Tom Nook's tent has been converted into a full building) a host of new items will become available through the Nook Stop terminal.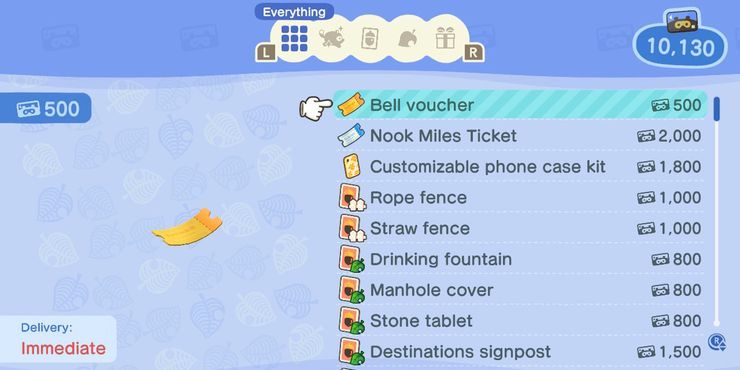 Buying and Using Bell Vouchers
Bell Vouchers can be purchased on the upgraded Nook Stop terminal for 500 Nook Miles each. After progressing to this part of the game, accruing Nook Miles should have become a habit, but for those lacking Nook Miles, they're rewarded for completing all sorts of mundane tasks that can be viewed in the Nook Miles app.
Each Bell Voucher can then be sold to Timmy and Tommy at Nook's Cranny for 3,000 Bells. That's their whole function—converting Nook Miles into cash. This equates to an exchange rate of one Nook Mile being worth six Bells.
That said, also available following the same Nook Stop terminal upgrade are a kaiju statue and a DIY plan for a giant mech, among other things, so converting Nook Miles into Bells may be far from your first priority once they become available. A year or years into the game, however, and these conversions very well may become second nature.
Source: Read Full Article