Anda Seat Mask 2 Computer Table Review – A Stylish and Simplistic Gamer Space
I never expected to own a desk with its own dedicated cup holder – but that all changed with the Anda Seat Mask 2 Computer Table. Silly name aside, this product is a simplistic yet elegant table ideal for gaming, office work, or simply acting as a piece of furniture for your home office or bedroom. As someone who recently moved into their first flat, I was keen for a desk that would make my working environment feel more substantial, and professional instead of just being a tiny platform with two monitors and a keyboard crammed upon it. There wasn't even room for my Genshin Impact mousepad. But now, I have the real estate required to truly take advantage of my gaming prowess.
Retailing for £299, the Anda Seat Mask 2 Computer Table is pitched as a desk built primarily for gamers, boasting a number of features that aim to make the act of playing at your desk all the more seamless. The aforementioned cup holder is one such attachment, found on the left-hand side of the desk and providing enough room for a can of drink or an iced coffee. I wouldn't risk a loose glass of liquid or a cup of tea being placed in there however, largely because you risk burning yourself and it doesn't feel remarkably sturdy. The cup holder and cable tray found underneath the desk itself are all made of plastic too, which cheapens the overall quality of the desk that otherwise holds a premium feel.
Piecing together the desk is simple. I recruited my brother and we spent roughly an hour assembling the table and all of its various components. The body of the table connects to the legs with a small amount of screws, while you'll need to connect parts of the legs together themselves with loose pieces of plastic. Straight pieces of metal connect with the legs and body, ensuring it remains in place and can support a decent amount of weight when standing upright. According to the product description, it is capable of holding a maximum weight of 150kg, so the majority of people could stand upon it and not risk breaking anything. I've yet to see if it can withstand an elbow drop, but I also don't want to risk it.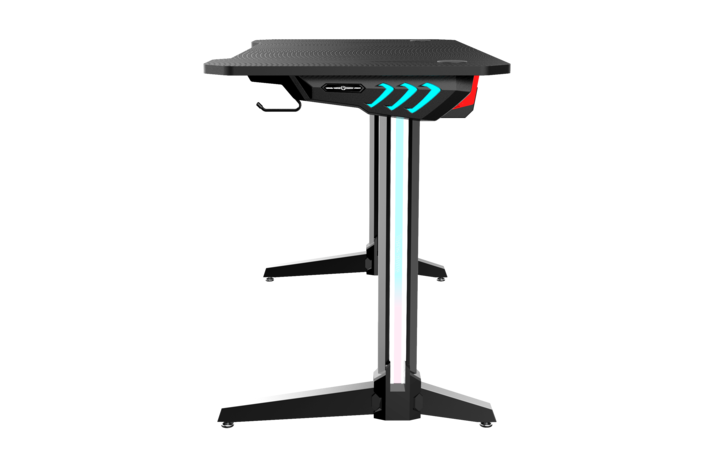 The most cumbersome part of assembly comes with the lighting fixtures located at each end of the desk. Powered through USB, you must manually feed a selection of small wires through the metal supports and ensure they are all connected up to the same power source. You will also need a spare port in your PC and/or laptop to maintain the lighting, which honestly feels more like a playful gimmick than anything I would consider using on a regular basis. For streamers and those who don't plan to place anything nearby or alongside the desk, I suppose it could be kept on without much trouble, but I'm certainly not one of those people.
Like a lot of gaming peripherals, it attracts with eccentric visual features that label it with a gamer identity while also providing a user experience that is wonderfully consistent. The Mask 2 Computer Table is no different, and has already proven itself to be a very impressive desk for daily usage. At the time of writing, I currently use a duo of 27-inch monitors for work and gaming, and the desk manages to fit them both with no conceivable issues. The stands can prove overbearing, but more savvy consumers will likely attach their monitors to the wall or perhaps connect them to the end of the desk itself to provide more opportunity to use the remaining space for something else.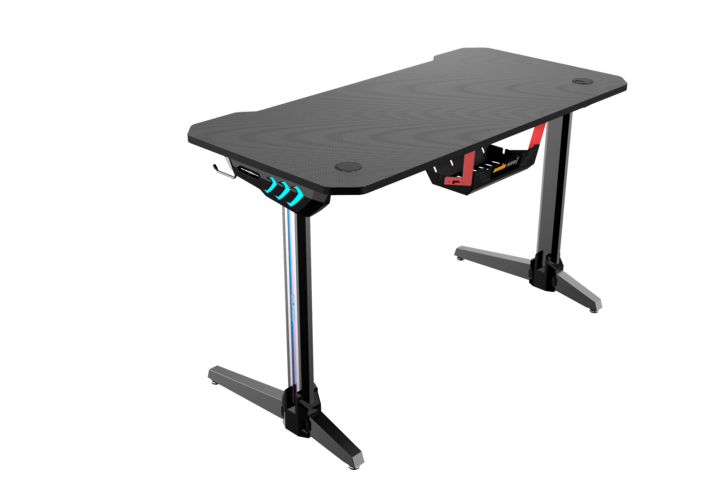 Even with my monitors, mouse, keyboard, and other peripherals – I still have ample room for plushies, figurines, and various trinkets that provide my workspace with an extra dose of personality. The sleek, carbon fibre surface of the desk comes in at 47" x 23" x "29" and helps accommodate a personal sense of style for each and every gamer who might pick one up. It's resistant to scuffs and scratches, although given the black colour scheme it is quick to attract dust and other particles that quickly make themselves known in a well-lit room. Beneath the desk you will also find a hook for storing headphones, meaning there's no need to store them on the table itself or in a similarly awkward position. The whole affair feels built for convenience, while providing just enough visual flair to be marketed for gamers.
While the £299 asking price might be too bitter a pill to swallow for some, the Anda Seat Mask 2 Computer Table remains a compelling proposition for those looking for a gaming desk that doesn't go overboard, providing a selection of useful features alongside a stylish yet minimal aesthetic that blends in perfectly with its surroundings. Smatterings of plastic and some other irksome design choices prevent it from being a true premium product, but these are small blemishes amidst an otherwise impressive piece of kit.
Source: Read Full Article