Rocket League Season 13 rewards met with disappointment
Rocket League's ranked Season 13 rewards have been revealed, and the community response is… not good. Like every season before it, players will be rewarded with an item that represents the highest rank they reached. This season, like several before it, the rewards are once again wheels. And while wheels are generally the most popular rewards, for this season, fans don't seem to consider the design or item choice worthy of their time.
Rocket League Season 13 to end in March
While some are surely disappointed to see more wheels as the Season 13 rewards, Rocket League players are mostly just not a fan of its design. Last season's animated decal rewards were considered some of the best ever, and even low ranks such as Silver or Platinum are still used by the highest ranks because it looks so good. This time, it looks like the wheels will immediately be archived and forgotten by most. Only Grand Champion looks reasonably impressive, while even the previously highest reward of Champion looks like a boring, watered-down version of its higher-ranked brother. Sure, the Grand Champion rewards deserve to stand out, but at what cost?
The end of Competitive Season 13 is coming up fast. That means it's time to reveal the Season Rewards! Details: http://bit.ly/RL-S13-Rewards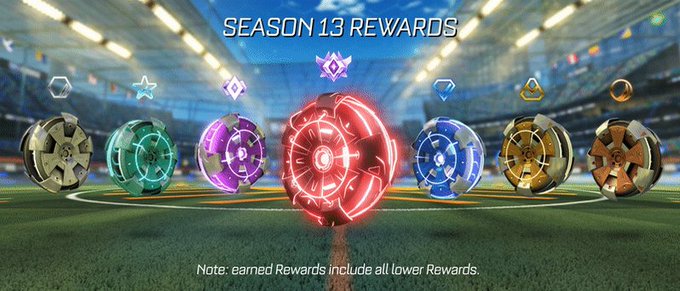 By playing this video you agree to Twitter's use of cookies
This use may include analytics, personalization, and ads.
Players who do appreciate Psyonix's efforts and want to make that final push for their Season 13 reward, however, have until March 25 to get their wheels and, if they reached Grand Champion in any of the ranked playlists, in-game title as well. The ranked season ends that day, while Rocket League Season 14 begins two hours later.
Those that are disappointed, well… Psyonix has come back in the past and improved the promised rewards before release. So while we shouldn't count on it, it's not unheard of. Though with only about a month to go, the likelihood is dropping quickly.
What do you think of Rocket League's Season 13 rewards? Will you make that final push for an extra rank, or did this only demotivate you? Let us know in the comments below.
Source: Read Full Article