Riot Games updates fans on status of 2020 MSI schedule
Riot Games recently informed fans about the status of their 2020 Mid-Season Invitational schedule. In the past, Riot had announced the location and start dates of MSI at the beginning of the year. However, in light of the coronavirus outbreak continuing to worsen, the League of Legends community had to wait for details about the event. As of today, it has affected several esports events around the world, delaying matches and canceling tournaments.
Riot's Global Head of Esports John Needham shared a few updates through a Twitter announcement. He explains that Riot had to delay the announcement about MSI's timing and location. The main concern for the gaming company is to make sure all teams, players, and potential audience attendees are safe and healthy. Because of the uncertainty surrounding the coronavirus, Riot cannot make any assumptions or permanent plans as of yet.
An Update on MSI 2020 from John Needham, Global Head of Esports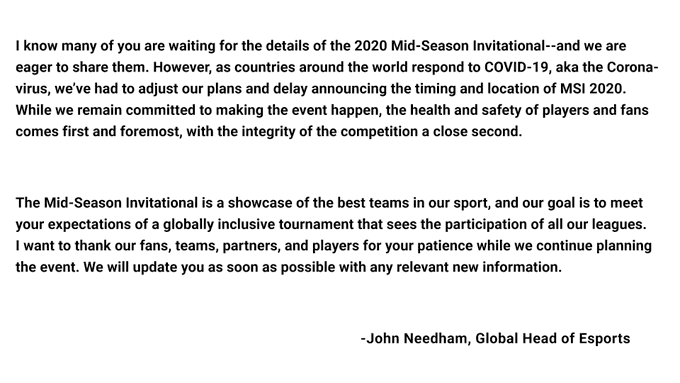 A global event
The most important part of MSI is the participation of many teams from around the globe. As details regarding the coronavirus are constantly being updated, it is unclear whether teams from all regions will be able to participate. On Tuesday morning, the World Health Organization (WHO) announced that more countries are being affected by the virus each passing day.
The feedback on Riot's announcement also included a variety of mixed responses. Some followers suggested that Riot cancel the MSI completely, while others said it should be hosted virtually. Riot is planning to return with an updated schedule once they figure out a reasonable plan. At the moment, they are thanking fans and teams for being patient during this distressing time.
The future of Worlds 2020
Another issue that may arise is the 2020 League of Legends World Championship. This event happens each year in November and is scheduled to take place in China. Although it is about 8 months away, no one knows how long this outbreak will last. Fans are waiting to hear from Riot in regards to this as well. Unfortunately, it may be some time until they receive the answers they are looking for.
We will keep you updated on the details of the upcoming MSI event here at Daily Esports.
Source: Read Full Article