Monetizing "morality": corporations' BLM tweets an exercise in hypocrisy
The George Floyd protests are spreading through the United States and for the regular American, the past few days have been a figurative and literal burning hell. But on the backdrop of police brutality and violent, destructive riots raging during a still ongoing pandemic, one sector of the economy has thankfully remained unaffected — the behemoth entertainment corporations.
It is by now a standard that every global or local crisis is a change for multi-million companies to build their own moral high-ground mound and preach vague words of encouragement to their customers, who are the ones suffering from this very crisis. Every time, it's little more than an exercise in hypocrisy and a move to cash PR points instead of actually pushing for change, of course, because actually doing that is bad for business. Almost every version of these PR statements comes down to "we quietly stand by you (doing nothing) because we'll still need your dollars when this is all over".
The latest BLM tweets from these companies are no exception and this time it is almost baffling how many of them are tone-deaf to their own hypocrisy. "Do as I say, not as I do" in its purest form.
GameSpot's heroic act of not tweeting for a bit
Before we do get into the actual hypocrisy, let's start with something lighter. On June 2, GameSpot tweeted that "for 8 minutes and 46 seconds, we will stop posting in our social feeds in tribute to George Floyd", referring to how long Floyd was pinned down with a knee on his neck before dying.
It's a symbolic act of protest from GameSpot, we get it, but how does that even work. GameSpot tweets only a couple of times per hour, so staying silent for nine minutes isn't exactly difficult for them. In fact, it would in no way change their social media presence and these 8 minutes and 46 seconds are lost amid their regular schedule. How would people even know the difference, GameSpot?
Sony: "All lives will not matter until Black lives matter"
That's a real quote from Sony's social media posted June 1 right after the standard white-text-on-black-background tweet that's being posted by all the major corporations.
As we'll see with many other corporations, solidarity with protesters is never ubiquitous and always with an asterisk. In the same thread, Sony reply that this is "not a PR stunt at all" and that "we do want to make sure we're showing up, and not just speaking out" but they haven't really applied the same logic before.
In February 2020, the World Photography Organization (WPO), of which Sony is title sponsor, removed multiple photographs portraying the Hong Kong protests. Three photographers vying for the Sony World Photo Awards (SWPA) — Ko Chung Ming with his "Wounds of Hong Kong" body of work; David Butow with his "Battleground Hong Kong" documentary; and Adam Ferguson with his "Hong Kong Protesters" portrait series — had their work taken down so WPO could "investigate concerns raised by individual members of their audience".
Just a month later, in March 2020, Sony were reported to be one of several corporations supplied by Chinese factories that use Uighur Muslims, working under "conditions that strongly suggest forced labour", reports The Independent.
"More than 80,000 Uighurs had been transferred far from their homes to work in at least 27 factories across nine provinces," a report by the Australian Strategic Policy Institute (ASPI) said. "There, the workers continued to be subject to surveillance, banned from practising their religion, forced to take part in mandarin language classes and restricted in their travel back to Xinjiang."
Turns out, lives do matter for priority for Sony and some come with a visibly lower one.
Blizzard: Standing with protesters, unless it's bad for business
Speaking of Hong Kong protests, one has to mention Activision Blizzard who after generating negative PR for almost two years straight still find new ways to embarrass themselves and display a gaping chasm between words and actions. On June 1, Activision Blizzard posted their own BLM tweet, standing "against racism and inequality" in an act of protest.
It's hard to even stifle a laughter reading the company's position as it's not even been a year after Ng "Blitzchung" Wai Chung stood with the protesters in his own country of Hong Kong on a Hearthstone stream — an act which resulted in an initial one-year ban from Hearthstone esports and got his prize money taken away. Blizzard doubled down on the censorship by deleting the stream video, which InvenGlobal managed to preserve, and banned the two casters who conducted the interview.
It took immense pressure from the global Hearthstone community, walk-offs by key talent from Hearthstone Grandmasters, and letters from US senators before Blizzard could cave and revert some of the punishment. It makes you wonder what Blizzard's reaction would be if Blitzchung had spoken out today, supporting BLM on a Blizzard stream. Would he be banned for a year and robbed of his prize money in the middle of the current situation in the United States?
For sure, if you're to believe Blizzard. Maybe they only support some civil liberties and stand against some forms of police brutality and not others. Who knows, it's hard to tell these days.
Riot Games: Make "progress" a reality
Indeed, Riot Games were the company that advocated "making 'progress' a reality", conveniently putting the word "progress" in quotation marks, perhaps to show they don't really mean it.
As a reminder, Riot Games are still embroiled in active litigation after Kotaku's Cecilia D'Anastasio broke the culture of sexism at League of Legends' developer. Riot's response was to require plaintiffs to go through forced arbitration with the company, instead of going to trial, and continued supporting this policy even after more than 200 employees walked out in protest in front of the LA headquarters.
In December 2019, an out-of-court settlement would have Riot pay $10M to the 1,000 plaintiffs, before the Department of Fair Employment and Housing (DFEAH) intervened, pushing for a $400M settlement instead — a figure which Riot openly protested, calling it "grossly distorted and misleading".
As a reminder, Riot was also the company that stated they "have a responsibility to do our best to ensure that statements or actions on our official platforms (intended or not) do not escalate potentially sensitive situations", referring to the Hong Kong protests, shortly after Blitzchung's ban. Again, some sensitive situations are absolute no-go, but others are a great opportunity to farm PR karma.
Disney: We stand for inclusion, unless it's on movie posters
Perhaps the biggest discord between message and actions was displayed by Disney, owner of the Star Wars and Marvel franchises, which also couldn't stand silent on the BLM issues.
"We stand for inclusion. We stand with our fellow Black employees, storytellers, creators and the entire Black community," Disney wrote on June 1.
Marvel echoed the exact same statement.
That's all bullshit, of course, because Disney has repeatedly shown that inclusion of Black people is fine — unless it's on movie posters in China, where you have to cover Chadwick Boseman's face with a helmet and airbrush John Boyega out of The Force Awakens poster. Not sure what they have against Chewbacca, though.
At the end of the day, these (and many other) companies can at least go to sleep knowing they could've messed up way worse. As they parade their hollow moralism, worth about as much as a "thoughts and prayers" Facebook picture, they get to draw a sigh of relief that at least they didn't go full Gearbox CEO Randy Pitchford.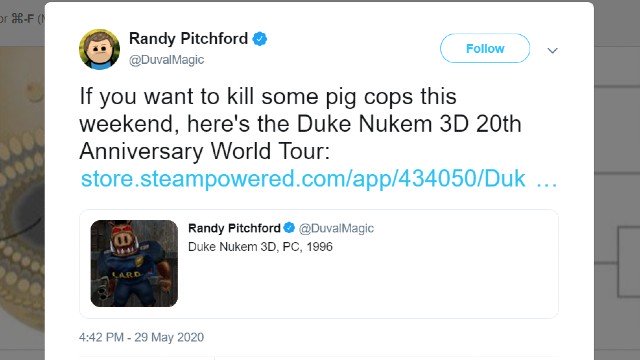 Source: Read Full Article